How our work impacts conservation across Canada.
Where we're working on the ground from coast to coast.
We need your help to protect our water, wildlife, and wetlands. Here's how you can make an impact.
Combining green with grey. A solution to climate change?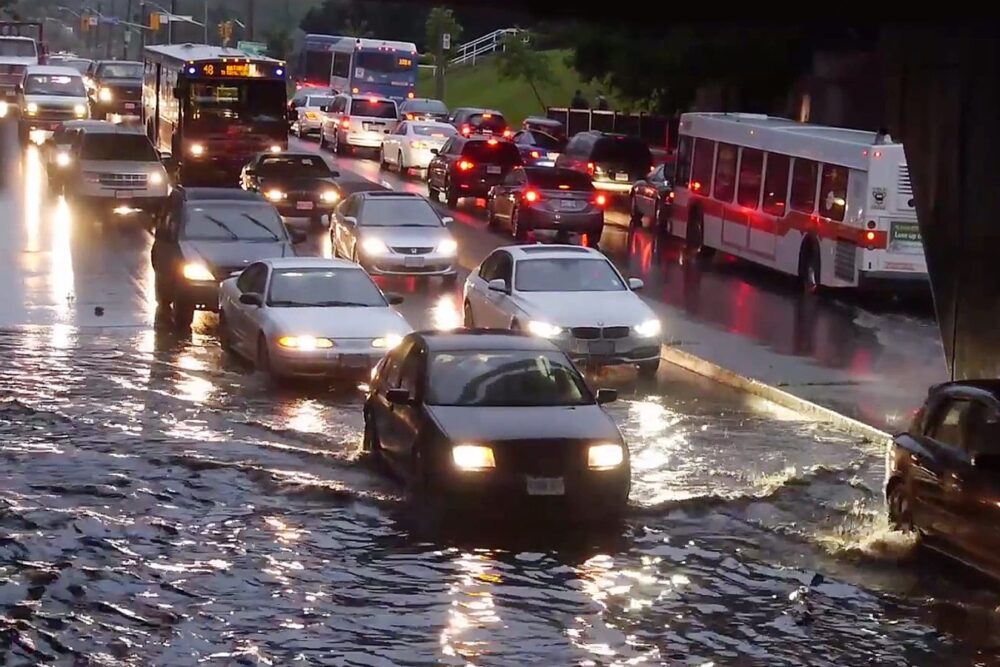 Mississauga, Ont. – It's a date that Toronto and area residents won't soon forget; July 8, 2013, the date that a severe storm and flash flooding hit the GTA. The storm set a record for the province's most expensive natural disaster with almost $1 billion in damages according to the Insurance Bureau of Canada. Unfortunately this particular event is not a once in a lifetime occurrence. Reports of record rainfall, closed roadways and transit, stranded commuters and flooded homes is part of the new reality in our province. The intensity and duration of rainfall events is increasing in magnitude, Ontario's current infrastructure can't keep up and our municipalities, businesses, farmers and homeowners are facing mounting costs as a result. Ontario needs cost-effective solutions to adapt.
Today, at The Riverwood Conservancy in Mississauga, Ducks Unlimited Canada (DUC), in partnership with Credit Valley Conservation (CVC), announced new research to investigate the value of wetlands to control flooding in southern Ontario. With funding from RBC Blue Water Project and the Ontario Ministry of Natural Resources and Forestry, the two organizations have joined forces to carry out research in the Credit River watershed, a region that continues to experience extensive flooding.
"The extreme rain event of July 8, 2013 deposited 127 millimetres of rain on the City of Mississauga in two hours resulting in the flooding of 5,000 homes in our communities," said Mississauga Councillor and CVC Board Member Jim Tovey. "It is no longer a question of reversing climate change; it is now a conversation on adaptation. Nature can provide us with wisdom and solutions for our changed environment. It is now our responsibility to listen."
According to Lynette Mader, Manager of Provincial Operations for DUC, wetlands not only provide habitat for waterfowl and wildlife, but they clean our air and water, protect our shorelines and yes, they are an important ally in the fight against climate change.
"Flood control is often cited as a key ecological service provided by wetlands," Mader explains. "Studies from around the world have demonstrated a strong correlation between wetland loss and increased flooding, yet there is relatively little research specific to Ontario. Southern Ontario has lost on average 72 per cent of its original wetlands over the last 200 years. Research is needed to more clearly understand the consequences of this loss on the landscape."
Through this project, DUC and CVC are setting out to demonstrate a cost-effective way to maintain and enhance community resiliency, something that is urgently needed in the face of extreme weather caused by climate change.
"Not only will this research help us understand the relationship between wetlands and flooding," says Deborah Martin-Downs, Chief Administrative Officer at CVC. "It will also give us practical tools to implement flood mitigation actions."
When research wraps up in fall 2016, results will quantify the economic value of the flood control services that wetlands provide and identify areas where restoring wetlands will have the greatest impact on flood reduction. This can ultimately help practitioners assess the return on investment of both wetland protection and restoration measures and their potential to reduce flooding.
"We need a better understanding of how we can combine green infrastructure like wetlands, with traditional grey infrastructure," continued Martin-Downs. "These extreme events are going to happen more frequently. Looking to big, expensive grey solutions is going to take too much time and they're not going to be in place fast enough. Wetland creation, planting more trees, making land more permeable – these are things we can do very quickly, and they are part of the solution. It's not the only solution. We're still going to need some of those grey infrastructure solutions, but combining green with grey will get a much faster return on our investment."
Want to better understand how wetlands are part of the solution to climate change and flooding in Ontario? Check out our new video: Weathering the Storm.
Ducks Unlimited Canada (DUC) is the leader in wetland conservation. A registered charity, DUC partners with government, industry, non-profit organizations and landowners to conserve wetlands that are critical to waterfowl, wildlife and the environment. To learn more, please visit ducks.ca.
Conservation authorities are a provincial/municipal partnership. For 60 years, Credit Valley Conservation (CVC) has worked with its partner municipalities and stakeholders to support a thriving environment that protects, connects and sustains us. CVC gratefully acknowledges financial support from our member municipalities for facilities, programs and services: the Regions of Peel and Halton; the Cities of Mississauga and Brampton; the Towns of Caledon, Erin, Halton Hills, Mono, Oakville and Orangeville; and the Townships of Amaranth and East Garafraxa. CVC is a member of Conservation Ontario.
Contact Information
For Ducks Unlimited Canada
Joanne Barbazza
Communications Specialist, Ontario
j_barbazza@ducks.ca
705-721-4444 ext. 240
For Credit Valley Conservation
Jamie Williams
Marketing and Communications Specialist
jwilliams@creditvalleyca.ca
905-670-1615 ext. 285