How our work impacts conservation across Canada.
Where we're working on the ground from coast to coast.
We need your help to protect our water, wildlife, and wetlands. Here's how you can make an impact.
Ducks Unlimited Canada and partners preserve important coastal wetland habitat near Cornwall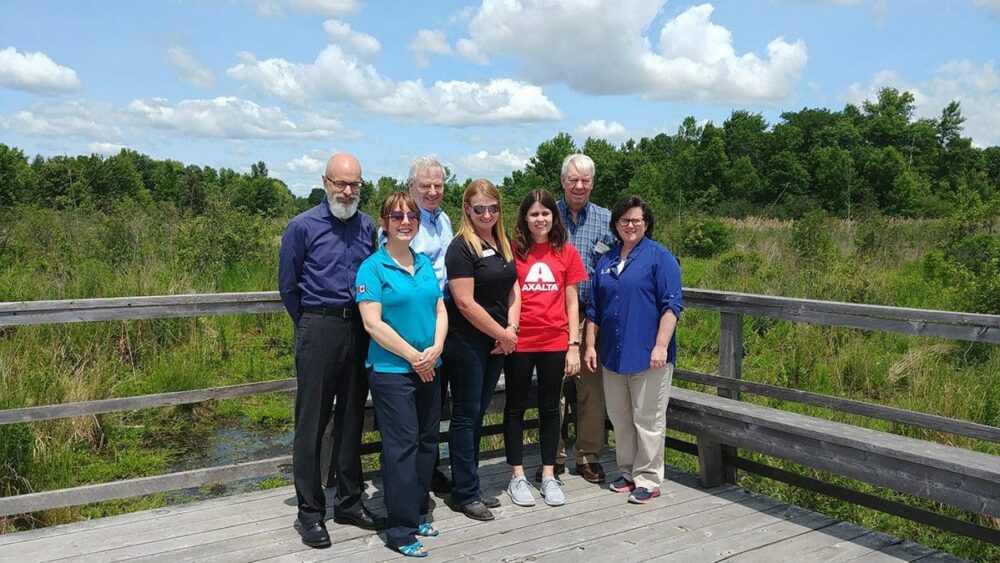 Wildlife and people will benefit from restoration at Charlottenburgh Marsh
South Glengarry, Ont. (June 25, 2019) — Ducks Unlimited Canada (DUC) has completed a significant restoration project at Charlottenburgh Marsh, a large coastal wetland within the Cooper Marsh Conservation Area. By protecting the natural habitat and removing invasive species, DUC is ensuring that this provincially significant wetland continues to support abundant wildlife, including 130 recorded bird species.
A short drive east of Cornwall, the Cooper Marsh Conservation Area is a popular destination for local school groups and visitors who enjoy hiking, bird watching, picnics and other outdoor recreation. However, in recent years, structures that help manage water levels in Charlottenburgh Marsh had eroded. Phragmites, a towering invasive plant, had infiltrated the wetland and was choking out native plants that support wildlife.
After a year of work and strong support from local partners, DUC has restored this natural sanctuary along the busy St. Lawrence Seaway. As people return to the trails, boardwalks and viewing towers, they'll be greeted by a vibrant and healthy wetland ecosystem.
"The work completed at Charlottenburgh Marsh showcases the important relationship between conservation and recreation. We strive to find ways of balancing the protection of our natural areas with public access and enjoyment," says Karla Guyn, CEO for DUC. "We're fortunate to have many partners who share our commitment and support conservation projects that benefit wildlife and communities."
This project was carried out by DUC in partnership with the landowner, Raisin Region Conservation Authority. The restoration is part of DUC's ongoing care and maintenance of its many habitat assets in Ontario. Signs of the project's success are already showing. Following the restoration work, black terns were spotted nesting in the area. Black tern populations are declining in Ontario and terns had not been observed at the marsh for years.
"The Raisin Region Conservation Authority has been a diligent caretaker of Charlottenburgh Marsh for almost 30 years," says Richard Pilon, general manager for Raisin Region Conservation Authority. "We're pleased the restoration will ensure that visitors continue to enjoy a healthy coastal wetland ecosystem with abundant wildlife into the future."
"Outdoor education is a major focus for the Cooper Marsh Conservation Area," says Robin Poole, on behalf of the Cooper Marsh Conservators, a local group that supports many activities at the conservation area. "It's a pleasure to share the wonders of wetlands and wildlife in the marshes with a new generation, including exceptional sights like nesting Sandhill cranes and the black terns which returned in the summer as a result of changes in the marsh this year."
---
Over four decades, DUC has completed nearly 4,000 habitat projects in Ontario and conserved almost one million acres of wetlands and associated habitats. This scale of work is only possible with ongoing financial commitment from partners and supporters like Axalta and the Crabtree Foundation.
The restoration work completed at Charlottenburgh Marsh is a prime example of how DUC works with local partners to help communities achieve their conservation goals. For each Canadian dollar raised, DUC leverages $3 USD through continental conservation partnerships.
Partners who supported this project include Axalta Coating Systems, the Crabtree Foundation, the Ministry of Natural Resources and Forestry, as well as Environment and Climate Change Canada. The project also benefitted from grants through the North American Wetlands Conservation Act for habitat projects in Canada that restore and enhance vital waterfowl habitats.
Axalta Coating Systems, a leading global supplier of liquid and powder coatings, provided generous funding for the restoration work at Charlottenburgh Marsh. Axalta operates in Cornwall and was eager to be part of this local conservation project. Axalta is the recipient of the 2019 Ducks Unlimited Corporate Conservation Award.
"We are proud to support this important project in Charlottenburgh Marsh," said Rob Ferris, Axalta Vice President of Corporate Affairs. "This area is such an important component of the community where Axalta employees live and work. Having an opportunity to be part of its restoration, so that the people of Ontario can once again enjoy all that the marsh has to offer, is a source of pride for our employees in the region. Sustainability is central to Axalta's business, and being a good neighbour and an engaged business partner that supports and protects habitats, is part of our overriding commitment to our hometowns around the world and to our terrific partners at Ducks Unlimited."
The Crabtree Foundation, an Ottawa-based private family foundation with a nearly decade-long relationship with DUC, also saw the restoration work as a natural fit with its commitment to environmental stewardship.
"Our family is delighted to support Ducks Unlimited Canada's projects in Ontario. Conserving the important ecosystem functions of wetlands is so important, and it is fulfilling to contribute to a natural oasis for wildlife that also brings joy to so many people," said Sandra Crabtree, president of the Crabtree Foundation.
FACTS ABOUT CHARLOTTENBURGH MARSH
Charlottenburgh Marsh is a large riverine wetland owned by the Raisin Region Conservation Authority.
The Cooper Marsh Conservation Area, where the marsh is located, is on the north shore of Lake Saint Francis, situated at the confluence of the McLennan and McNaught Drains.
Lake Saint Francis is on the St. Lawrence River in an important waterfowl habitat region bordering Ontario, Quebec and northern New York State.
The recent restoration of the provincially significant wetland improved 925 metres of the dike infrastructure and the invasive plant, phragmites, was sprayed to help control its footprint where it had begun to infiltrate the habitat.
Resources
Contact Information
Ducks Unlimited Canada
Julie Pollock
Communications & Marketing
Phone: 705-721-4444 x 236
Email: j_pollock@ducks.ca
Raisin Region Conservation Authority
Lisa Van De Ligt
Communications Specialist
Phone: 613-938-3611 x 223
Email: lisa.vandeligt@rrca.on.ca
---
ABOUT DUCKS UNLIMITED CANADA: Ducks Unlimited Canada (DUC) is a national leader in wetland conservation. A registered charity, DUC partners with government, industry, non-profit organizations and landowners to conserve wetlands that are critical to waterfowl, wildlife and the environment.
ABOUT RAISIN REGION CONSERVATION AUTHORITY: The Raisin Region Conservation Authority (RRCA) is 1 of the 36 Conservation Authorities in Ontario.  Along with its 5 member municipalities, the RRCA guides the community in the protection, enhancement and restoration of our natural environment through programs that balance human, environmental and economic needs for a sustainable future.