How our work impacts conservation across Canada.
Where we're working on the ground from coast to coast.
We need your help to protect our water, wildlife, and wetlands. Here's how you can make an impact.
Ducks Unlimited Canada breaks ground on expanded wildlife habitat at James N. Allan Provincial Park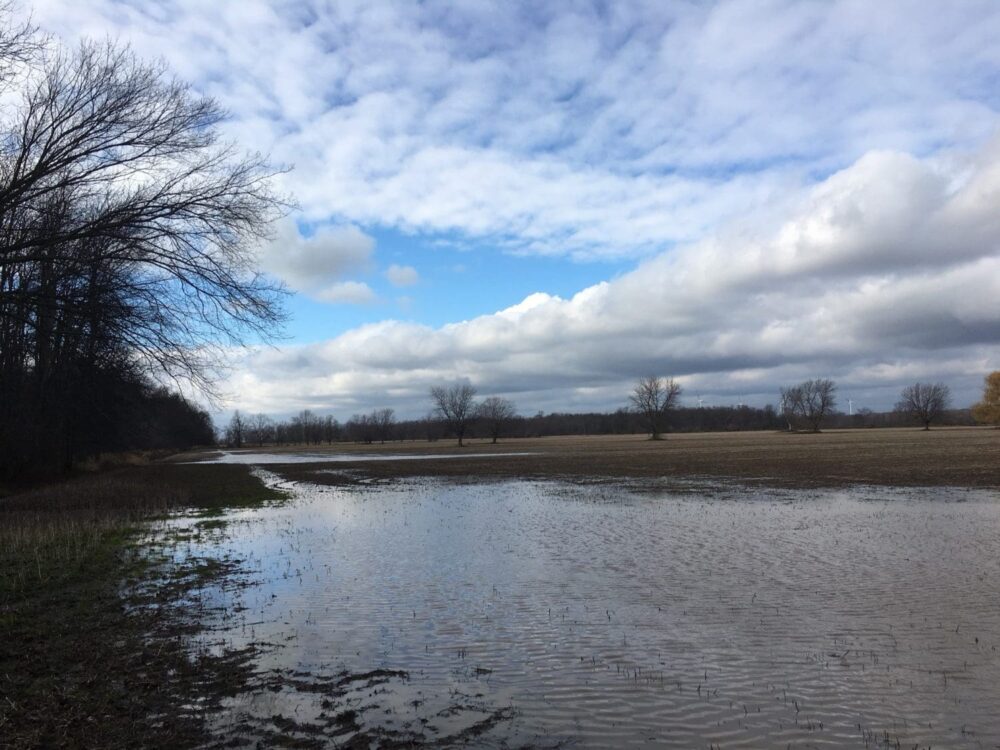 Dunnville, Ont.—Ducks Unlimited Canada (DUC) and its partners have broken ground to restore the wetland at the James N. Allan Provincial Park. Through this restoration, DUC is replacing unproductive farmland with productive habitat that will support wildlife in the park—including species at risk.
Located on the north shore of Lake Erie, the James N. Allan Provincial Park protects nearly 300 acres (117 hectares) of forest and wetlands, and an expansive pebble beach. The restoration affects about three acres (1.2 hectares) that were previously drained and filled for agricultural expansion. The wetlands are being "cultivated" for wildlife now.
"Our vision is a healthy Lake Erie that sustains wildlife and people," says Jeff Krete, conservation specialist for DUC. "Healthy wetlands in public parks attract birds and other wildlife to places that everyone can enjoy. And, in this case, the wetland will also provide much-needed coastal habitat."
The restored habitat will include structures and terrain designed to support birds, frogs, turtles and pollinators such as nest boxes, native grasses and loafing logs for waterfowl.
Partners supporting this project include the Patrick Hodgson Family Foundation, the James N. Allan Family Foundation, Ontario Parks and Haldimand Stewardship Council.
The early support of the Patrick Hodgson Family Foundation was the "kick-start" for the wetland restoration. Patrick Hodgson was a lifelong birder, willing to support habitat on public land so others could enjoy the natural experiences that meant so much to him.
"I've visited the site several times," says Toby Barrett, MPP for Haldimand-Norfolk. "I'm heartened that these organizations are working together on an ambitious project to develop habitat for wildlife in James N. Allan Provincial Park."
The James N. Allan Provincial Park is named for the renowned Dunnville-born politician who had a long career in the provincial legislature.
"This is a great initiative that we're happy to support," says Scott Allan on behalf of the James N. Allan Family Foundation. "We are very pleased to see some of the farmland rehabilitated in the park that honours our ancestor's legacy."
A natural solution for water quality
The restoration project at the James N. Allan Provincial Park is part of a larger effort to improve water quality in the Lake Erie watershed. Working with the Ministry of Natural Resources and Forestry, DUC's team in Ontario is delivering large-scale wetland conservation to capture and filter phosphorus and other nutrients from surface water before it travels downstream.
"The wetland restoration at James N. Allan Provincial Park is a showcase example of what's needed in Haldimand," says Dan Romanoski, president of Haldimand Stewardship Council which has completed extensive reforestation at the park. "With climate and weather changes coming, we need more projects like this one for a resilient landscape."
The restoration also supports the goal of restoring former agricultural lands to nature within the provincial parks system.
"The wetland project partnership at James N. Allan Provincial Park provides a rare opportunity to restore coastal wetland habitat along the Great Lakes," says Ron Gould, protected areas specialist for Ontario Parks. "This habitat will immediately benefit a high diversity of migratory and resident wildlife within the park, including species at risk."
Funding partner left a legacy for wild birds
Sadly, Patrick Hodgson will not see the project completed. Recently deceased in 2018, he leaves behind his wife, Kate, and their two children. He was a businessman, woodcarver and birder who regularly took to the woods to collect data for the Atlas of the Breeding Birds of Ontario.
"The gift from the Patrick Hodgson Family Foundation ignited support for this project," says William Jones, development manager for DUC. "Mr. Hodgson was committed to leaving the world a better place than he found it. Everyone can enjoy this part of his substantial legacy."
About Ducks Unlimited Canada
Ducks Unlimited Canada (DUC) is Canada's national leader in wetland conservation. A registered charity, DUC partners with government, industry, non-profit organizations and landowners to conserve wetlands that are critical to waterfowl, wildlife and people.
Contact Information
Jeff Krete
Conservation Specialist
Phone: 519-716-3435
Email: j_krete@ducks.ca
Joanne Barbazza
Head of Communications & Outreach Support
Phone: 705-721-4444 x240
Email: j_barbazza@ducks.ca