How our work impacts conservation across Canada.
Where we're working on the ground from coast to coast.
We need your help to protect our water, wildlife, and wetlands. Here's how you can make an impact.
Ducks Unlimited Canada Salutes Four Decades of Conservation in Middlesex County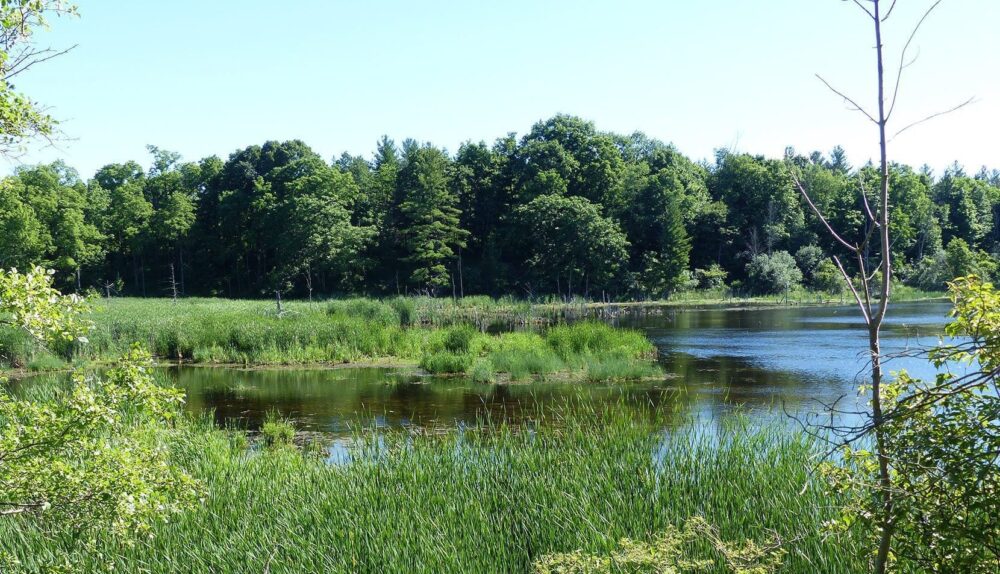 Mount Brydges, Ont. (April 4, 2019) — Forty years after the original restoration, Ducks Unlimited Canada (DUC) has reinvested in a wetland outside of London. By upgrading the water-control structures and lowering the dam to serve as an emergency spillway, DUC has equipped the habitat for future resilience against heavy storms and rainfall.
The Delaware Sportsmen's Conservation Association owns the land. It is a membership-based club with six decades of outdoors tradition in Middlesex County. Club president Richard Faulds recalls the absence of wildlife in the area in the 1950s.
"There was a lack of wildlife, no deer or pheasant around, in those days," says Faulds. "Local people who were concerned about wildlife bought a farm together that was mainly bush, and it had Dingman Creek running through it at the back."
The club membership signed on officially to protect the property's natural values when DUC restored the 23-acre (9-hectare) wetland in 1978. The legally binding conservation agreement—which was signed by then-president David Faulds, who is Richard's brother—has no expiry date.
Today, the wetland and surrounding forest habitat attract many different birds and other wildlife. "We always have cars stopping on the road," says Faulds. "They come to watch the geese and the ducks and the other birds in the wetland."
Gail McNeil has conducted wildlife and habitat surveys on the property for almost 10 years. She collects data for the Great Lakes Marsh Monitoring Program, run by Bird Studies Canada to track biodiversity in marshes. She has recorded an abundance of wildlife using the habitat, including birds such as least bitterns, Sandhill cranes, belted kingfishers and bobolinks, and up to seven species of frogs.
"I thank the club members every year for the privilege of spending time on their wonderful property," she says. "I enjoy every minute that I am there and all that I can observe."
"Conservation has no expiry date for this wetland," says Darrell Randell, conservation specialist for DUC. "Four decades after signing on to protect the habitat on their property, the membership has made the wetland an important part of the club's waterfowling tradition and general enjoyment of their land."
FACTS ABOUT DELAWARE WETLAND
The Delaware Wetland has been protected since 1978 by a perpetual conservation agreement with no expiry date.
The protected habitat includes a 23-acre (9-hectare) wetland surrounded by 69 acres (28 hectares) of forest.
DUC replaced the 40-year-old water controls with a new, plate-steel control structure and a dam was lowered to serve as an emergency spillway for extreme weather events.
The new water controls were fenced to deter beavers and provide public safety improvements.
Many wildlife species have been recorded on the property including species at risk such as bobolinks, soras and Sandhill cranes.
Partners who supported this project include the Ministry of Natural Resources and Forestry and the Upper Thames Conservation Authority. Since 2017, DUC and its partners have delivered more than 100 projects in the Lake Erie watershed to capture phosphorus and other nutrients in wetlands that filter surface water before it travels downstream to rivers and lakes.
The project also benefitted from grants through the North American Wetlands Conservation Act for habitat projects in Canada that restore and enhance vital waterfowl habitats.
ABOUT DUCKS UNLIMITED CANADA 
Ducks Unlimited Canada (DUC) is the national leader in wetland conservation. A registered charity, DUC partners with government, industry, non-profit organizations and landowners to conserve wetlands that are critical to waterfowl, wildlife and people.
Contact Information
Ducks Unlimited Canada
Darrell Randell
Conservation Specialist
Phone: 519-627-3764
Email: d_randell@ducks.ca
Julie Pollock
Communications & Marketing
Ducks Unlimited Canada
Tel: 705-721-4444 x236
Email: j_pollock@ducks.ca