How our work impacts conservation across Canada.
Where we're working on the ground from coast to coast.
We need your help to protect our water, wildlife, and wetlands. Here's how you can make an impact.
Ducks Unlimited Canada to deliver 40 wetland projects in Southern Ontario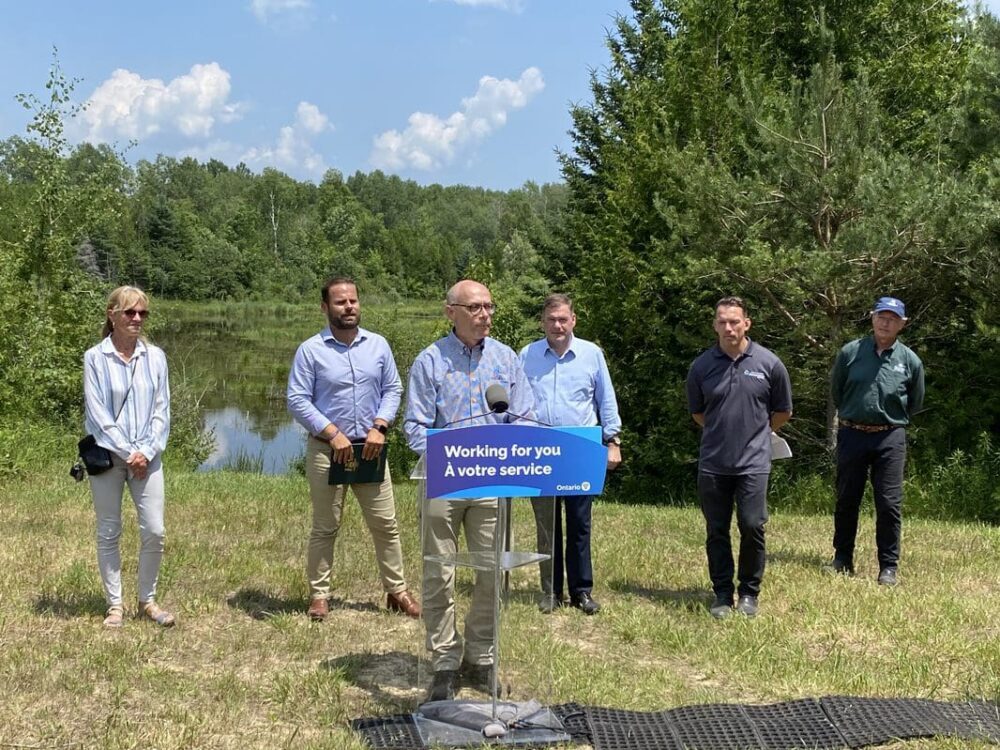 Investments through the Wetlands Conservation Partner Program will support the restoration and enhancement of critical habitats
July 6, 2023, Barrie, ON – Ducks Unlimited Canada (DUC) is preparing to restore or enhance 40 wetlands across southern Ontario thanks to renewed investments in the Wetlands Conservation Partner Program (WCPP). At a news conference yesterday, David Piccini, Minister of the Environment, Conservation and Parks renewed the Government of Ontario's commitment to fund wetland projects in the Great Lakes Region.
The WCPP—a five-year, $30-million initiative—supports diverse projects to restore and enhance coastal wetlands, smaller wetlands, those on agricultural land as well as urban wetlands to enhance stormwater management. Now in its third year, the government has made $6.9 million available for local projects. DUC will receive $1.8 million to deliver 40 wetland projects, covering approximately 339 hectares (838 acres). An estimated 20 wetland rebuilds will maintain wetland infrastructure and functionality to sustain watershed health, and another 20 small wetland restoration projects will re-establish wetlands in landscapes where they previously existed. All will improve water quality, provide habitat for at-risk species and increase climate change resiliency in communities across the province.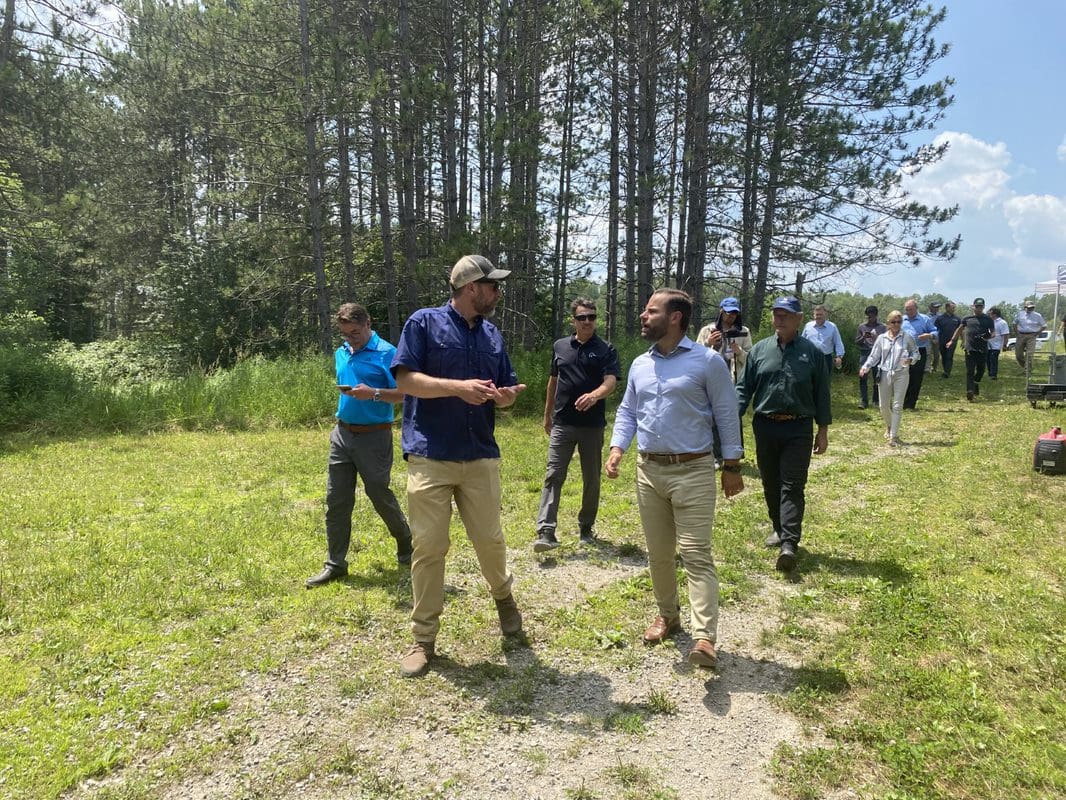 Having already delivered 105 projects spanning 1,500 hectares (3,700 acres) in the first two years of the WCPP, DUC is well positioned to get to work immediately on projects in priority areas.
Ongoing partnerships established through the WCPP demonstrate a tangible commitment to wetland conservation. In the last year, DUC worked with eight conservation authorities, two stewardship councils and two alternate land use programs while delivering WCPP projects. Visit DUC's interactive story map to learn more about the first two years of wetland restoration projects supported by the WCPP in the Great Lakes Region.
Wetlands are power players on the landscape, filtering sediment and helping to recharge groundwater, sequester carbon and reduce flood damage from storm and melt events. DUC research shows how restored wetlands act as phosphorus sinks, capturing nutrients before they move downstream, preventing dangerous algal blooms.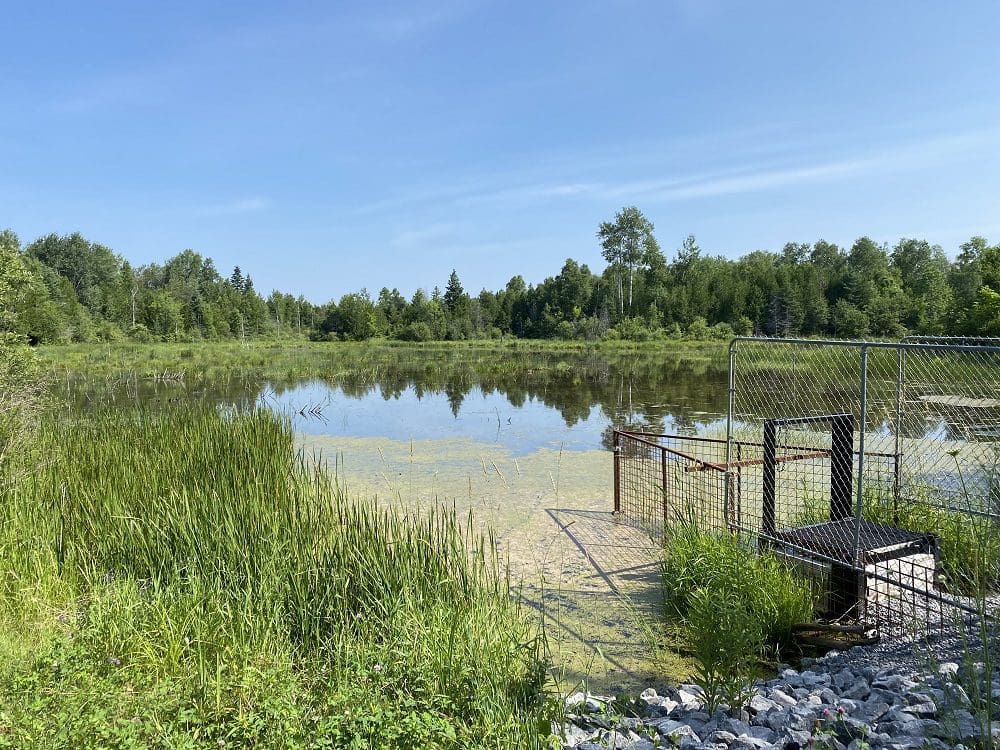 Natural flood-management services of wetlands are a cost-effective complement to traditional infrastructure built to protect communities from floods, all while providing sustainable green spaces and beautiful wildlife for nearby communities to enjoy. Large-scale wetland restoration can reverse the trend of habitat loss and even turn it around to a net gain on the landscape.
The WCPP announcement took place at the Nonquon Provincial Wildlife Area – one of the many projects already completed with prior funding from the WCPP. Following the ceremony, Minister Piccini, Todd J. McCarthy, MPP Durham, Wilma Wotten, Mayor, Township of Scugog, the media and attendees toured the wetlands and restoration work completed there.
QUOTES:
"I want to congratulate Ducks Unlimited Canada on its 85 years of conservation leadership. DUC helped launch the Wetlands Conservation Partner Program in 2021 and has continued leading restoration projects to improve the health of wetlands in Ontario ever since. We're proud to be supporting on-the-ground wetlands projects run by partners like DUC to ensure vital water resources and ecosystems are protected, now and in the future." – David Piccini, Minister of the Environment, Conservation and Parks.
"This investment from the Province of Ontario is one we at DUC greatly value. The funding allows us to carry out wetland restoration projects in high priority areas, to support wetland habitats, and move us closer to climate resiliency. We appreciate the Province of Ontario's confidence in the work of DUC, building on our 85 years of wetland conservation expertise." – Joanne Barbazza, DUC Acting Manager of Provincial Operations and Head of Communications and Outreach Support
***
ABOUT DUCKS UNLIMITED CANADA
Ducks Unlimited Canada (DUC) is the leader in wetland conservation. A registered charity, DUC partners with government, industry, non-profit organizations, Indigenous Peoples and other landowners to conserve wetlands that are critical to waterfowl, wildlife and the environment. To learn more about DUC's innovative environmental solutions and services, visit www.ducks.ca.
Contact Information
Elizabeth Oakley
Communications Specialist, Ontario
Phone: 705-984-8400
Email:  e_oakley@ducks.ca
Joanne Barbazza
Acting Manager of Provincial Operations and Head of Communications and Outreach Support
Phone: 705-890-0593
Email:  j_barbazza@ducks.ca