How our work impacts conservation across Canada.
Where we're working on the ground from coast to coast.
We need your help to protect our water, wildlife, and wetlands. Here's how you can make an impact.
Great news for the Great Lakes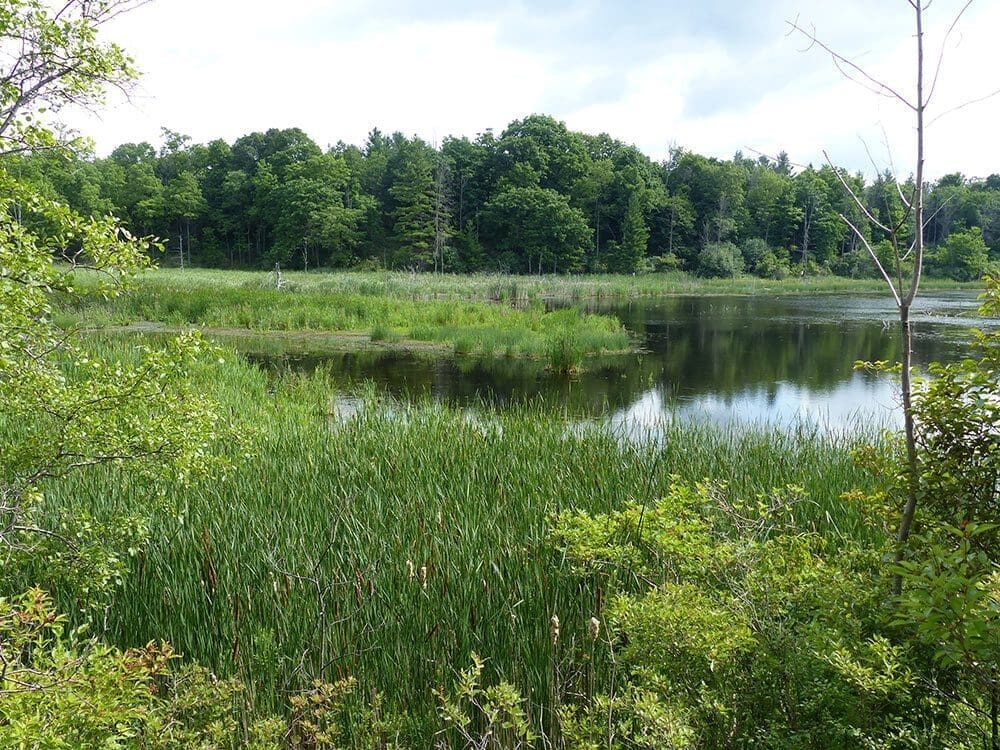 Canada and Ontario governments commit to cleaning up Lake Erie
February 23, 2018 – Barrie, Ontario – Eerie doesn't even begin to describe the toxic takeover happening in one of North America's Great Lakes. Fortunately, this iconic lake by the same name has hope for a cleaner, healthier future thanks to a shared commitment and action plan between the Governments of Canada and Ontario.
While algae and phosphorus both occur naturally in freshwater, high amounts of phosphorus contribute to excess algal growth. This algae is what's plaguing Lake Erie. The toxic slime can make people sick, kill fish and other aquatic life and make drinking water unsafe for human consumption. Wetlands are a natural solution. Wetlands slow the flow of runoff, trapping phosphorus and other harmful nutrients and keeping them from lakes and streams.
When the Governments of Ontario and Canada announced yesterday the release of the Lake Erie Action Plan, with the goal of reducing phosphorus entering Lake Erie by 40 per cent, conservation organizations like Ducks Unlimited Canada (DUC) welcomed the news.
"This is a positive step in protecting our important freshwater sources," says Greg Weeks, senior director for DUC. "Collaboration is essential in these situations. We share the resource, which means we also share the responsibility of caring for it."
DUC is pleased to see emphasis placed on protecting and restoring wetlands in the Action Plan. Conserving and restoring wetlands within the Great Lakes watershed will be key to reaching these targets, and ensuring that Lake Erie and the rest of our Great Lakes remain healthy.
Yesterday's announcement builds on the current partnership between DUC and the federal and provincial governments to implement a program in the Lake Erie watershed that includes adding wetlands to this highly altered landscape. To date, DUC has completed more than 60 projects within the Lake Erie watershed that provide additive wetland area and enhanced wetland function. In addition, DUC's Institute for Wetland and Waterfowl Research is implementing research, monitoring and outreach components as part of the partnership.
"We believe that wetland conservation and restoration can and should play a fundamental role in lowering phosphorus levels in Lake Erie," Weeks says. "Whether natural existing, restored or created, all types of wetlands have the ability to intercept and retain nutrients to prevent them from travelling further downstream. For that reason, DUC is pleased to see that Canada and the Province have indicated that wetlands are important natural features."
Ducks Unlimited Canada (DUC) is the leader in wetland conservation. A registered charity, DUC partners with government, industry, non-profit organizations and landowners to conserve wetlands that are critical to waterfowl, wildlife and the environment. www.ducks.ca  
Contact Information
Joanne Barbazza
Head of Communications and Outreach Support
Ducks Unlimited Canada
Phone: (705) 721-4444 ext 240
Email: j_barbazza@ducks.ca