How our work impacts conservation across Canada.
Where we're working on the ground from coast to coast.
We need your help to protect our water, wildlife, and wetlands. Here's how you can make an impact.
Restoration secures rare and critically important Hillman Marsh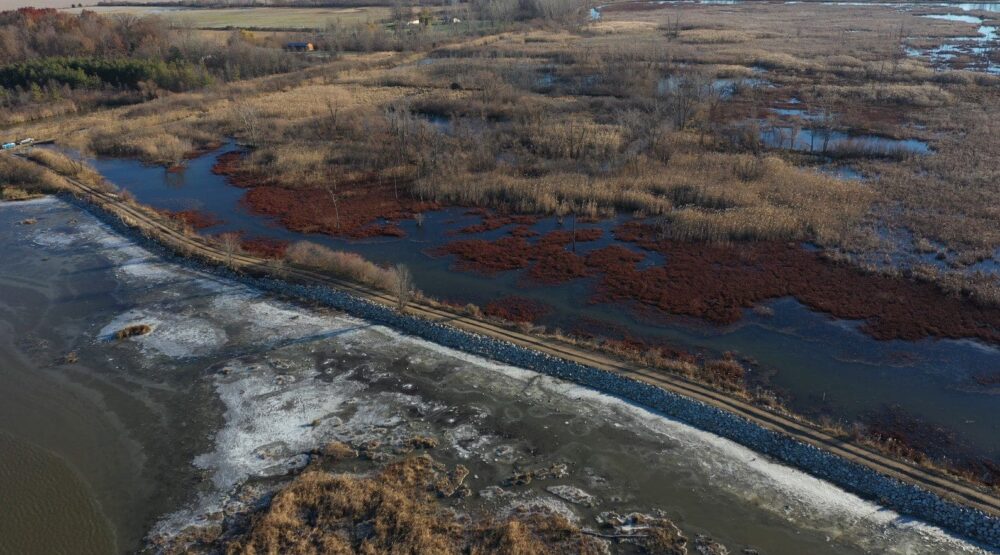 The future of Hillman Marsh is bright and noisy with birdsong thanks to weeks of restoration work to secure the habitat from high water levels and heavy wave action on Lake Erie.
Record-high water levels on Lake Erie combined with severe storms in recent years to wash away the sand ridge that had sheltered the marsh habitat. In 2020, inspections of the water-management infrastructure were carried out by DUC engineering staff which confirmed that the lake had begun to breach the protective system of earthen dikes that contains the marsh. The containment structures retain water in the marsh at levels that are essential to functional coastal wetland habitats.
Birders and hikers will continue to enjoy a treasured destination
Funding from the Province of Ontario secured the future of the rare and critically important coastal wetland this year. Extensive repairs and reinforcements took place over several weeks this autumn, increasing the resiliency of the containment diking system to withstand the new-normal climate effects that are affecting shorelines with extreme and enduring high-water events on Lake Erie.
The rehabilitation of Hillman Marsh prevents the loss of a hotspot for both birds and birders, while supporting a landscape where wetland loss has been very high in Essex County.
Contact us to speak with an expert about the importance of wetland restoration in Southern Ontario.
Learn more about the project here.
Learn more about the overall program here.
***
BACKGROUND
This restoration project was supported by the Ontario Wetlands Conservation Partner Program, a $30 million, five-year program focusing on enhancing and restoring wetlands in the Great Lakes watersheds, supporting municipal stormwater management and building climate change resiliency. The project was implemented by Ducks Unlimited Canada in cooperation with the landowner, Essex Region Conservation Authority.
Contact Information
Ducks Unlimited Canada
Julie Pollock
Communications & Outreach
Phone: 705-305-0507
Email: j_pollock@ducks.ca