Hillman Marsh is a large and lively wetland beautifully set on the shores of Lake Erie. The marsh is next to Point Pelee National Park and continually active with local wildlife and migratory birds that move through in spring and fall.
It's a treasured destination that is stewarded by the Essex Region Conservation Authority as part of a conservation area. Online-savvy birders know that it's an eBird Hotspot with hundreds of bird species recorded in the mudflats and wetland habitats.
In the 1980s, Hillman Marsh was degraded and restoration techniques by DUC preserved the wetland complex in two large, managed cells on the shore of the lake, sheltered from heavy wave action by a long beach ridge. But in recent years Hillman Marsh has become vulnerable and required urgent restoration to protect the future of the habitat.
Record-high water levels on Lake Erie combined with severe storms to wash away the long beach ridge that had sheltered Hillman Marsh from heavy waves. In 2020, engineering inspections of the water-management infrastructure confirmed that the lake had begun to breach the protective system of earthen dikes, which retain the water at levels that are essential to marsh habitats.
Funding from the Province of Ontario secured the future of the rare and critically important coastal wetland this year. Extensive repairs and reinforcements took place over several weeks to increase the resiliency of the containment diking system to withstand new-normal climate effects in the form of extreme and enduring high-water events on Lake Erie. The restoration at Hillman Marsh was funded by the Ontario Wetlands Conservation Partner Program, a $30 million, five-year program focusing on enhancing and restoring wetlands in the Great Lakes watersheds, supporting municipal stormwater management and building climate change resiliency.
The restoration is wonderful news for migratory birds and other wildlife, and for the thousands of humans who visit the nature centre, trails and viewing towers at the Hillman Marsh Conservation Area.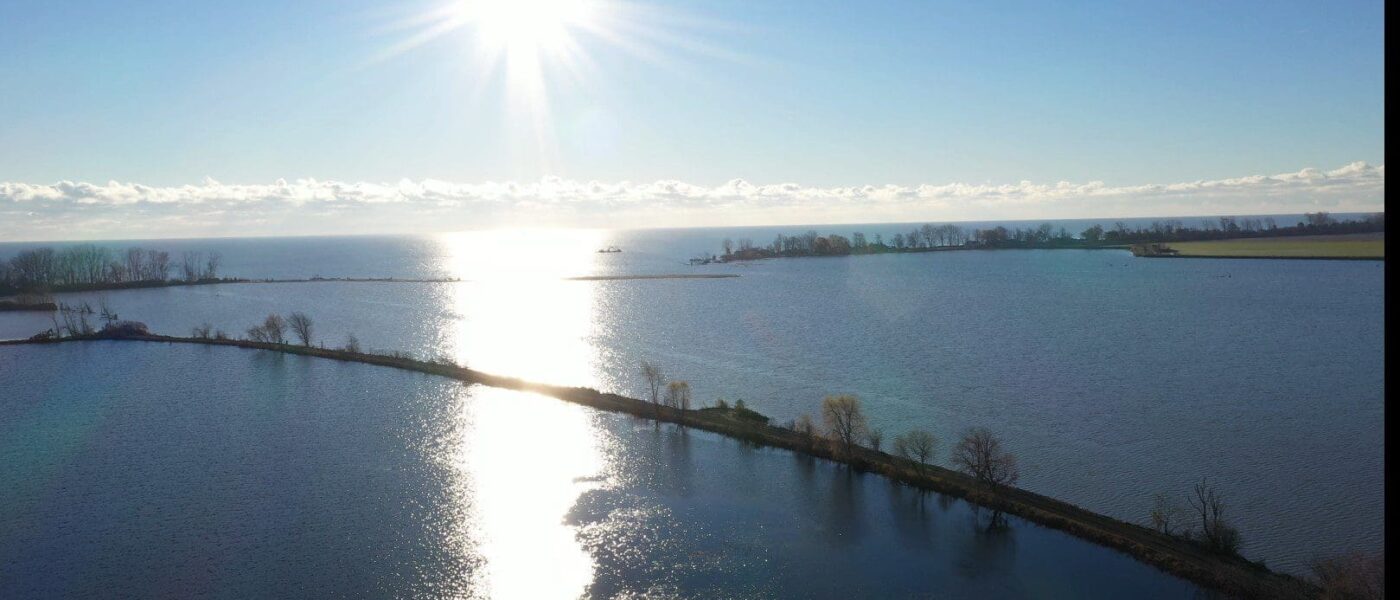 ---
Clean water protection for Lake Erie
Hillman Marsh is stabilized with water-level management infrastructure, which greatly improves water quality by slowing and settling sediment-laden waters from creeks exiting the watershed into Lake Erie.
DUC maintains a legacy of large, permanent wetland projects with outstanding value for wildlife, including a mix of surrounding upland habitats. These wetlands support hundreds of wildlife species and provide water management services to the watershed and its communities.
These projects generally have water-control structures that ensure water levels are favorable to growing healthy wetland plants to feed wildlife and create highly functional habitats. The infrastructure, made up of constructed earthen dikes, steel water-control structures, culverts and wooden stop logs, has a limited lifespan.
Reinvestment is critical to maintain these increasingly scarce natural spaces in Southern Ontario. The rehabilitation of Hillman Marsh supports the Wetland Conservation Strategy for Ontario 2017-2030 to prevent net loss of wetland area and function where wetland loss has been the greatest, which includes historical losses in Essex County.
Historical wetland losses change the landscape
Hillman Marsh is in the traditional territory of the Three Fires Confederacy and is part of the Hillman Marsh Conservation Area and near Point Pelee National Park. The two protected areas were once part of the same large wetland complex, now separated by land that has been largely drained and converted to homes and fields.
Large wetland restorations contribute to the natural infrastructure of landscapes by supporting biodiversity, climate readiness, flood mitigation, carbon sequestration, clean water and overall watershed health.
Learn more about the high-value benefits of wetlands
---