How our work impacts conservation across Canada.
Where we're working on the ground from coast to coast.
We need your help to protect our water, wildlife, and wetlands. Here's how you can make an impact.
Wetland Restoration Near Kingston Creates Fish and Bird Habitat on Howe Island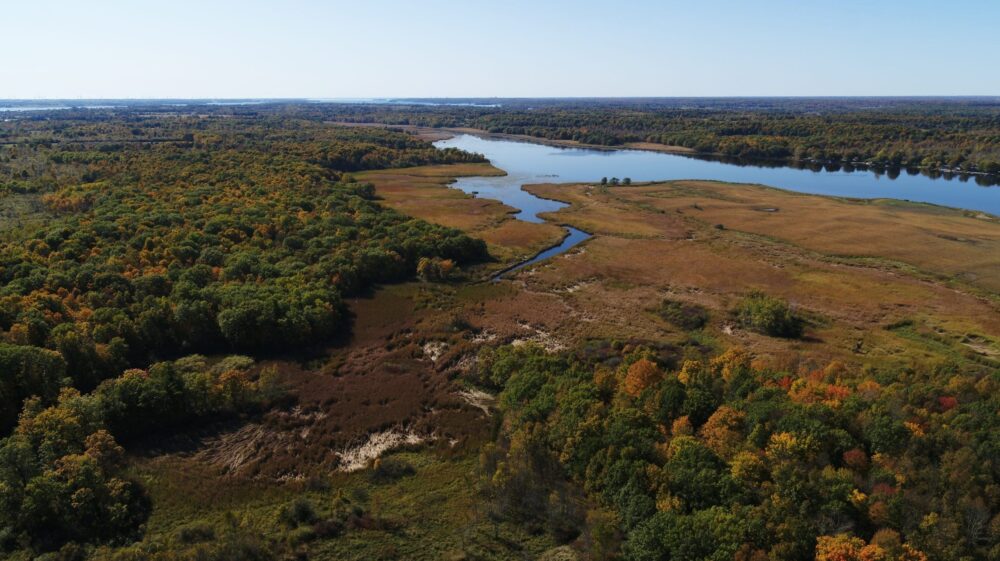 Kingston, Ont. — Ducks Unlimited Canada (DUC) is pleased to announce that work is underway to develop wildlife habitat on Howe Island. The restoration project will enhance coastal wetland habitat on property owned by DUC midway along the southern shoreline of Johnson Bay.
Howe Island is east of Kingston where Lake Ontario meets the St. Lawrence River, which is a top-priority region for waterfowl and wildlife conservation. DUC's property includes natural shoreline, grassland, forest and wetlands.
The project will enhance the coastal wetland with five open-water pools connected by nearly one kilometre of channels, providing passages and nursery habitat for fish and other aquatic species. The channels will connect the pools with Johnson Bay and, ultimately, the St. Lawrence River.
The restoration project will be completed in March 2021. Post-construction, Quinte Conservation will verify that the new habitat has attracted fish species by carrying out a three-year monitoring program.
IMAGE AND VIDEO
Drone views of the Howe Island restoration site:
---
PROJECT BACKGROUND
Across the Great Lakes region, coastal wetland habitat is a vanishing resource that provides resting, nesting, nursery and feeding areas for hundreds of wild species including fish, frogs, turtles and birds—such as the least bittern, a wetland dependent species at risk. Coastal wetlands are also "refuelling" sites for birds on long migration journeys.
The Howe Island project is designed to compensate for necessary harm to fish habitat, taking place as a result of upgrades being undertaken by the Ministry of Transportation of Ontario at the Wolfe Island ferry terminals. The terminal improvements address needs identified in a 2011 planning study that determined the current ferry service was at or over capacity during peak periods.
INVESTING IN VITAL HABITATS
The Howe Island property is one of 23 conservation properties held by Ducks Unlimited Canada within the Great Lakes watershed, accounting for almost 7,000 acres (2,833 hectares) of protected habitat. The purchase at Howe Island was supported by several sources including the Government of Canada through the Natural Heritage Conservation Program (NHCP), part of Canada's Nature Fund, a generous bequest from the late Louise Gendron, international contributors including Ducks Unlimited Inc., the U.S. Fish and Wildlife Service and state agencies through the Fall Flights Initiative, and donors Lloyd and Donna Thurston.
---
Contact Information
Julie Pollock
Communications & Outreach
Ducks Unlimited Canada
Tel: 705-482-7668
Email: j_pollock@ducks.ca
Michael Williams
Manager of Habitat Restoration
Tel: 705-242-7765
Email: m_williams@ducks.ca
ABOUT DUCKS UNLIMITED CANADA
Ducks Unlimited Canada delivers wetland conservation that benefits every Canadian. We keep the water in your lakes and rivers clean. We protect your community from the effects of flood and drought. We save wildlife and special natural places. We use science to find solutions to the most important environmental issues of the day and we collaborate with people who are helping create a healthier world. The wetlands we save aren't just for ducks; they're for all of us.