How our work impacts conservation across Canada.
Where we're working on the ground from coast to coast.
We need your help to protect our water, wildlife, and wetlands. Here's how you can make an impact.
Managing our forests with water quality in mind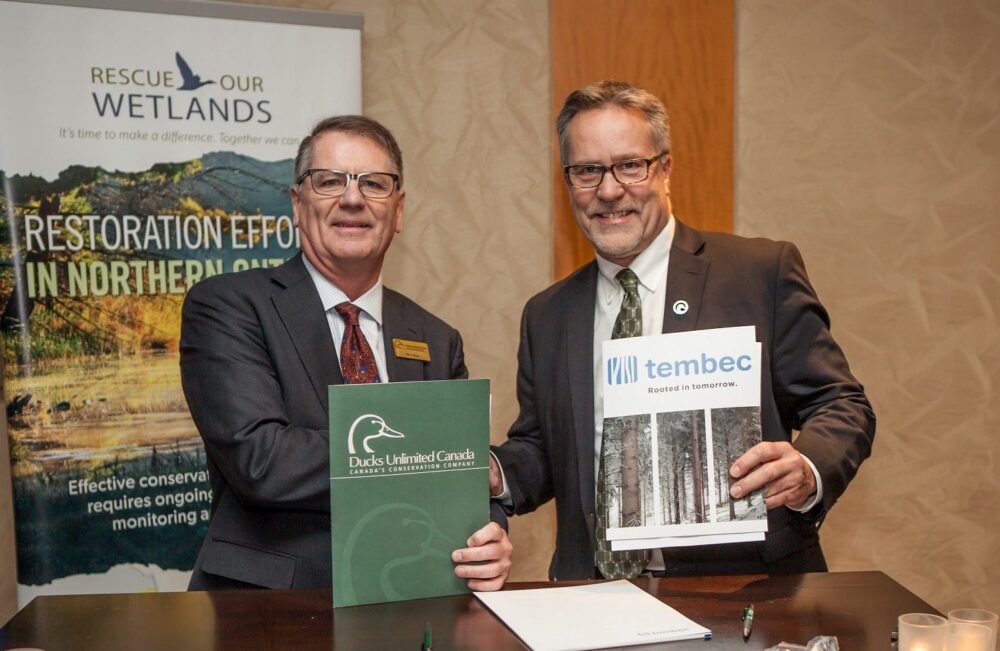 Forested land is essential for approximately two-thirds of our drinking water. That's why ensuring our forests are managed with water quality in mind, is crucial.
With a shared interest in seeing our natural resources protected for generations to come, Ducks Unlimited Canada (DUC) and Tembec are joining forces. Yesterday, the new partners signed a memorandum of understanding to work together to advance forest stewardship practices in the boreal forest and help ensure a healthy future for this important ecosystem.
With its countless rivers, lakes and wetlands, wildlife rely on the boreal forest to survive. So do we. It moderates our climate and buffers us from droughts and floods. Wetlands filter an immense amount of water, removing contaminants and excess nutrients while storing vast amounts of carbon, locking it into the ground and preventing it from contributing to climate change.
"Wetlands are incredible ecosystems, often compared to tropical rainforests for the environmental benefits they provide" says Lynette Mader, Manager of Provincial Operations for DUC. "Despite the benefits, the need for wetland conservation that supports a healthy and prosperous Ontario has never been greater. That's why DUC is working with all levels of government, industry, other not-profit organizations and landowners to achieve our wetland conservation mission. It is only by working together, we will make a difference. This partnership with Tembec is a perfect example as it takes full advantage of our shared expertise and concern for the future of this critical landscape."
Throughout the five-year agreement, the partners will identify and implement joint projects that advance ecologically sustainable forestry and wetland conservation. The expertise of DUC in the boreal will be applied to assess management practices for forestry operations while improved information and science on the many natural features associated with Tembec's forest management activities in northeastern Ontario and northwestern Quebec, will be a key priority.
"Ducks Unlimited has a well-respected track record of engaging in conservation partnerships with communities, government agencies and companies in northern Canada", said Chris McDonell, Manager of Aboriginal and Environmental Relations with Tembec.  "We look forward to building on our relationship developed through the Boreal Leadership Council and advancing forestry practices through application of science and forest certification."
About Ducks Unlimited Canada
Ducks Unlimited Canada (DUC) is the leader in wetland conservation. A registered charity, DUC partners with government, industry, non-profit organizations and landowners to conserve wetlands that are critical to waterfowl, wildlife and the environment. To learn more, please visit ducks.ca.
About Tembec
Tembec is a manufacturer of forest products – lumber, pulp, paper and specialty cellulose – and a global leader in sustainable forest management practices. Principal operations are in Canada and France. Tembec has approximately 3,250 employees and annual sales of approximately $1.5 billion. Tembec is listed on the Toronto Stock Exchange (TMB).
Contact Information
For Ducks Unlimited Canada:
Joanne Barbazza
Communications Specialist, Ontario
Phone: 705.721.4444 ext. 240
j_barbazza@ducks.ca
For Tembec
Chris McDonell R.P.F.
Manager Aboriginal and Environmental Relations
Phone: 819.627.4429
Chris.Mcdonell@tembec.com