How our work impacts conservation across Canada.
Where we're working on the ground from coast to coast.
We need your help to protect our water, wildlife, and wetlands. Here's how you can make an impact.
Nature calls…in South Bruce Peninsula!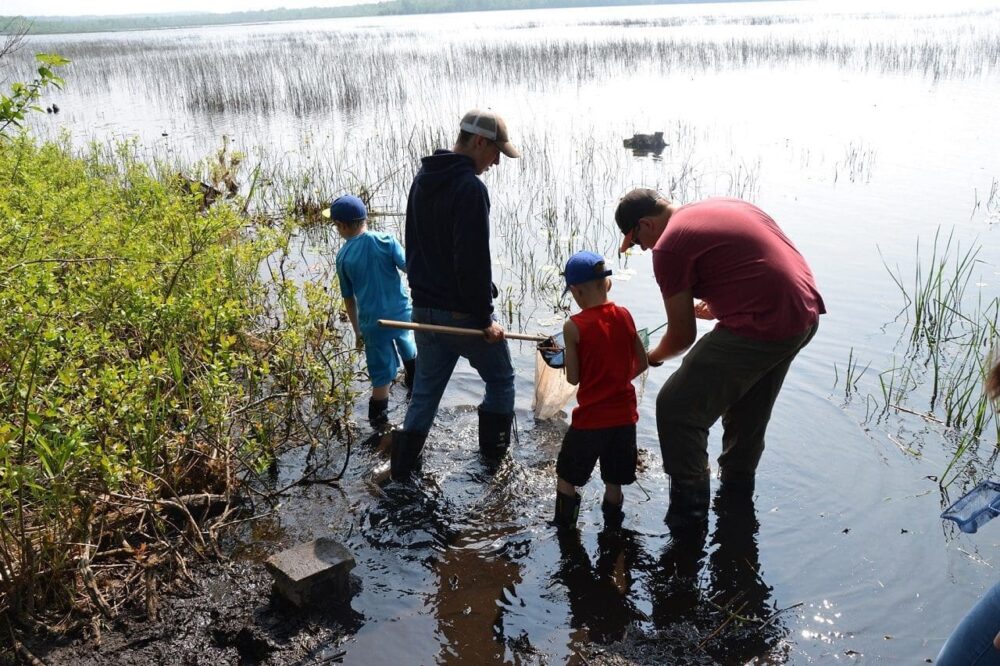 Free, outdoor family fun day nurtures the love of the outdoors.
Ever wonder about the critters that live just under the water's surface? How to identify different species of plants or birds? Or maybe even what a wetland is and why is it important to the health of our community? Now Wiarton and South Bruce Peninsula-area residents have their chance to find out. On Saturday, May 27th, Ducks Unlimited Canada (DUC) and the Bluewater Education Foundation invite you to join us for an action-packed, outdoor, family fun day – from 1 to 4 pm at the Bluewater Outdoor Education Centre (BOEC).
According to Ontario DUC education specialist Stephanie Walker, kids love getting outside and into wetlands to experience nature in a whole new way. But this event is for more than just the kids…it's for nature lovers and outdoor enthusiasts of all ages.
"It is such an amazing experience to see kids looking at the critters that live in our waters and learning about all the benefits wetlands provide their own local communities, first hand" says Walker. "But I think that people of all ages could benefit from a visit to the Outdoor Education Centre.  It's an extraordinary place to explore and enjoy, right in their own backyards.  So, grab your camera and hiking shoes, and come spend a great day outside in nature with family and friends."
Visitors are invited to trek the trails, dip for critters, get their faces painted, take a horse drawn wagon ride, learn all about wildlife, watersheds and wetland conservation from the experts, and so much more.
"We are excited to host visitors who are curious about nature, the Bluewater Outdoor Education Centre, and who want to get outside" says Deborah Diebel, BOEC Site Manager. "Our Family Fun Day will be a wonderful opportunity for people to get outdoors and enjoy this diverse property.  Now, more than ever, it is important we all take time to enjoy our families, decompress from our hectic schedules, and take a breather from our technology.  There will be something here at the Bluewater Outdoor Education Centre for everyone!"
Area residents, mark your calendars! May 27th is your chance to come celebrate the wonder of wetlands, wildlife and the unique 320-acre Bluewater Outdoor Education Centre.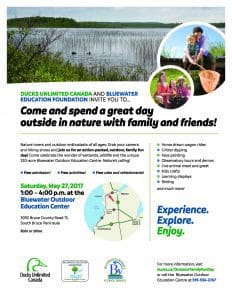 Event details:
Saturday, May 27, 2017 (Rain or shine)
1:00 – 4:00 p.m.
Bluewater Outdoor Education Centre
3092 Bruce County Road 13, South Bruce Peninsula
Ducks Unlimited Canada (DUC) is the leader in wetland conservation. A registered charity, DUC partners with government, industry, non-profit organizations and landowners to conserve wetlands that are critical to waterfowl, wildlife and the environment. To learn more, please visit ducks.ca.
The Bluewater Education Foundation is an alliance of community leaders from Grey and Bruce who are committed to raising funds and seeking resources to enrich learning experiences for students and adults at The Bluewater Education Centre.  In conjunction with the Bluewater District School Board, a special focus is to provide all grade 6 students with a residential outdoor experience.
Through time spent out of doors, the Bluewater Outdoor Education Centre plants the seeds of curiosity and wonder, growing students who value and understand our connection to nature and make wise decisions for our planet.
Bluewater District School Board is a learning organization committed to providing quality education for every student in a safe and caring environment. Serving 41 elementary and 10 secondary schools in Bruce and Grey Counties, we are committed to our vision, "Preparing Our Students Today for the World of Tomorrow". To learn more, please visit bwdsb.on.ca/
For more information, please contact:
Joanne Barbazza
Communications Specialist, Ontario
Ducks Unlimited Canada
Phone: 705.721.4444 ext. 240
j_barbazza@ducks.ca
Deborah Diebel
Site Manager
Bluewater Outdoor Education Centre
Phone: 519-534-2767
deborah_diebel@bwdsb.on.ca
Contact Information
Joanne Barbazza
Communications Specialist, Ontario
Ducks Unlimited Canada
Phone: 705.721.4444 ext. 240
j_barbazza@ducks.ca
Deborah Diebel
Site Manager
Bluewater Outdoor Education Centre
Phone: 519-534-2767
deborah_diebel@bwdsb.on.ca