How our work impacts conservation across Canada.
Where we're working on the ground from coast to coast.
We need your help to protect our water, wildlife, and wetlands. Here's how you can make an impact.
Second Marsh is getting a makeover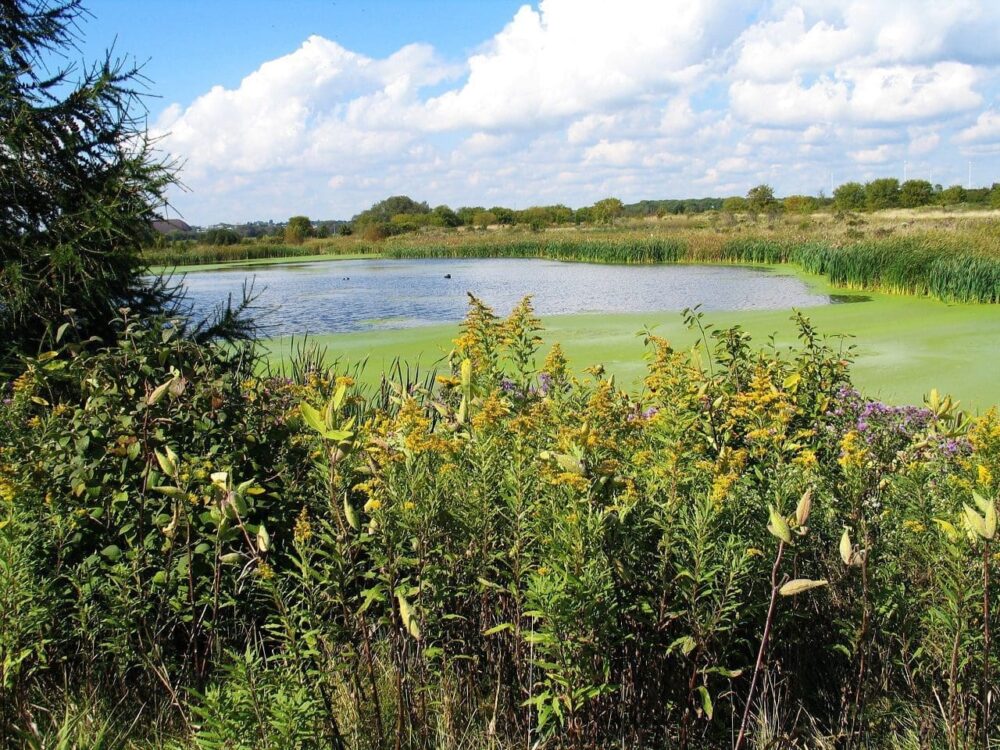 Oshawa, Ont. – Mother Nature is about to get a helping hand at Oshawa Second Marsh. The City of Oshawa, Central Lake Ontario Conservation Authority (CLOCA), Ducks Unlimited Canada and Friends of Second Marsh have begun a drawdown project beginning in April.
The drawdown will mimic natural conditions that historically occurred in Lake Ontario during alternating periods of high and low water levels. The gradual drawdown of marsh water levels will ensure that Second Marsh continues to function as a healthy wetland supporting a diverse wildlife community. Drawing down of the marsh water levels will encourage new growth of plants that provide essential food, cover for wildlife and nesting areas for birds. These plants are essential to the health of a marsh.
Although a drawdown may at first appear to be a problem for many wetland animals, it is surprisingly beneficial. Numerous aquatic invertebrates that live in the marsh actually do better when the marsh is temporarily dried. Once the marsh is re-flooded, invertebrates will quickly exploit new food resources and their populations should flourish. Fish, amphibian and reptile populations do especially well and respond favourably to the abundance of invertebrates and new habitat.
The drawdown may pose a temporary inconvenience for people who enjoy the scenic attributes of a marsh, but wildlife will ultimately benefit from the sustainable, healthy habitat. In September, re-flooding will bring back typical fall water levels, improving water quality, and attracting local and migrating waterfowl, shorebirds, raptors, songbirds and other wildlife to feed and rest.
"Oshawa's Second Marsh is a Provincially Significant Wetlands and thanks to the support of CLOCA, Ducks Unlimited and Friends of the Second Marsh it will undergo rehabilitation starting this spring," said Councillor Bob Chapman, Chair of the Community Services Committee. "Although the drawdown may not look like it is good for the marsh, the experts tell me it is necessary to keep the Second Marsh functioning as a healthy ecosystem. I'm sure watching this project from start to finish will be most interesting."
The successful management and rehabilitation of the wetland depends on the participation of key partners and experts including Ducks Unlimited, Friends of Second Marsh and CLOCA.
Call for Photos!
Keep your eyes on the marsh throughout the entire drawdown process for some great wildlife viewing opportunities so don't forget your camera.
Help us document the drawdown. Share your photographs of Second Marsh drawdown and its positive results on social media with the hashtag #SecondMarshHelpingHand for a chance to win a great outdoor prize pack. Submitted photos must meet criteria (for example, photos cannot include identifiable people – check the website for full contest rules and regulations). Contest closes October 15, 2015. Selected photos along with the photographer credit will be featured on the Second Marsh Photo Gallery. Additionally, submitted photos may be used on the City's website and City-produced promotional materials.
For updates on the City of Oshawa, visit www.oshawa.ca/secondmarsh or follow "OshawaCity" on: Twitter and Facebook.
Second Marsh Background
Oshawa Second Marsh is a 137-hectare wetland that the province has identified as a Provincially Significant Wetland and a Provincially Significant Area of Natural and Scientific Interest. Second Marsh provides an important staging area and stopover for migratory birds, incredible biodiversity and a diverse wildlife community. Within the wetland there are over 380 plant and 305 bird species as well as numerous mammals, reptiles, amphibians and fish. It provides habitat for rare species-at-risk. Nature trails and connection to the Waterfront Trail provides visitors with opportunities to appreciate nature.
Marsh Management Steering Committee Background
In the 1990s, the Marsh Management Steering Committee was tasked to manage and rehabilitate the Second Marsh. Since then a number of projects has successfully restored the Second Marsh to a healthy, functioning ecosystem. The partners include:
City of Oshawa – responsible for the operations and general maintenance of Second Marsh and is Chair of the Marsh Management Committee;
Central Lake Ontario Conservation Association (CLOCA) and Environment Canada – provide environmental monitoring;
Ducks Unlimited Canada – responsible for the ongoing water management and restoration; and
Friends of Second Marsh – provide education, interpretation and watershed stewardship.
Media Release originally published by the Corporation of the City of Oshawa

Contact Information
Councillor Bob Chapman
Chair, Community Services Committee
(905) 436-5619
bchapman@oshawa.ca
Jag Sharma
Commissioner, Community Services Department
(905) 436-3311 ext. 2259
jsharma@oshawa.ca
Glenn Simmonds
Director, Operations
(905) 436-3311 ext. 2229
gsimmonds@oshawa.ca