How our work impacts conservation across Canada.
Where we're working on the ground from coast to coast.
We need your help to protect our water, wildlife, and wetlands. Here's how you can make an impact.
Working together for fish and waterfowl
Ottawa, Ont.– Fish and waterfowl have more in common than one might think, but it is their shared habitat that is being brought into the spotlight with a new agreement between Muskies Canada Sport Fishing and Research Inc. (MCI) and Ducks Unlimited Canada (DUC). Yesterday, the new partners signed a memorandum of understanding to work together to protect wetland habitat.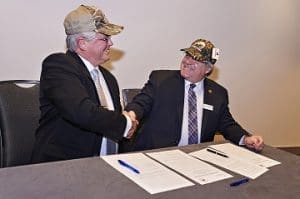 Wetlands are incredible ecosystems, often compared to tropical rainforests for the environmental benefits they provide. Besides providing habitat for hundreds of wildlife species, they naturally filter and store water. They mitigate floods, droughts, storm surges and the effects of climate change. Despite these benefits, greater levels of human impact are putting them at risk for loss and degradation. Pollution, climate change and competing land uses are affecting forests, wetlands, lakes and streams.
"This partnership takes full advantage of our shared expertise and concern for critical wetland habitat", says Mark Gloutney, director of regional operations for DUC. "Areas that are important to waterfowl are important to fish too. This partnership is a great opportunity to work together to help secure the future of waterfowl and fish species, as well as the greater benefit to the environment".
Throughout the five-year MOU, the two groups will explore ways to conserve and restore valuable wetland habitat, work together on projects that mutually benefit muskellunge and waterfowl in eastern Canada and promote the use of innovative and ethical management practices, all while supporting the involvement of local volunteers.
"Muskies Canada is very concerned about threats to wetland habitat that is so important as breeding and nursery areas for our wild fish", says Peter Levick, President of Muskies Canada. "Ducks Unlimited Canada is a natural partner for Muskies Canada because fish and waterfowl both need healthy diverse wetlands to support sustainable populations. The work we do today to conserve and enhance wetlands will be our legacy supporting fish and waterfowl in the future."
About Muskies Canada Sport Fishing and Research Inc.
Muskies Canada works to protect and enhance the muskellunge fishery in Canada through wise use of the muskellunge resource and participation, and through research, habitat protection and improvement projects, to support the abatement of water pollution and to promote the exchange of muskie information among the angling public. For more info go to www.muskiescanada.ca
About Ducks Unlimited Canada
Ducks Unlimited Canada (DUC) is the leader in wetland conservation. A registered charity, DUC partners with government, industry, non-profit organizations and landowners to conserve wetlands that are critical to waterfowl, wildlife and the environment. To learn more, please visit ducks.ca.
Listen to DUC's Mark Gloutney speak to Blue Fish Radio, in response to the Muskies Canada/DUC partnership announcement.
Contact Information
Joanne Barbazza
Communications Specialist, Ontario
705.721.4444 ext. 240
j_barbazza@ducks.ca