How our work impacts conservation across Canada.
Where we're working on the ground from coast to coast.
We need your help to protect our water, wildlife, and wetlands. Here's how you can make an impact.
Islanders: don't take wetlands for granted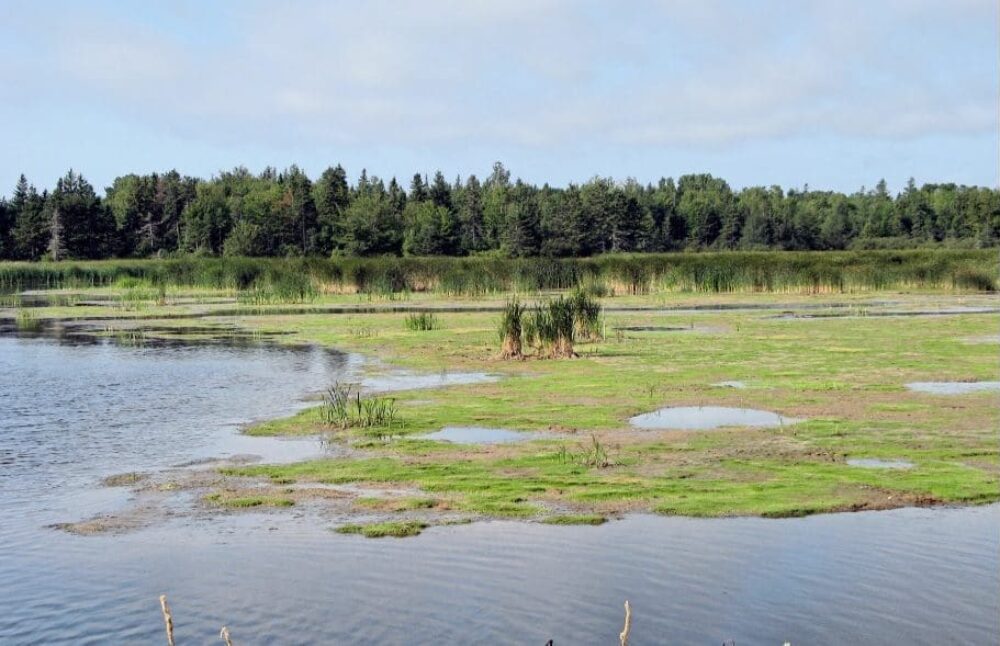 Charlottetown, P.E.I. – World Wetlands Day is celebrated on February 2 each year to raise global awareness about the value of wetlands. This is also a good time for residents of Prince Edward Island to take stock of their coastal and freshwater wetlands.
Wetlands on P.E.I. occupy approximately six per cent of the landscape with approximately 10 per cent of these wetlands managed with dams and water controls. Many of these bodies of water and marsh have been in place since the 1800s, when European settlers built dams (often in areas where beaver dams existed) to create sources of power for gristmills, woolen mills and in the 1900s, for electricity.
Since 1971, Ducks Unlimited Canada (DUC) has been managing many of these sites in co-operation with the Province of P.E.I. and private landowners to provide habitat for waterfowl. While many of these ponds and wetlands are part of our Island history, we must also understand that there are no guarantees that all these dams and managed wetlands will remain in the future.
Sea-level rise due to climate change, regulatory approvals, a movement to use natural systems rather than managed systems and increasing financial costs all have impact. The good news is there may be no net loss of wetlands since they are protected by provincial regulations and some managed wetlands can be converted from freshwater wetlands to tidal wetlands or salt marshes.
This was the case at Fullerton's Marsh in Stratford, where a portion of the wetland above the old rail line was managed as freshwater wetland since 1950. In 2020, DUC removed the fishway and water control to allow this 50-acre freshwater wetland to revert to a salt marsh. In this case, given sea level rise to date and predictions of greater increases in the future, holding back tidal waters was no longer feasible.
In nearby Johnston's River, we have begun consultations with landowners and the public on the future management of this 284-acre freshwater wetland. This marsh was tidal up until 1950 when the Government of Canada built a dam with the intent to improve the marsh for agriculture. The responsibility of the dam was transferred to the Province in 1966 and DUC became involved with the management of the marsh in 1971. Over our 50 years of involvement with this wetland, it has been extremely challenging to manage the habitat and public expectations of the marsh. DUC—after a great deal of consideration—recommended in 2020 that the dam on the Johnston's River be removed to allow tide to once again return to this marsh. This is not a recommendation we take lightly as predicted sea-level rise and tidal surges will threaten some adjacent properties. We are committed to working with landowners and facilitating discussions with the Province of P.E.I. to help mitigate any risk.
While World Wetlands Day is about global awareness of wetlands, Islanders need to become aware of local changes. If you own land that is near a body of water, you need to ask questions. Will that coastal water rise over time and threaten my property? Should I build a house or structure there? If you have land near a freshwater body of water, you need to ask whether that pond or wetland is natural or is it created by a dam? If it is a dam, it is not permanent; building your dream home or cottage overlooking a pond may be a short-sighted decision.
Ducks Unlimited Canada continues to work with government, First Nations and private landowners to ensure that wetlands remain an important part of our natural heritage. We adapt and change our programs as environmental conditions, regulations and public expectations change. Our conservation programs of the 1970s and 1980s have changed dramatically and like others living and working on the Island, we must continue to adapt to the future.
Ducks Unlimited Canada (DUC) is the leader in wetland conservation. A registered charity, DUC partners with government, industry, non-profit organizations and landowners to conserve wetlands that are critical to waterfowl, wildlife and the environment.
Contact Information
Tom Duffy
Manager of Provincial Operations (Atlantic)
Ducks Unlimited Canada
t_duffy@ducks.ca