How our work impacts conservation across Canada.
Where we're working on the ground from coast to coast.
We need your help to protect our water, wildlife, and wetlands. Here's how you can make an impact.
Ducks Unlimited Canada partners with Sépaq to map wetlands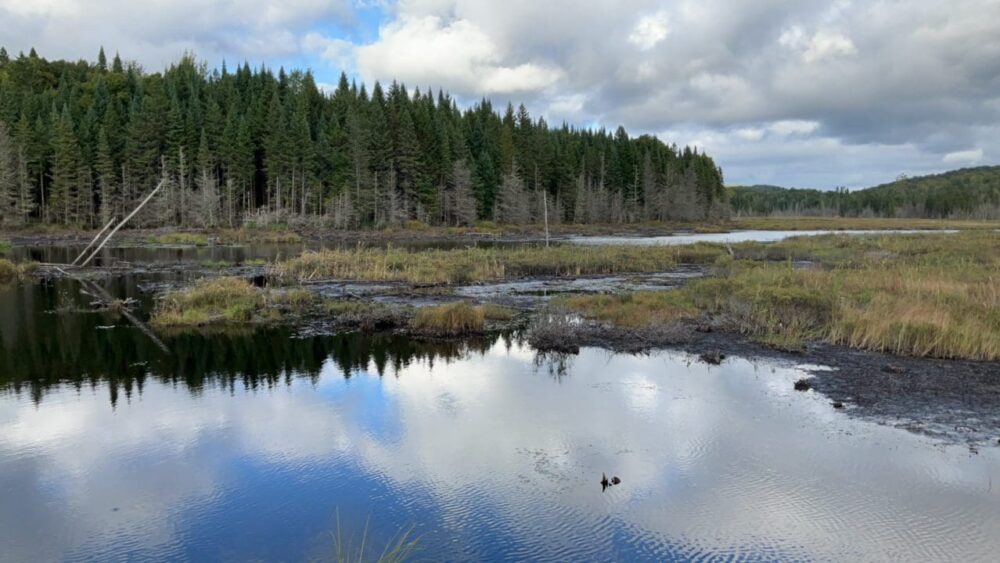 Québec City, January 19, 2023 – Ducks Unlimited Canada (DUC) is proud to announce its partnership with the Société des établissements de plein air du Québec (Sépaq) to conduct detailed mapping of wetlands on the territory of the Réserve faunique Papineau-Labelle. In collaboration with several partners, this initiative is part of a comprehensive wetland mapping project for populated areas in southern Quebec. 
Objectives 
This mapping will provide accurate and up-to-date data on the location, classification and status of wetlands larger than 0.3 hectares within the territory. The area to be mapped covers 803 square kilometres, which is approximately twice the size of the island of Montreal. This work complies with the Canadian Wetland Classification System and the Guide d'identification et délimitation des milieux humides du Québec méridional, produced by the Ministère de l'Environnement, de la Lutte contre les changements climatiques, de la Faune et des Parcs (MELCCFP).
The continuation of a major project
This work follows a larger scale project launched in 2009 by DUC and carried out in cooperation with the MELCCFP: the mapping of wetlands in populated areas of southern Quebec. Sépaq would like to participate in the development of new knowledge about wetlands on the territory of the Papineau-Labelle Wildlife Reserve, working in collaboration with DUC and the regional community to obtain more accurate and complete mapping data to enable them to make the best possible decisions in carrying out their mission. At the end of this project, carried out in collaboration with the MRCs of Papineau and Antoine-Labelle, the territory of Réserve faunique Papineau-Labelle will be fully mapped.
Description of work
Wetland mapping will be done by photo-interpretation (location, delimitation, classification and pressure identification), using the most recent aerial pictures and digital stereoscopic models for the studied area. Part of the photo-interpretation work will be validated by field visits to ensure an appropriate level of accuracy and consistency, as well as to document the status of wetlands and the stresses that may affect them.
Financial partners
The project's financial partners are the MELCCFP and Sépaq.
The project also benefits from various initiatives that support DUC's conservation programming in Quebec, including the Eastern Habitat Joint Venture (EHJV) and the North American Wetlands Conservation Act (NAWCA).
Quotes
"Wetlands capture and store significant amounts of carbon and provide protection from floods and droughts, thereby fighting against the effects climate change. They filter and treat pollutants before they get to the water. By understanding their locations, we can more effectively direct land management decisions. That's why the mapping work we're doing in Réserve faunique de Papineau-Labelle is so important." – Sébastien Rioux, Director of Regional Operations – Eastern Canada and British Columbia, Ducks Unlimited Canada.
"Sépaq is proud to encourage this local initiative and to contribute to the conservation and development of wetlands with multiple ecological functions. This new knowledge will help guide our actions for various projects within the wildlife reserve." –  Jessy Dynes, General Manager – Wildlife Sector, Sépaq
"Wetlands provide us with many ecological services, which is why it is so important to preserve their diversity throughout Quebec. Thank you to Sépaq for collaborating with the MELCCFP and to DUC for carrying out this mapping work, which will allow us to better understand and conserve the wetlands on our territory, particularly those in southern Quebec." –  Benoit Charette, Minister of the Environment, the Fight Against Climate Change, Wildlife and Parks and Minister Responsible for the Laurentides Region.
Contact Information
Vicky Boivin
Communication Specialist
v_boivin@ducks.ca