How our work impacts conservation across Canada.
Where we're working on the ground from coast to coast.
We need your help to protect our water, wildlife, and wetlands. Here's how you can make an impact.
DUC Responds to Saskatchewan Budget 2022-2023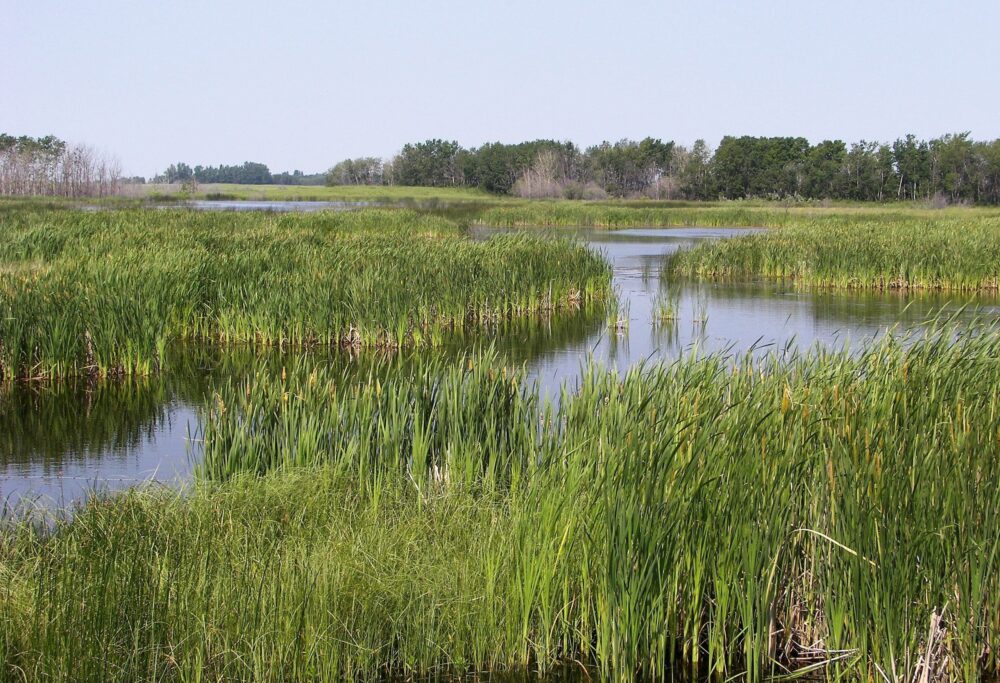 Last week, the Government of Saskatchewan released its 2022 Budget with a strong emphasis on getting the provincial economy back on track. Investments across all sectors offer promising opportunities to provide real benefit to the people of our province. DUC believes development that takes long-term environmental sustainability into consideration delivers the most value to residents and communities. And we're ready to contribute the knowledge and expertise needed to make that happen.
Building capacity within the agricultural sector
DUC applauds the Province's additional support for its agriculture sector, resulting in an annual budget of $462.4 million and a nearly 20 per cent year-over-year increase. This healthy investment will ensure Saskatchewan makes progress toward its ambitious 2030 Growth Plan goals, including substantial increases in livestock receipts, crop production, and agri-food exports.
Through its in-depth involvement with the agri-food sector, DUC understands that foreign markets and consumer pressure are increasing demand for food that is produced sustainably and on the existing land base.
"In order for the Province to achieve its growth agenda, it is critical that we grow more on the land we farm today," said Larry Kaumeyer, CEO of DUC. "This will require innovation built through partnerships with industry, conservation organizations, researchers, and governments alike. DUC is prepared to support our important partners on the landscape and, in this way, contribute to Saskatchewan's ability to fully capitalize on growing global demand for sustainably produced food."
Habitat benefits from license fee increases
Modest increases in fur, angling and hunting license fees included in the 2022 Budget will result in nearly $1 million in additional investment in the Fish and Wildlife Development Fund (FWDF). For over 50 years, the FWDF has been a successful mechanism for continual investment in fish and wildlife habitat in the province. DUC has been a partner agency in the FWDF from the outset and looks forward to continuing delivery of habitat securement and management projects of benefit to Saskatchewan's fish, game and fur-bearing species.
Potash remains strong
DUC has partnered with the potash sector for well over a decade and is encouraged by the provincial forecast for growth in this sector. "Saskatchewan potash is the most sustainably mined in the world," says Kaumeyer. "DUC has been a proud partner of the mining sector for many years, assisting with wetland mitigation efforts as required."
DUC remains eager to contribute the conservation science and expertise necessary for industry to meet compliance requirements and bolster public trust. The potash industry provides an essential commodity to agriculture and DUC supports continued investment in this critical sector.
Investment in sustainable forestry
In order to achieve its ambitious growth targets in the forestry sector, the Province is investing a total of $2 million over the next five years in the development of a complete commercial forest inventory map. This mapping, and the information it provides, will ensure responsible and sustainable forest harvesting takes place in the sector. DUC understands this inventory will be informed by the Enhanced Wetland Classification developed by DUC under its partnership with Saskatchewan Ministry of Environment. We support investment in this invaluable tool that will allow for growth in the sector while conserving some of our greatest provincial assets, including northern wetlands and their biodiversity and carbon storage potential.
More investment in Prairie Resilience needed
Given the growing impacts of climate change on people, businesses and communities across Saskatchewan, DUC encourages the Province to build on their planned $1-million investment in the ongoing implementation of its made-in-Saskatchewan climate change strategy, Prairie Resilience. Significant budgetary investment is needed today to protect our province from the most serious impacts, including the increased frequency and severity of droughts and floods. We encourage the Province to more aggressively invest in and implement its climate change strategy.
In Prairie Resilience, the Province previously identified the important role of natural areas on agricultural lands for carbon storage and biodiversity and further identified the need for policies and programs that incentivize conservation of these areas. DUC urges the Province to explore and invest in these solutions that will enable all landowners to realize economic benefits of stewarding their natural areas, including wetlands. With a history of successfully partnering with Saskatchewan farmers and ranchers, DUC stand ready to support the development and delivery of programs that help farmers and ranchers monetize the environmental goods produced through their good land stewardship.
Water management challenges and opportunities
A $72-million investment in water management offers promise to relieve pressure around the quantity, quality and distribution of this vital resource in Saskatchewan. DUC urges the Province to ensure that all water management projects carefully assess environmental risks and incorporate appropriate mitigation tools to manage those risks, in order for Saskatchewan communities to derive maximum benefit from these projects. As a leading expert on sustainable management of water resources, DUC looks forward to supporting provincial efforts to ensure that essential functions of habitat provision, nutrient removal, and flood mitigation are preserved.
Looking ahead
The commitments made by the Province in the 2022 budget are a salute to the strength and resilience of the people of Saskatchewan. Recognizing the importance of development that is socially, economically and environmentally sustainable—and having the know-how to achieve it—DUC is keen to work with our many partners to deliver solutions that will help build a prosperous post-pandemic future.