Two nest boxes—typically used by cavity-nesting ducks—are currently being monitored with nest cameras at the DUC Fredericton office. They are located near a DUC wetland, where the hens will lead their ducklings shortly after hatching.
Both nest cameras put you up close with common goldeneye, sitting on their clutches of eggs. The first started laying around April 9 and has several eggs in the nest. But this does not guarantee a successful hatch for the brood! Predators may threaten her nest, and so may other ducks. If another cavity-nesting hen takes an interest in the nest-box, that hen may forcefully take it over or deposit some of her own eggs amongst the original clutch.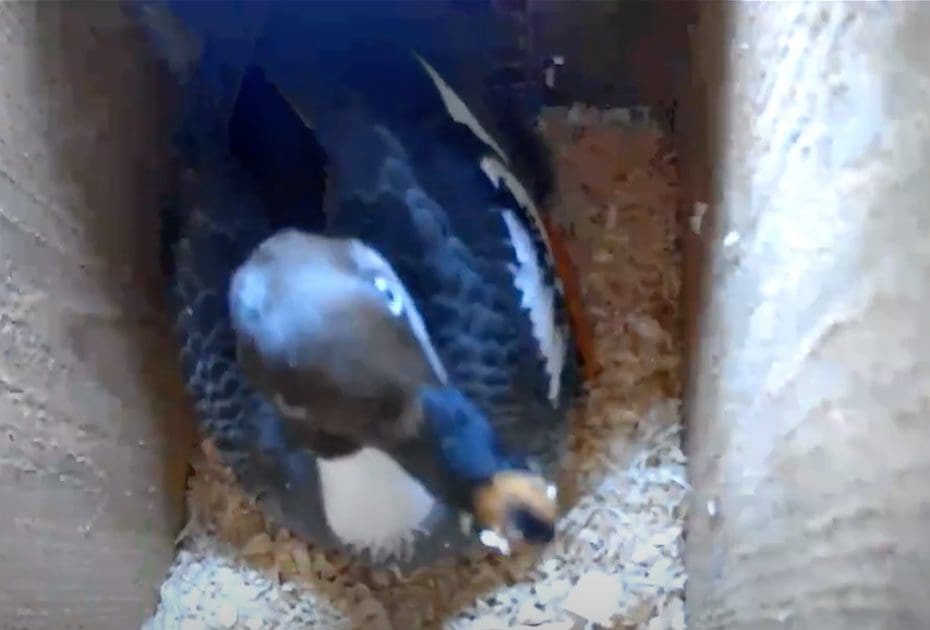 When do you think her brood will hatch?
The hen in the second nest box started laying her eggs on April 27. Everyone who correctly guesses the hatch date for her brood will be entered into a draw for a DUC Gear™ YETI water bottle!
Watch recent activity from inside the nest box, including a couple of surprise visitors! Neither stayed or disturbed the eggs, and the original hen is still caring for her nest.
The hen in the second nest box started laying her eggs on April 27. When do you think her brood will hatch?
Fast facts about the common goldeneye
 Some common goldeneye will return to nest in the same nest box year after year.
If a goldeneye hen abandons her brood, or it's taken from her in a territorial fight with another hen, the ducklings may join up with another goldeneye brood. The mixed group is called a creche.
Common goldeneye only gain their namesake eye colour as adults. Their eyes are brownish when they hatch, and later transition from purple to blue to green, and finally to yellow.
The common goldeneye has the nickname of "whistler," because of the whistling sound made by its wings.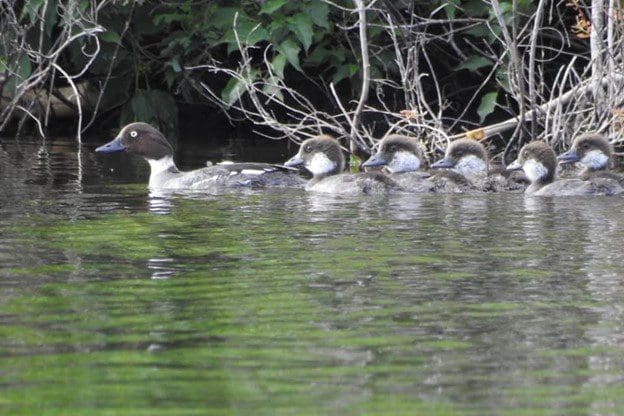 Wood ducks in nest boxes
Before the common goldeneye claimed the nest boxes at the Fredericton DUC office, wood ducks were also checking them out. These nest boxes typically attract wood ducks, common goldeneye and hooded mergansers.
Fast facts about the wood duck
Wood ducks are cavity nesters, choosing sheltered chambers like tree hollows and nest boxes, typically 10 – 60 feet high.
Wood ducks typically produce 6 – 16 eggs in a clutch.
Wood ducks sometimes practice brood parasitism, depositing their eggs in other ducks' nests to be raised by that nest's hen.
Wood ducks typically incubate their eggs for 28-30 days.
Wood duck ducklings jump from their nesting cavity within 24 hours of hatching, called to come down by their mother.
Wood ducks are dabbling ducks that eat mostly seeds, acorns, fruits and invertebrates.