Skip to main content
How our work impacts conservation across Canada.
Where we're working on the ground from coast to coast.
We need your help to protect our water, wildlife, and wetlands. Here's how you can make an impact.
Saskatchewan Hay and Grazing Tenders
Regions
Provincial, Saskatchewan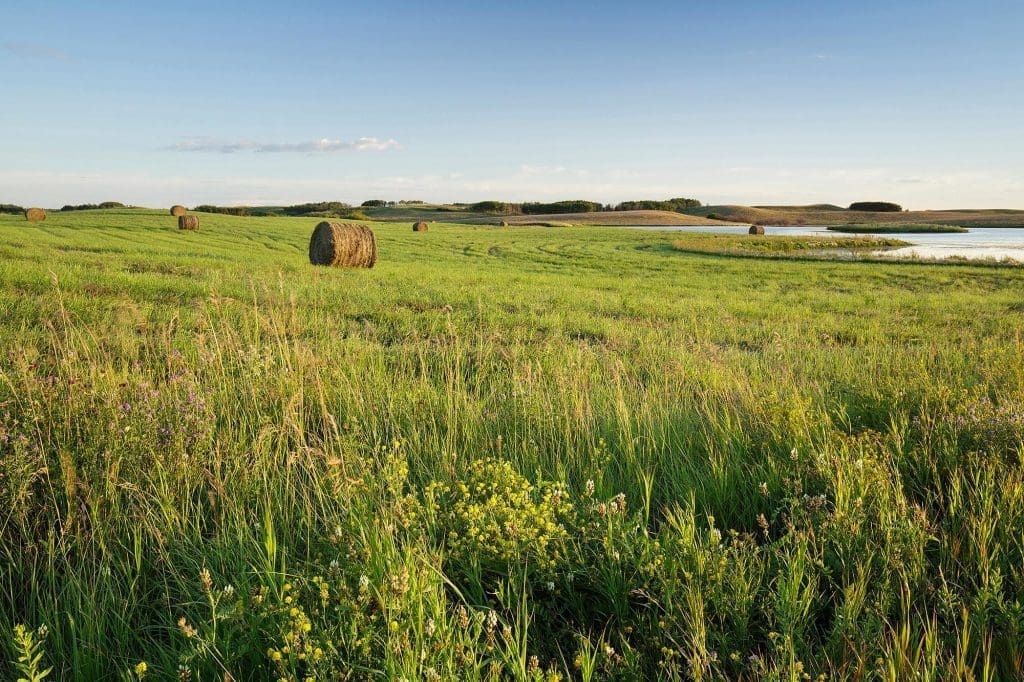 Sound management of pastureland keeps forage stands healthy and vigorous. It also helps with weed control, while at the same time, maintains productive waterfowl habitat.
As a unique opportunity for local producers, DUC makes land available for haying and/or grazing with annual tenders.
In order of Rural Municipality number, here is a list of grazing properties in Saskatchewan for which we are now accepting bids for tender.
---
DUC Agreement forms must be used in bidding process.
Download the 2020 Saskatchewan Hay Tender Form (PDF)
For a copy of the agreement specific to each area, please contact the DUC representative identified on the listing or call 1-866-252-3825, 306-569-0424 or email du_regina@ducks.ca.
RM 31
Contact Jamie 1-306-450-7270 |  j_holdstock@ducks.ca
Dauvin – N1/2 8-6-31-W1 – 260 Acres
RM 61
Contact Jamie 1-306-450-7270 |  j_holdstock@ducks.ca
Wauchope Purchase – E1/2 18-7-33-W1 – 197 Acres
RM 69
Contact Courtney 1-306-961-8907 | c_stalwick@ducks.ca
Kaufmann Purchase – SW25-7-19-W2 – 58 Acres (grazing, condition of hauling water)
Khedive Purchase – SE26, SW26, NE27-7-19-W2 – 319 Acres (grazing, condition of hauling water)
RM 94
Contact Courtney 1-306-961-8907 | c_stalwick@ducks.ca
Pitura – NW2-12-4-W2 – 91 Acres
RM 100
Contact Courtney 1-306-961-8907 | c_stalwick@ducks.ca
Donison –  SW28-10-24-W2 – 124 Acres
Donison – SE32-10-24-W2 – 140 Acres
RM 124
Contact Sheena 1-306-370-8903 | s_mcinnes@ducks.ca
Szucs –  SE7-13-5-W2 – 135 Acres
RM 154
Contact Sheena 1-306-370-8903 | s_mcinnes@ducks.ca
Lockie Purchase – SW17-16-4-W2 – 154 Acres
RM 211
Contact Sheena 1-306-370-8903 | s_mcinnes@ducks.ca
Becker – NW23-24-30-W1 – 31 Acres
DERKATCH UPLANDS – SE22-23-32-W1 – 70 Acres
Kozaruk Jim Uplands – NW15-24-31-W1 – 90 Acres
Laidlaw Lease – Sec 34-24-32-W1 – 320 Acres
Toderian – SW11-24-31-W1 – 110 Acres
Wagner, M.R.M. – NW25-24-30-W1 – 110 Acres
Wagner, M.R.M. – SW25-24-30-W1 – 50 Acres
RM 211
Contact Lyse 1-306-227-4554 | l_boisvert@ducks.ca
Laidlaw 2 Lease – E1/2 32-24-32-W1 – 197 Acres (Greenfeed seeded)
Morrison Lease – NE26-24-33-W1 – 80 Acres (Greenfeed seeded)
RM 213
Contact Nolan 1-306-730-9665 | n_johnson@ducks.ca
Barnhart – NW35-23-1-W2 – 90 Acres
Herron Uplands – SW5-23-2-W2 – 38 Acres
I. Knodel Uplands – NW12-24-2-W2 – 40 Acres
Isaac RLP – NW,NE 1-23-1-W2 – 170 Acres
Knodel Uplands – NW11-24-2 W2 – 80 Acres
RM 214
Contact Nolan 1-306-730-9665 | n_johnson@ducks.ca
Schofer – SE20, SW21-22-6-W2 – 180 Acres
RM 215
Contact Lyse 1-306-227-4554 | l_boisvert@ducks.ca
Lutz – NE23-23-8-W2 – 40 Acres ( Old bales on field )
RM 217
Contact Courtney 1-306-961-8907 | c_stalwick@ducks.ca
Hassman Purchase – S1/2 8-24-15-W2 – 219 Acres
RM 241
Contact Sheena 1-306-370-8903 | s_mcinnes@ducks.ca
Ellaschuk Uplands – SW26-25-32-W1 – 90 Acres
RM 243
Contact Sheena 1-306-370-8903 | s_mcinnes@ducks.ca
Bischop – NE34-26-2-W2 – 70 Acres
Harvey Purchase – NE13-25-1-W2 – 59 Acres
Kramer – SW18-25-3-W2 – 79 Acres
Liebrecht Purchase – SW32-27-1-W2 – 80 Acres
Mehling – NW9-27-1-W2 – 56 Acres
Phillips M. – SE31-25-2-W2 – 80 Acres
Smith Purchase 2012 – NE22-25-1-W2 – 96 Acres
Torrie – SE13-25-1-W2 – 106 Acres
Witt – NW36-25-1-W2 – 83 Acres
RM 244
Contact Lyse 1-306-227-4554 | l_boisvert@ducks.ca
Grobler Lease – SE29-25-5-w2 – 87 Acres
H&K Woods – SE33-25-5-W2 – 134 Acres
Hannotte – NE8-26-5-W2 – 76 Acres
RM 245
Contact Sheena 1-306-370-8903 | s_mcinnes@ducks.ca
Bohach Lease – SW24-25-9-W2 – 110 Acres
Bohash Lease – NE23-25-9-W2 – 93 Acres
Chupa – E1/2 17-26-8-W2 – 213 Acres
Halushka – NE6-26-8-W2 – 90 Acres
Tatartyn – SE6-26-8-W2 – 118 Acres
RM 271
Contact Sheena 1-306-370-8903 | s_mcinnes@ducks.ca
Diduck ptn. – NW24, SE24-28-32-W1 – 116 Acres
RM 273
Contact Sheena 1-306-370-8903 | s_mcinnes@ducks.ca
Kotyk – NW27-29-2-W2 – 87 Acres
Kotyk – SE35-29-2-W2 – 66 Acres
Kotyk II – SW34-29-2-W2 – 87 Acres
Kotyk II – SE33-29-2-W2 – 71 Acres
Kotyk II – NE33-29-2-W2 – 98 Acres
Palamaryk -SE2-28-2-W2 – 70 Acres
Sliding Hills Uplands – SW25-28-1-W2 – 76 Acres
Uhryn – NW30-28-1-W2 – 30 Acres (DUC does not own whole quarter)
Uhryn – NE30-28-1-W2 – 35 Acres
Yaholnitsky – SW27-29-2W2 – 30 Acres
RM 274
Contact Sheena 1-306-370-8903 | s_mcinnes@ducks.ca
Lischynski – NW15-29-4-W2 – 114 Acres
Lischynski – SW15-29-4-W2 – 83 Acres
Lischynski – NW10-29-4-W2 – 96 Acres
Lischynski – NE16-29-4-W2 – 100 Acres
RM 275
Contact Sheena 1-306-370-8903 | s_mcinnes@ducks.ca
Baback Uplands – N1/2 24-30-8-W2 – 100 Acres
RM 276
Contact Ashtin 1-306-813-7593 | a_bourgonje@ducks.ca
Foam Lake Marsh – SE10-32-12-W2 – 35 Acres
Foam Lake Marsh – SW11-32-12-W2 – 18 Acres (Along Highway)
Kaban Purchase – W1/2 SW21-28-10-W2 – 52 Acres
RM 277
Contact Ashtin 1-306-813-7593 | a_bourgonje@ducks.ca
Patrick N. Uplands – NW7-28-13-W2 – 18 Acres
RM 282
Contact Leah 1-306-291-7499 | l_tallis@ducks.ca
Pavelich lease – NW3-30-1-W3 – 82 Acres
RM 303
Contact Sheena 1-306-370-8903 | s_mcinnes@ducks.ca
Fulton Marsh – SW18-32-3-W2 – 139 Acres
RM 304
Contact Sheena 1-306-370-8903 | s_mcinnes@ducks.ca
Chicilo Purchase – SW4-32-6-W2 – 45 Acres
Olynyk – NW-4-33-6-W2 – 76 Acres
Olynyk – NW-3-33-6-W2 – 65 Acres
Olynyk ll – Purchase SE-33-31-6-W2 – 45 Acres
Vincett Uplands – SW33-31-6-W2 – 20 Acres
Muskaluk NE33-31-6-W2 – 100 Acres
RM 305
Contact Sheena 1-306-370-8903 | s_mcinnes@ducks.ca
Belistki Uplands – NE24-33-8-W2 – 100 Acres
Bigoraj Uplands – SE21-33-7-W2 – 120 Acres
Dutchak – SE13-32-7-W2 – 59 Acres
Grychowski Purchase – SE20-31-7-W2 – 96 Acres
Lascelle – N1/2 of N1/2 15-31-7-W2 – 60 Acres
Lascelle Uplands – N1/2 NE15-31-7-W2 – 40 Acres
Lascelle Uplands – N1/2 NW15-31-7-W2 – 20 Acres
Pasloski Uplands – SW31-32-7-W2 – 109 Acres
Shewchuk M. Uplands – SE24-33-8-W2 – 121 Acres
Smith 2012 Purchase – SW3-32-7-W2 – 128 Acres
RM 308
Contact Ashtin 1-306-813-7593 | a_bourgonje@ducks.ca
Korsak – SW7-30-17-W2 – 122 Acres
RM 312
Contact Leah 1-306-291-7499 | l_tallis@ducks.ca
AJ Cline – SW33-33-28-W2 – 99 Acres
Kaila – NW15-31-28-W2 – 130 Acres
Kaila – SW15-31-28-W2 – 130 Acres
Kaila Lease – NE15-31-28-W2 – 130 Acres
Kaila lease – SE22-31-28-W2 – 114 Acres
Kaila lease – SW22-31-28-W2 – 130 Acres
RM 313
Contact Leah 1-306-291-7499 | l_tallis@ducks.ca
Walter Lease – SE7-32-1-W3 – 109 Acres
RM 334
Contact Ashtin 1-306-813-7593 | a_bourgonje@ducks.ca
Kupchinski Purchase – NE 4-34-6-W2  –  87 Acres
Michaluk Purchase – NW 7-34-6-W2  – 131 Acres
RM 335
Contact Ashtin 1-306-813-7593 | a_bourgonje@ducks.ca
Potoreiko – NW23-34-9-W2 – 67 Acres
Robson Uplands – SE3-34-8-W2 – 70 Acres
Johnson D – SW 17-34-8-W2 – 114.5 Acres
RM 336
Contact Ashtin 1-306-813-7593 | a_bourgonje@ducks.ca
Sasman Project – SW36-33-11-W2 – 78 Acres
RM 337
Contact Ashtin 1-306-813-7593 | a_bourgonje@ducks.ca
Lakeview – NE8-36-13-W2 – 97 Acres
RM 339
Contact Ashtin 1-306-813-7593 | a_bourgonje@ducks.ca
Berting Dan Project – NW24-36-21-W2 – 75 Acres
RM 340
Contact Leah 1-306-291-7499 | l_tallis@ducks.ca
Saretsky – NE18-35-23-W2 – 106 Acres
Saretsky – SE18-35-23-W2 – 134 Acres (4 fields; N & S of road)
RM 341
Contact Leah 1-306-291-7499 | l_tallis@ducks.ca
Dale – NE, NW & SW34-34-25-W2 – 142 Acres
RM 346
Contact Jeremy 1-306-441-0744 | j_brown@ducks.ca
Nevdoff S 1/2 & Pt. – NW 34-36-12 W3 – 117 Acres
RM 366
Contact Ashtin 1-306-813-7593 | a_bourgonje@ducks.ca
Gwilliams – SE9-37-12-W2 – 100 Acres
RM 367
Contact Ashtin 1-306-813-7593 | a_bourgonje@ducks.ca
Bobinski – N1/2 19-35-13-W2 – 158 Acres
Budz – NE18-39-14-W2 – 72 Acres
Hallman – SW9-37-13-W2 – 80 Acres
Kozar – SW36-37-15-W2 – 104 Acres
Lipinski Uplands – NW33-37-13-W2 – 50 Acres
Niezgoda – SW25-37-13-W2 – 39 Acres
Welte Uplands – SE3-37-14-W2 – 40 Acres
RM 368
Contact Ashtin 1-306-813-7593 | a_bourgonje@ducks.ca
Hutchinson – SW26-39-17-W2 – 12 Acres
Lake Edouard school –  NE4, NE9, NW9, SE9-39-17-W2 – 35 Acres
RM 370
Contact Leah 1-306-291-7499 | l_tallis@ducks.ca
Moritz – NW29, NW32-39-24-W2 – 168 Acres
Pantella – SE8-39-24-W2 – 89 Acres
Schidlowsky lease – SW26-37-24-W2 – 93 Acres (Is very rough)
RM 371
Contact Leah 1-306-291-7499 | l_tallis@ducks.ca
Fontaine – NE7-38-27-W2 – 68 Acres (Acres are approximate)
Totzke – SW5-38-26-W2 – 51 Acres
RM 372
Contact Leah 1-306-291-7499 | l_tallis@ducks.ca
Kocay E – NW21-37-28-W2 – 97 Acres
Leblanc A&L – SE18-37-28-W2 – 117 Acres
RM 400
Contact Leah 1-306-291-7499 | l_tallis@ducks.ca
Freriks – SE2-40-23-W2 – 75 Acres
Pomedli – S1/2 SW2-40-23-W2 – 45 Acres
RM 401
Contact Leah 1-306-291-7499 | l_tallis@ducks.ca
Kolla – SW20-40-27-W2 – 42 Acres
Sosnowski – NE4-40-27-W2 – 105 Acres
RM 402
Contact Leah 1-306-291-7499 | l_tallis@ducks.ca
Mechor, M – NW6-40-27-W2 – 87 Acres
Pawluk – NE29-41-27-W2 – 37 Acres
RM 429
Contact Ashtin 1-306-813-7593 | a_bourgonje@ducks.ca
Paynter – NW15-45-21-W2 – 24 Acres
RM 430
Contact Leah 1-306-291-7499 | l_tallis@ducks.ca
Fosson – SW6-45-23-W2 – 19 Acres
Yellow Creek Pt. – Pt. NE34-43-23-W2 – 16 Acres
RM 434
Contact Jeremy 1-306-441-0744 | j_brown@ducks.ca
Krawchuk – NW26-43-7-W3 – 30 Acres
RM 435
Contact Jeremy 1-306-441-0744 | j_brown@ducks.ca
Banda – SE1-43-8-W3 – 48 Acres
Wintonyk – SE & Pt. NE16-44-10-W3 – 163 Acres
RM 436
Contact Ashley 1-306-317-3765 | a_kowalchuk@ducks.ca
Richard Marsh – NW7-43-12-W3 – 60 Acres
RM 458
Contact Ashtin 1-306-813-7593 | a_bourgonje@ducks.ca
Person, G – NE18-47-18-W2 – 92 Acres
RM 459
Contact Ashtin 1-306-813-7593 | a_bourgonje@ducks.ca
Hadland, L – SW22-47-22 W2 – 122 Acres
Oakenfold – NW 20-47-22-W2  – 92 Acres
Robertson, H&L – SE21-47-22-W2 – 82 Acres
RM 461
Contact Leah 1-306-291-7499 | l_tallis@ducks.ca
Amyotte lease – E1/2 31-47-25-W2 – 143 Acres
Amyotte lease – SE32-47-25-W2 – 9 Acres
Amyotte lease – W1/2 20-47-25-W2 – 181 Acres
Amyotte lease – NE10-47-26-W2 – 5 Acres
Amyotte lease – SW9-47-26-W2 – 9 Acres
I. Kuhn RLP – NE & NW9-47-27-W2 – 104 Acres
Ksyniuk, P – N1/2 NW25-46-28-W2 – 52 Acres
RM 464
Contact Brooke 1-306-386-7818 | b_forbes@ducks.ca
Kreese – SE4-47-5-W3 – 70 Acres
RM 466
Contact Ashley 1-306-317-3765 | a_kowalchuk@ducks.ca
Pozdrowski – NE36-46-11-W3 – 72 Acres
Pozdrowski – SE36-46-11-W3 – 50 Acres
RM 491
Contact Gerry 1-306-921-7383 | g_letain@ducks.ca
Gignac – NE25-51-25-W2 – 14 Acres