A member of the small but mighty Ducks Unlimited Canada (DUC) team in Newfoundland, Danielle Fequet likes to refer to herself as a conservation generalist. From acting as the point person for the majority of Newfoundland and Labrador wetland projects, to working closely on securing land throughout Atlantic Canada, Fequet does a little bit of everything.
"Every day is different," says Fequet. "One day I might speak with people interested in donating land, and check out any real estate listings that may be relevant to DUC's work, but other days I might spend some time completing annual inspections on project sites throughout the province and work with the habitat asset management team to determine if repairs are needed at any sites and plan out how to do them."
As a conservation program specialist, Fequet's work involves conducting wetland functional assessments for municipalities within the Northeast Avalon Peninsula. This includes completing the on-the-ground work and then spending time communicating the results so municipalities have a better understanding of the value of the wetlands located within their boundaries.
Raising awareness of the work DUC is doing and the importance of wetlands is also a major component of Fequet's role, and includes developing interpretive signs for project sites, working with local partners on education, and securing funding for conservation efforts.
Fequet has been a member of the DUC team since 2010 and notes that her interest in conservation first began during the time she spent working outdoors while pursuing a degree in psychology at Memorial University (MUN).
"
I did some field work during my summers off from school and found it really rewarding. I realized this was something I could do as a career, focus on the environment and get to work outside!
By coincidence – or maybe fate – one seat in the Master of Science program became available. Fequet applied, was accepted and the rest is history.
"While I was finishing my Master's degree, a contract position was posted at DUC. My first introduction to the organization was back in high school when I volunteered for a fundraising dinner," says Fequet. "What I learned about their work at that time had always stuck with me, so I applied for the job and was successful in securing the position. I've been with DUC ever since!"
When first starting her career, Fequet focused on outreach and education, conducting community visits and presentations at schools aimed at discussing the importance of environmental stewardship, DUC's nest box programs and delivering the wetland field trip program for Grade 4 students.
As DUC began to focus more of its work in the province on influencing large-scale conservation, her priorities shifted toward wetland policy and working with municipalities and different levels of government to encourage stronger conservation policy and greater protections for wetlands in municipal planning. This opened up new opportunities for Fequet to participate in wetland field work and be fully immersed in the project planning phase.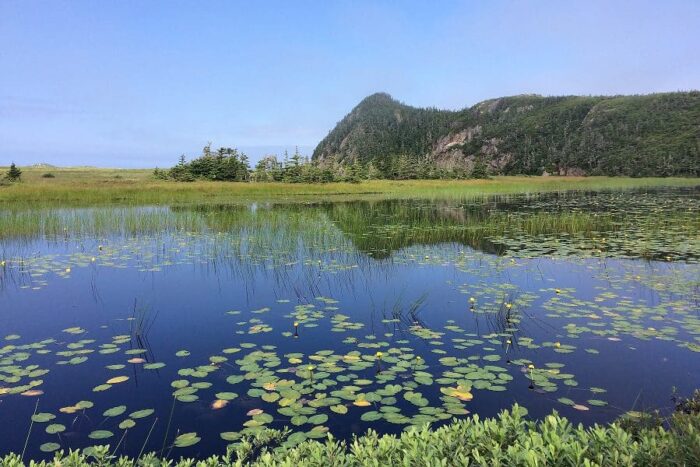 One particularly memorable project for Fequet took place between 2013 and 2017 in partnership with remote sensing organization C-CORE. Sparked by a workshop DUC held with its partners to discuss the needs of wetland mapping, a comprehensive multi-year project was launched, where field data was collected and used to create detailed maps of wetlands on the landscape, which had not existed previously.
"It was a really neat project that took place over several summers and we got to work in parts of the province I had never explored before," says Fequet. "It was a real collaborative effort among a lot of different groups. C-CORE was a big part of it including a professor from MUN, who sought out funding for this project on his own, and worked with us to support our field work and data collection."
As DUC continues to celebrate its 85th anniversary this year, Fequet is proud of the work she is part of every day and the role she plays in protecting wetlands.
"Through my role at DUC, I've been able to be a part of showcasing the importance of wetlands and how to manage them, and highlighting the impact these areas can have on natural habitats throughout our province," says Fequet. "But one of my favourite parts of this job is when a new person is hired, particularly when they are new to their career, and you see them recognize the opportunities in conservation. Sometimes students join us for a season and you see them totally change their trajectory – which is how I came to be a part of this team today. It's an exciting time for DUC and I look forward to our next chapter!"