Stretch your limbs. Breathe deeply. Let your senses take it all in. Sunshine glitters from the waters of the nearby wetland. A prairie breeze carries the scent of native plants and warm soil. A row of recently hatched goslings wanders by, led by their ever-vigilant parents. Songbirds twitter from distant cattail stands. That's you, being embraced by nature. 
Welcome to spring at Oak Hammock Marsh.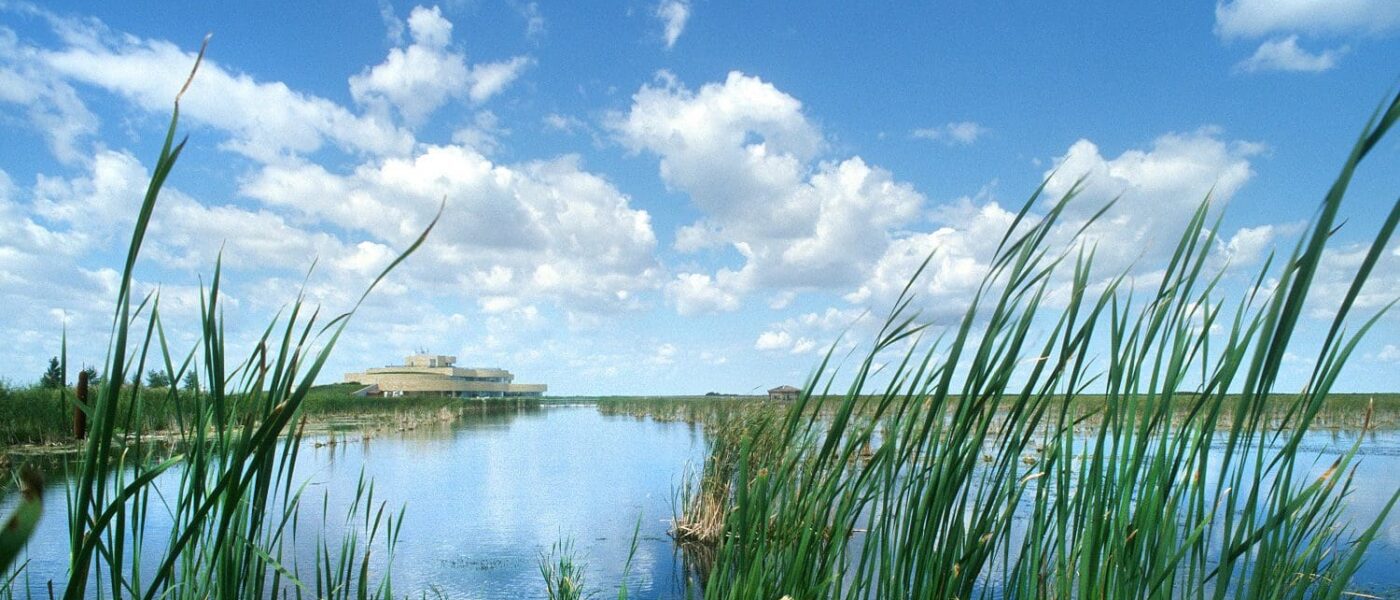 People and wildlife flock to Oak Hammock Marsh's spaces and places
For decades, hundreds of thousands of human visitors have discovered the allure of this amazing ecosystem just a 20 minutes' drive north of Winnipeg, which draws huge flocks of migrating waterfowl and is home to hundreds of wildlife species. 
Oak Hammock Marsh is a restored prairie marsh that's been designated a Ramsar Wetland of International Importance and an Important Bird Area. Aspen-oak bluffs, artesian springs, some of Manitoba's last remaining patches of tall-grass prairie and 30 kilometres of trails make the Oak Hammock Marsh Wildlife Management Area a unique place to explore and connect with our natural world.  
That means exploring and connecting indoors, too: Oak Hammock Marsh is also the site of a world-class, award-winning, Wetland Discovery Centre and national head office of Ducks Unlimited Canada (DUC). On any given day in the Centre, you may hear the squeals of excited schoolchildren mingling with conversations among scientists about wetlands and their role in our lives, from supporting water quality to moderating the impacts of climate change. 
And this year, there's even more reason to celebrate this special place, as both the Centre—known as the Harry J. Enns Wetlands Discovery Centre—and the Wildlife Management Area, turn 30 years and 50 years, respectively.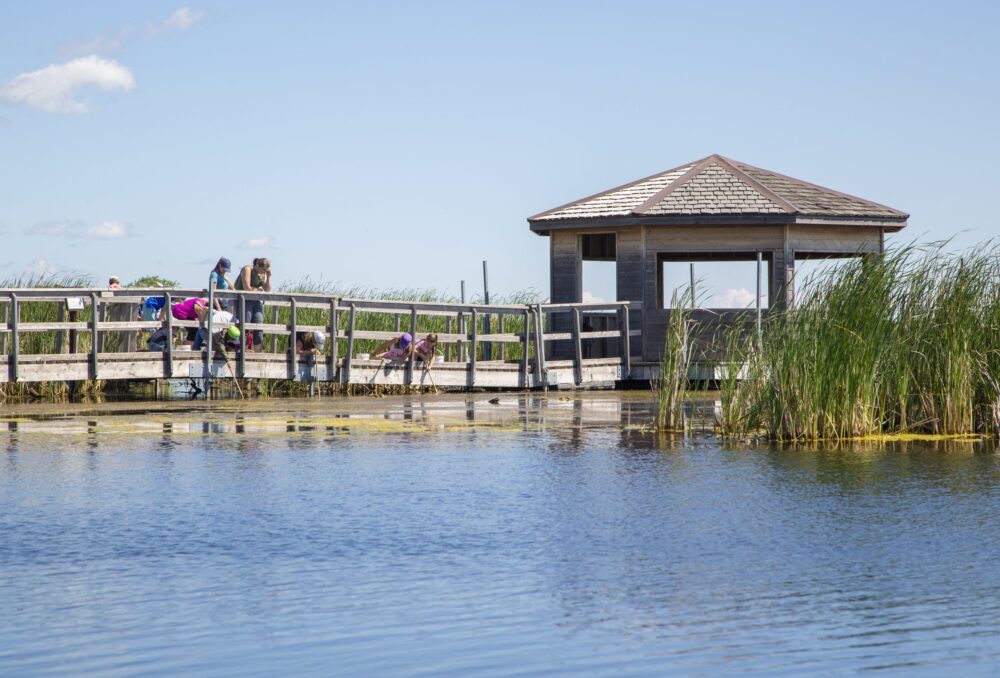 Restoration of Oak Hammock Marsh sets the stage for a thriving future
Oak Hammock Marsh has a significant place in DUC's 85-year history. The marsh had been drained over time, reducing it to a fraction of its original size.  In 1972, DUC assisted the Manitoba government in restoring a small portion of the original marsh by constructing 22 kilometres of earth dikes.
Then, in the 1980s, discussions began between DUC and the Province about relocating DUC's national offices from Winnipeg to Oak Hammock Marsh as part of new Interpretive Centre. The building of a head office and public facility so close to critical wildlife habitat was the cause of controversy. To integrate it into the natural surroundings, the building was designed to include an innovative green roof where waterfowl often nest in the spring. The Centre's ecological footprint was reduced with large-scale native plantings of grasses, shrubs, trees and flowers to provide a natural and productive setting for wildlife and people.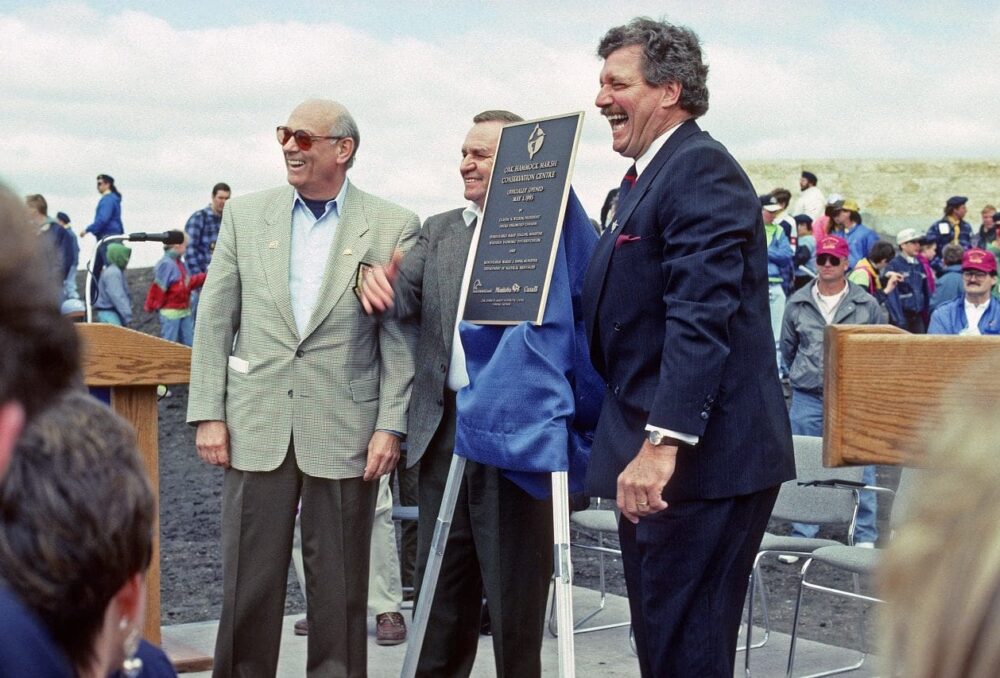 Celebrating the 30th anniversary of Canada's hub for wetlands education
Since its official opening on May 1, 1993, visitors have flocked to this prime wildlife viewing and education destination. Thanks to a recent capital renewal fund from the Province of Manitoba, starting in late fall 2023, the Wetland Discovery Centre facility will undergo significant updates to its exhibits and facilities. Soon, new generations will be similarly inspired to appreciate, support and advocate for wetlands. 
In the spring, when the marsh is brimming with fresh, new life, pay a visit to this prairie gem. But any season at the marsh has its wild charms.  
When you do arrive…inhale deeply. You're here.  
Welcome to Oak Hammock Marsh.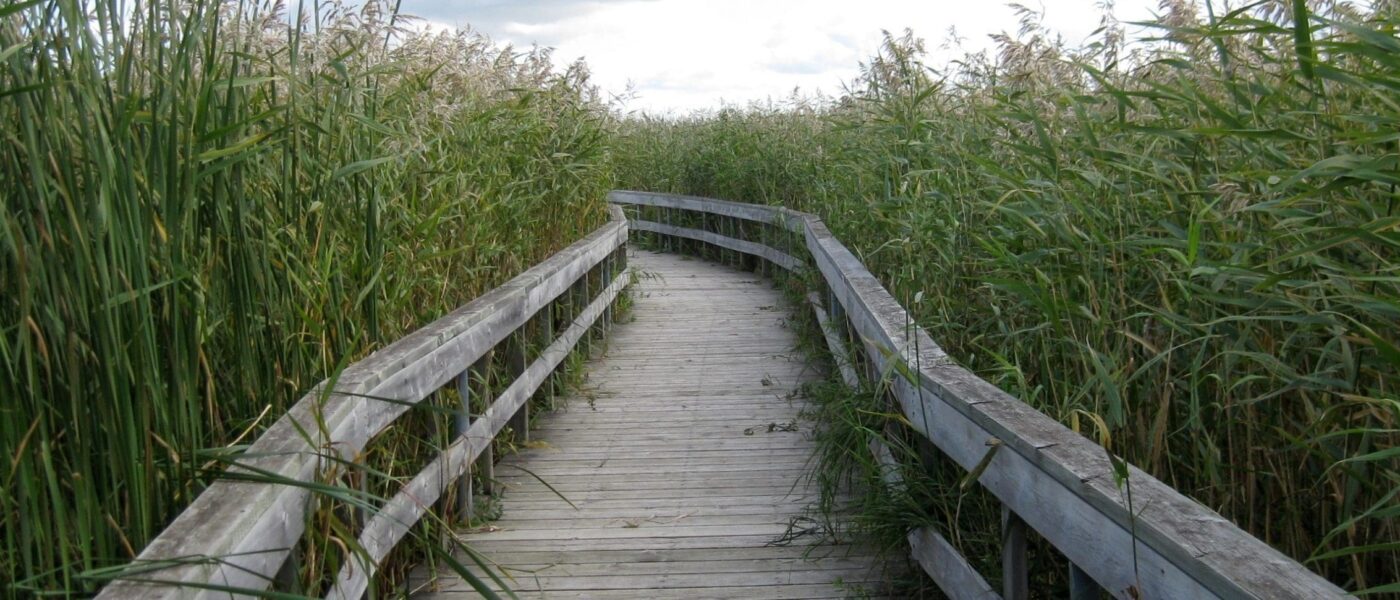 ---
Oak Hammock Marsh: A brief history
 According to one story, th

e name "Oak Hammock" dates to the early 1870s. Settlers from Lower Fort Garry and St. Andrews used to gather for community picnics on an oak-covered knoll bordering "The Bog". Its owner – Adam MacDonald – called the heavily treed knoll "Oak Hammock" and the name was eventually adopted for the whole area.

A less romantic theory is that the name is simply derived from "hummock" – a term that is sometimes used to describe a piece of forested ground rising from the marsh, so, an "oak hummock." 

Oak Hammock Marsh was formerly known as the St. Andrews Bog and by 1926 had been almost entirely drained for agriculture use.

 

Oak Hammock Marsh was designated as a

RAMSAR wetland of international importance

in 1987.

 

The Centre's mission is to connect people with wetlands.

The Oak Hammock Marsh Wetland Discovery Centre is a partnership of Ducks Unlimited Canada and the Province of Manitoba.  

 
Wetlands Education:
The Wetland Discovery Centre hosts 100,000 visitors every year, including more than 30,000 schoolchildren.

 

The Centre features an observation deck, café, theatre, dioramas, guided programs, remote wildlife viewing cameras and interactive exhibits to help support the wetlands conservation message.

 

Throughout the year, the Centre hosts a variety of special educational events, including annual migration, a dragonfly festival, astronomy nights, bird banding and more.

 
Waterfowl and Wildlife Viewing:
Oak Hammock Marsh is home to 35 species of mammals, 300 species of birds, numerous amphibians, reptiles, fish, and countless invertebrates.

 

During peak migration season, the number of waterfowl using the marsh during migration can exceed 200,000 daily! 

 
Learn more about Oak Hammock Marsh
Discover more about this prairie gem during its 30th anniversary year in 2023.
Visit oakhammockmarsh.ca