When it comes to providing unlimited ecological benefits, Atocas Bay, located on the Ottawa River in Ontario, is the gift of nature that keeps on giving. Since Ducks Unlimited Canada's (DUC) initial purchase of the property in 2000, and the subsequent acquisition of another 50 acres (20 hectares) in 2022, the site is a shining example of how agriculture and wetland restoration can co-exist successfully and become a model of sustainability.
At its heart, the story of Atocas Bay is one of collaboration and a shared concern for the environment. In the past century, 95 per cent of the wetlands there were lost due to farming. The potential for wetland restoration at Atocas Bay and the positive impact on climate resiliency and biodiversity was an opportunity DUC could not pass up, to further enhance the diverse waterfowl habitats there.
DUC purchased Atocas Bay through the Eastern Habitat Joint Venture (EHJV), a partnership between governments, organizations and conservation groups to secure vital wetland habitat. Restoring its natural features required a flurry of early work prior to any shovels going in the ground. Biological field and waterfowl surveys, engineering field inspections, designs, permitting and budget approvals were required before embarking on this significant multi-year project.
As work began, many of the drained wetlands on the property were restored, while others were left as-is to monitor the success rate for waterfowl. Not surprisingly, the restored wetlands were vastly more successful, attracting more waterfowl, than those left alone. Clearly, DUC was on the right track.
The link between farming and wildlife conservation
Rod MacLaren, the original farmer with lease rights to the property, continued his cattle operations at Atocas Bay after DUC took ownership. Upon his passing, Sylvain and Annette Lepage, who ran their cattle farm on land adjacent to MacLaren's, took over his herd, as well as the lease. Today, the Lepage family still runs a cattle operation on land leased from DUC.
The Atocas Bay project highlights how agriculture and wildlife habitat management can work together. Several environmentally friendly agricultural practices been implemented on the property, including cattle exclusion fencing, rotational grazing, alternative livestock watering sources and delayed haying to reduce wildlife mortality.
As more work was completed, two additional properties owned by local families were purchased by DUC and another 39 wetland segments were restored. Last year, another 50 acres (20 hectares) was acquired from the Lepage family with the support of Environment and Climate Change Canada's Nature Smart Climate Solutions Fund. With these additional areas secured over the years, the property now spans more than 2,000 acres (809 hectares) of rolling uplands, wetlands and small lakes.
"We're fortunate to be able to secure even more land at Atocas Bay," says Mikayla Stinson, conservation specialist for DUC in eastern Ontario. "To have this much of a positive impact and to see it firsthand is gratifying. It shows what can be accomplished when people have a shared vision and a common goal."
In total, DUC restored nearly 300 wetland basins on the site, providing significant benefits to waterfowl, wildlife and the people living in the area. More than 13 species of waterfowl now can be found there, including snow geese, mallards, black ducks, blue-winged teals, gadwalls, wood ducks, buffleheads and ring-necked ducks. Atocas Bay is also home to several rare species, including black terns and short-eared owls, and has the highest density of breeding bobolinks in Ontario and Quebec.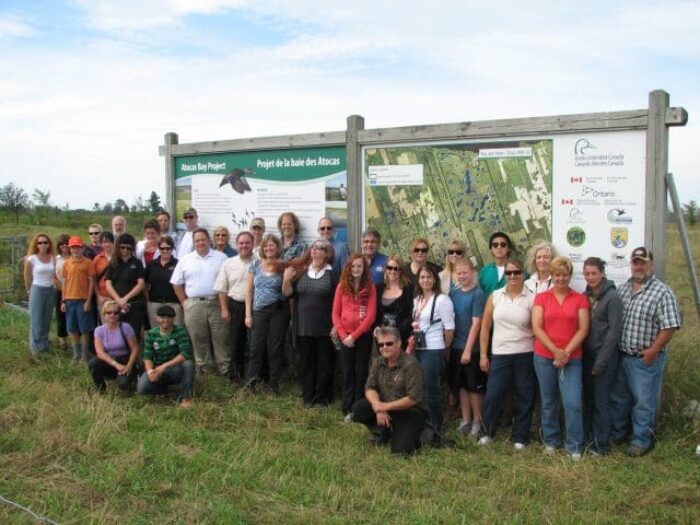 The power of conservation partnerships
This major conservation initiative was made possible with the support of a multitude of conservation partners including the Ontario Ministry of Natural Resources, Wildlife Habitat Canada, Environment and Climate Change Canada, the North American Wetlands Conservation Act (NAWCA), Ducks Unlimited, Inc. and seven state wildlife agencies through the Fall Flights Program, the Stirling Adams Foundation, the Prescott-Russell Stewardship Council, United Counties of Prescott-Russell and the South Nation Conservation Authority.
As DUC celebrates its 85th anniversary, strong partnerships continue to be critical to achieving its vision of healthy wetlands and clean water for waterfowl, wildlife and people. The remarkable Atocas Bay project highlights the benefits of restored wetlands and how agricultural stewardship practices can sustain both farming and wildlife.