"
All you need in this life is ignorance and confidence, and then success is sure.
In 1977, Burt Myers was an ambitious 28-year-old magazine editor. A lover of nature and Chesapeake Bay retrievers, Myers had been invited to the first Ducks Unlimited fundraising dinner held in Canada by Dick Moore, a Bay Street chartered accountant and DUC national board member.
The Tillsonburg, Ont. event was organized by Dr. Duncan Sinclair and Jack Rice, in concert with the DU fundraising chapter in Buffalo, N.Y. It was the start of a journey Myers never imagined he'd take. It turns out Myers and Moore had a lot in common, dogs and ducks specifically. The men would meet regularly to chat about their shared interests when one day, Moore told Myers, "We should start a Ducks dinner in Toronto."
And Myers agreed.
That same night, on the walk back to the subway, Moore introduced Myers to a friend, exclaiming, "This is Burt, he's going to put together a Toronto DUC dinner."
"Suddenly the 'we' became 'me'," Myers recalls. "I called my best friend Manfred Duenisch, another Chessie owner, and told him about the dinner and how we needed to recruit a committee. I didn't even think about whether we could pull it off or not. We were definitely in over our heads. We just didn't know it."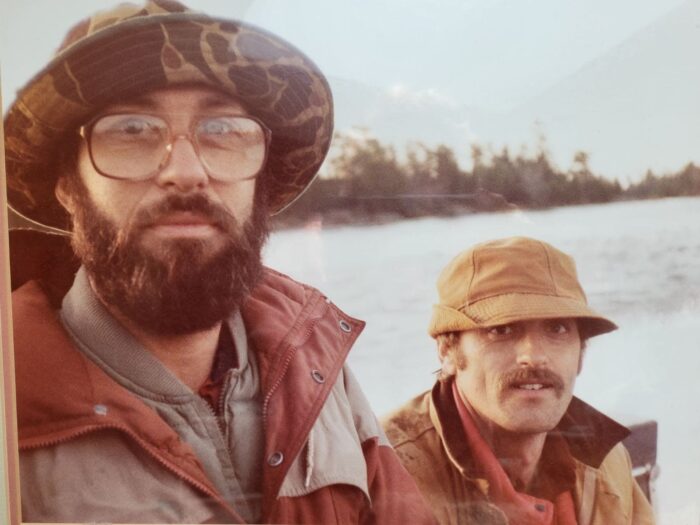 Accepting the challenge
Duenisch worked as an elevator mechanic in many of Toronto's high-rise corporate towers and, as luck would have it, he became friends with Tom Newman, a highly connected lawyer, in one of those towers. Another Chessie lover, Newman had friends in high places. With his help, the dinner leaped from conception to reality.
They gathered a committee of 12 men, among them Dave Cowan who ran the Toronto SWAT team, Barry Nicholls who worked for the CBC, Frank Schmid an award-winning decoy carver, Ken Clapp who owned a sporting goods store, John Berger from the distillery business, Hans Kauffmann who managed a retail store, Art Philp a transportation expert and Paul Burdette who ran an art gallery. They met regularly at the Edelweiss Tavern to go over details and assign tasks. They ate schnitzel, drank beer and made plans.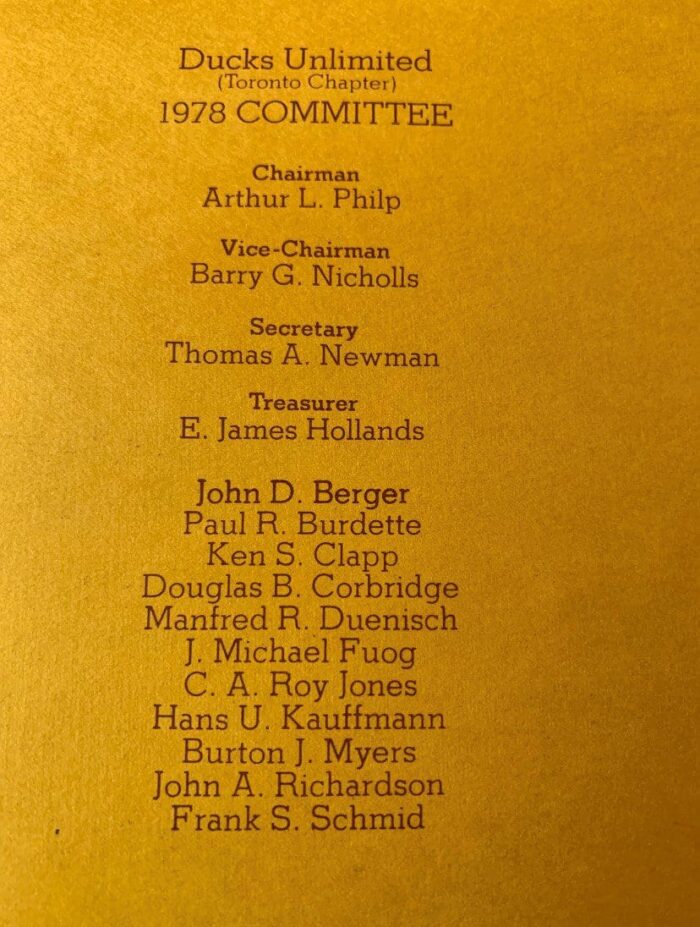 With the committee struck, they had to find a venue. It wasn't long before they selected the ballroom of the Royal York Hotel. With a kind of blissful ignorance, Myers signed that contract knowing in his heart that he and the committee would sell enough tickets to fill the venue.
The "drakes club," as they called themselves then, learned along the way. They needed a liquor licence, advertising and posters. Word spread and people came on board. Paul Burdette designed the first poster which featured the artwork of Ron Glowe, and it seemed as though things were coming together.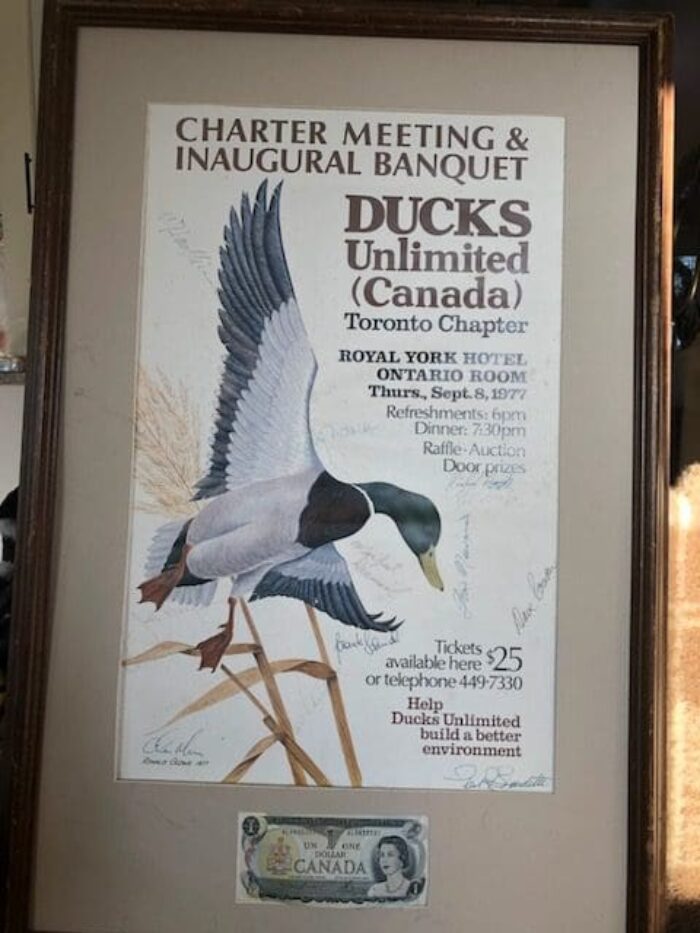 Rising to the challenge
Building awareness and excitement for the first Toronto DUC dinner led to many surprising donations. There were prints and decoys, and a boat was carried through the Royal York Hotel to the ballroom, where it sat on display to attract bids.
In the end, the first Toronto DUC dinner raised an astounding $20,000, equivalent to about $100,000 today. Both then-DUC president Hugh MacKay and executive vice-president Stewart Morrison attended. Since then, it's grown into a preeminent event, in recent years held at The Ritz Carleton.
Looking back, Myers is amazed that they were able to pull it off. Now in its 46th year, the annual tradition is DUC's highest-earning event.
"I'm a coach by nature," says Myers, "so I've learned that only a team of dedicated people can make things happen. For us, the dinner wasn't the thing. It was about becoming lifelong friends and sharing common interests. When I look back at those early days, I think we were crazy, but that crazy paid off. It was challenging but fun."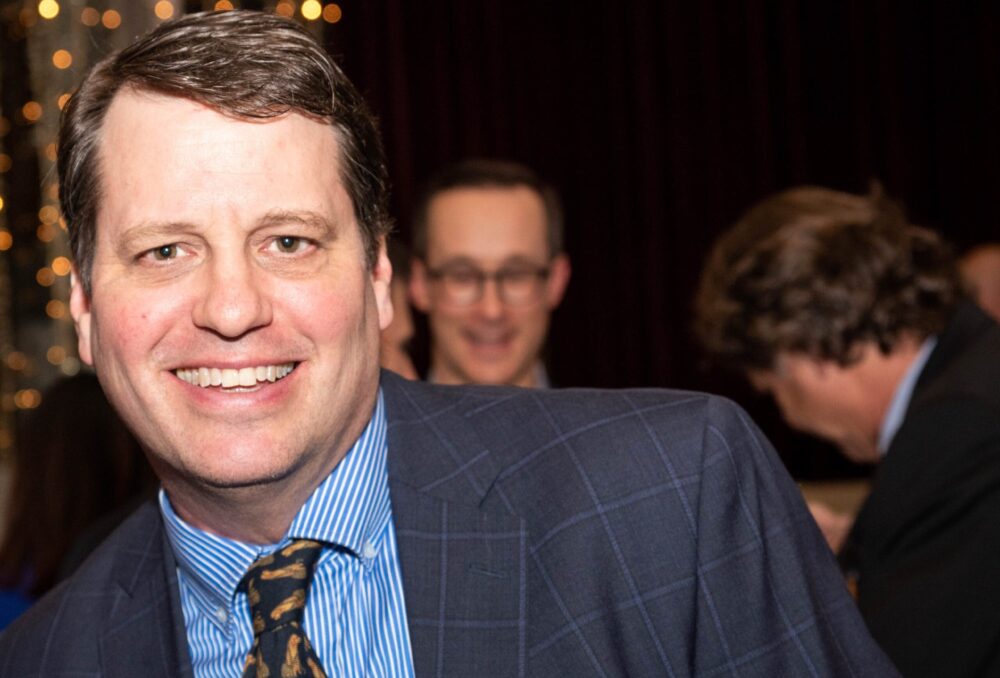 Early volunteers set the stage for success in Toronto
Ed Seagram, a former Ontario DUC Volunteer of the Year co-chairs the current Toronto committee with Mike Brouwer. He applauds the work of Myers, Duenisch  and countless others who blazed the trail in 1978 organizing the inaugural Toronto dinner. He is grateful for their hard work and perseverance in establishing what is now an annual signature event, widely recognized as a model of collaboration and philanthropy.
"To understand where we've come from is vitally important," says Seagram. "These men got together and made it happen. They didn't have a roadmap, but they worked for a common goal and led the way. We carry on their tradition of teamwork with pride, knowing what we can accomplish, together."