First-generation holistic ranchers Terri and Brad Mappin had a vision 25 years ago when they purchased their ranch. It was a belief that leaving the native grasses intact and dedicating years of hard work to do things differently would pay off. 
They saw others breaking up their native grassland for more lucrative crops, but the Mappins made a different choice for their property. 
"We knew our land would be at its best if wetlands and native grasslands were looked after—working hand-in-hand as an entire ecosystem," says Terri. 
"Soil from land that hasn't been broken up is significantly different," says Brad, who has a farming background, but initially chose to work in commercial businesses after he graduated from university. 
Conservation easements worked for the family
Having already worked with Ducks Unlimited Canada (DUC) on the restoration of 25 wetlands throughout their property, the family decided to work with DUC once again and place three conservation easements on their ranch, which will safeguard the endangered native grasses on their land in perpetuity. 
Terri and Brad retain the right to manage the habitat area covered by these easements, so it is possible for them to generate income.  
2020 was a big year for the family when they added a third DUC conservation easement on their ranch and reseeded areas back to grass.  
"In 2021 we were able to have cattle grazing on it and it has increased our stocking rate and holding. If you can leave the cover by not overgrazing, it keeps your soil from being overheated," says Brad.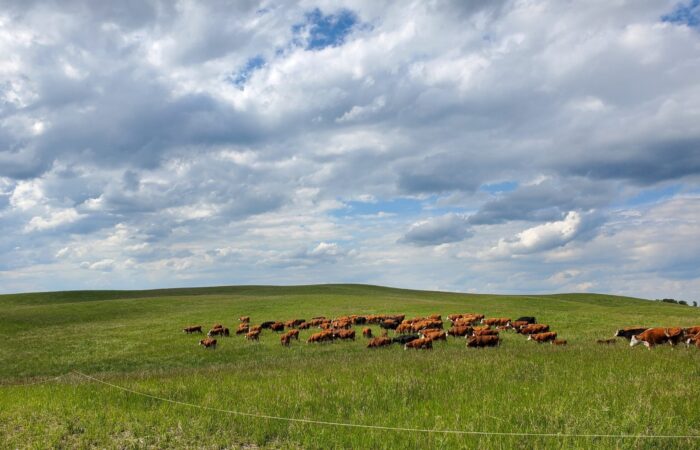 Land seeded to forage for their cattle
Forage covers 85 per cent of their 5,500 acres. They raise cattle and use a compatible grazing method. Bob Thomson, a DUC conservation programs specialist, helped the Mappins select an ideal forage seed for their livestock. There was added incentive through the DUC Forage Program which covers 40 to 50 per cent of the seed cost. 
"We've talked to many others like Graeme Finn, a producer/rancher and Union Forage's president and senior forage specialist, as well as Grant Lastiwka, forage specialist with Union Forage and Rebekah Krause, agricultural consultant for Wallaby Ag Inc. I also learned a lot from my grandfather," says Brad.  
Trial and error also helped them learn how to adapt. 
"Instead of turning 20 head out to a pasture for two months, we're moving them from paddock to paddock every three or four days. We feed where we want the manure. We do this to build our soil. In my opinion, that's the key to making it work," notes Brad.   
Considering carbon storage of grasslands
The Mappins also believe that carbon storage is something that many of us don't understand and that a lot more carbon is being sequestered with grasslands than what farmers are being given credit for.    
Terri and Brad recently signed on for two five-year Living Labs projects to measure the amount of carbon that lies in soil under various conditions. They hope to learn that compared to current estimates it will confirm there is more carbon in farmland soil. 
Looking even further into the future, Brad believes that carbon will someday be another revenue for farmers. It's a deeper, layered vision than was likely considered 25 years ago and something worth passing down to future generations. 
That's why the Mappins have made it a second-generation mission, including many conversations with their two sons about how to manage the land and the hands-on effort required to bring their vision to fruition.  Terri and Brad hope their boys will carry on with what they started and keep the ball rolling.  
"If you start the conversations when your kids are young and keep it age-appropriate it's a win-win, it's early for them to make the decision," says Terri.