When it comes to prospering on the sometimes-unforgiving landscape of the Canadian Prairies, it's equal parts grit, determination and downright stubbornness that keep many farm families weathering the tides of time.
For the Hicks family of south-central Saskatchewan, the past few years have proven to be among the hardest ever to endure. A historic drought that began in 2017 and worsened through 2022, saw crop production in the province fall by record-highs, and saw rancher Jason Hicks and his family go to extreme lengths to protect the health and viability of their herd.
"Thanks to Jason's management, we've had just enough grass," says Jason's wife, Karla Hicks. But no amount of management savvy can compensate when precipitation refuses to fall for months—or years—on end. By the end of year four, they were hauling water daily and travelling hundreds of kilometres in search of additional livestock feed.
"We're doing the best to look after what we have," Hicks explains. "If the land's not good, we're not good."
A long history of conservation
Jason Hicks' great-grandfather purchased the homestead from the Hudson's Bay Company in 1917. Decades later, Jason and Karla took on a major stake in the family operation in the 1990s. Early adopters of DUC's landowner programs, their strong ranching and conservation ethic was clear from the outset, along with a deeply rooted appreciation for Saskatchewan's wildlife and natural habitats.
Over the next twenty years, the Hicks family and DUC staff developed a working relationship that saw the ranch conserve over 1,500 acres (607 hectares) of native grassland and wetlands (and seed hundreds of additional acres to wildlife-friendly perennial cover under DUC's forage conversion program).
But the recent drought has been the true test of family mettle, and of the conservation ethic that has served them for over 100 years. In 2021, and while riding out a cattle industry equally besieged by weather and market forces, the Hicks had an opportunity to purchase additional land and expand their operation. Financial incentives paid through DUC's conservation easement program were a welcome source of required funds. In a year that shattered records in many ways, the family managed to protect close to a further 3,000 acres (1,214 hectares) of critical wildlife habitat.
All told, the generations of this ranching family have conserved an area of grassland and wetlands half the size of the city of Moose Jaw.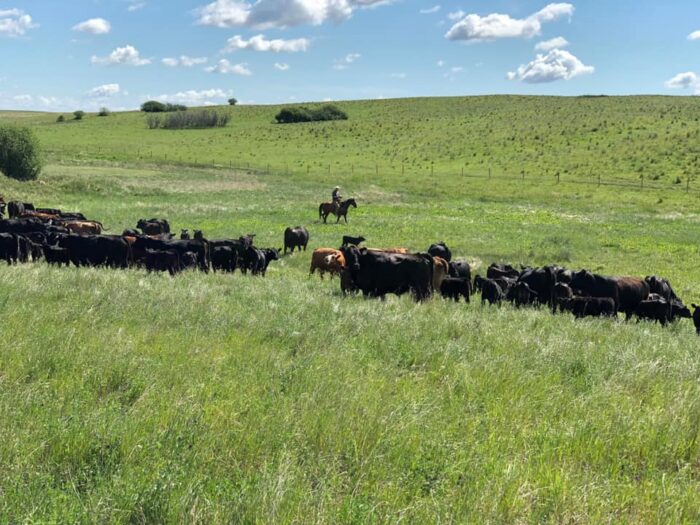 Taking the long view
For those like the Hicks family who are making a living off the land, caring for the health, biodiversity and productivity of the environment just makes sense.
"If there's no rain, there's no grass, no water, and no cattle," explains Hicks. "No one understands climate change better than a rancher."
Thanks to the conservation practices they've put to work on their farm, the Hicks family remains well-positioned to continue along its path of prosperity, even as we face increasing climatic extremes.
By taking the long view to managing land, they've not only secured their own future, but have helped chart the course for the next generation of ranchers, Jason and Karla's grown children and their partners. Together, these young ranchers are following in the tradition of family members before them and they're carrying the conservation values, trust, and working relationships with DUC right along with them.
"The past few years were the most trying we've experienced, but here we are," Hicks says. "The rains we prayed for all summer came in November and December and we've got more snow than we've seen in 10 years. We are looking forward to lush green pastures and full water holes for cows and wildlife and birds alike to share. This year, our hope is to see wildlife tracks everywhere, like it was and like it's meant to be."