Ed Russenholt was many things, but one of his roles isn't yet listed on the plaque that will soon grace a memorial bench donated by his family at Oak Hammock Marsh in Manitoba: Legacy-maker.
On a sunny day in May 2022, Russenholt's son Ben Russenholt and granddaughter Shannon MacFarlane enjoy a tour of the Harry J. Enns Wetland Discovery Centre, and the surrounding trails at Oak Hammock Marsh. They are there to discuss ways to honour the unique contributions Ed Russenholt made to Ducks Unlimited Canada (DUC) as a fledgling organization.
Ed Russenholt was one of the first of three full-time DUC employees hired in 1938. As DUC's public relations manager, Russenholt — along with general manager Tom Main and chief naturalist Burt Cartwright — all enthusiastically conveyed their commitment to DUC's mission of securing the future of waterfowl.
In his book, The Marshkeepers Journey, author Bruce Batt notes: "All three were on the banquet circuit, speaking regularly to Ducks Unlimited committees all over the U.S., often for several months of each year."
Ed Russenholt harnessed the novelty and power of film to reach even more people. According to Batt, "DUC produced a new promotional movie each year for its first couple of decades. These films were viewed by tens of thousands of Canadians and Americans at fundraising events, service clubs and schools, as well as in private showings with prospective donors." In 1946, Russenholt noted that the movie Life on Western Marshes was shown to 276,441 people at 700 meetings over four months. "Numbers like these demonstrate an extraordinary exposure of DUC's work to a broad cross section of Canadian and American society," notes Batt.
DUC is indebted to Russenholt's decision in 1938 to enlist volunteers, who he referred to as "Keemen" to conduct the annual duck census. He saw them as a well-distributed force of individuals (like Glen Michelson) who could serve as DUC's eyes, ears and voices in local communities. This was an insightful concept that paid enormous dividends to the company for more than 50 years.
Russenholt also had artistic talents, specializing in caricatures that were featured on posters, Christmas cards and other promotional materials distributed by DUC. Ben recalls his father hand drawing the family's Christmas cards every year. Other memories revolve around the outdoor activities that his father embraced as both a hunter and a conservationist. This love of the outdoors led Ed Russenholt to buy a river lot near Headingley, Man., land that Ben continued to farm until recently.
During the tour, Ben steps out to the rooftop of the Centre to enjoy a panoramic view of the marsh and bird activity. "The view is absolutely gorgeous," he says, speaking above the chorus of wood frogs and wood ducks in the background. "If people don't know what's out there, I'd say what's not out there? I'm so glad I came."
When visitors to the marsh take a moment to rest on the memorial bench installed in the nook of a willow bluff, they'll have a chance to enjoy the gifts of nature while reflecting on the remarkable efforts of DUC's first public relations pioneer.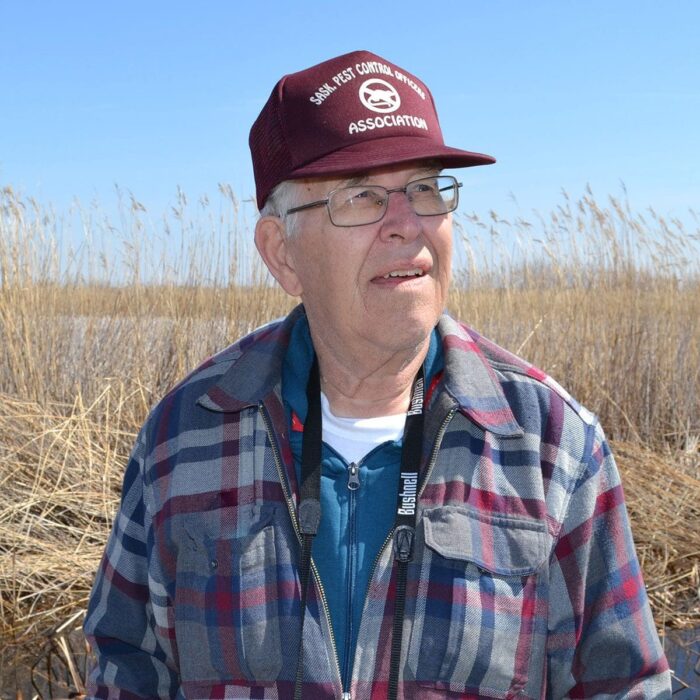 A family legacy continues
In consultation with DUC planned giving manager Janice O'Dette, Ben Russenholt and his family decided to make a generous planned gift of securities to DUC. "A planned donation is the ultimate gift our organization can receive," says O'Dette. "It comes from the heart, signifies trust in us, and will provide future support for the important work that we do."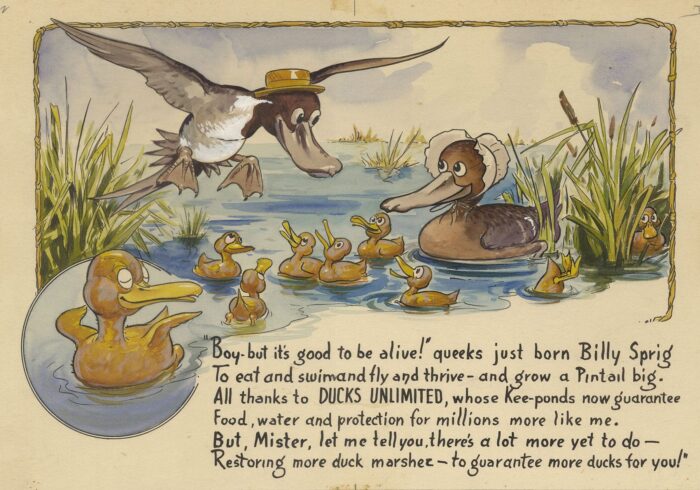 Art that inspires
Ed Russenholt created Jake the Drake, a character that regularly delivered DUC's conservation messages. Connecting Canadians to the natural world through art of all kinds remains a key component of our success, today. Russenholt employed the use of films, that now are an important historical record of DUC, early Canadian conservation, and—arguably—the nation itself.
A legacy of film
DUC has one of the most important private collections of vintage films capturing early conservation efforts in Canada.
Visit DUC's Film Archive Project