A global economy and ease of transport, along with a changing climate, have accelerated the dispersal of plants and animals around the world. But not all these species are meant to travel and can negatively impact their non-native environments. Organizations like the Canadian Council on Invasive Species (CCIS) are working to prevent the introduction of new invasive species and stop the spread of those that are already settled throughout the country.
Engaging its key partners and the public through a series of campaigns focused on the pathways of the spread of invasives, CCIS serves as a national voice and hub to protect Canada from the impacts of invasive species. It brings together governments, industry, non-profits and Indigenous groups to deliver tools and resources to help prevent the spread of invasive species to protect our ecosystems and communities.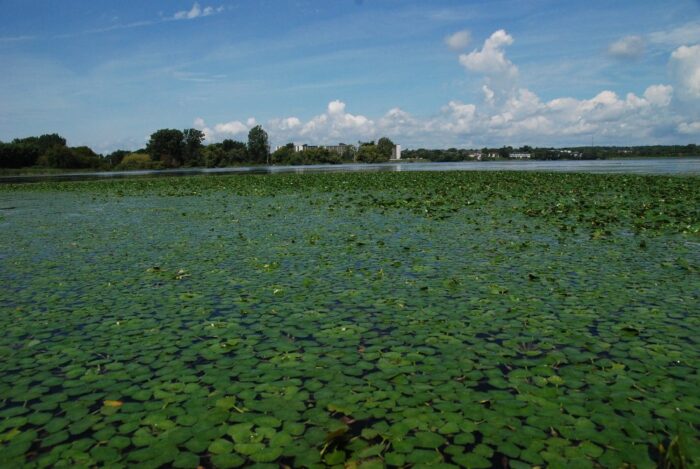 Often accidentally introduced into Canada's waterways or forests, invasive species impact wetlands and other natural areas by choking out native plants and wildlife, changing the land and waterways and impacting biodiversity. Species like Phragmites and European water chestnut, quick-spreading plants that disturb wetland habitats by clogging waterways and crowding out local plant and animal life, along with parrot feather, Spartina and invasive cattail have all created problems in wetlands across the country.
Sharing many common priorities, including habitat restoration and biodiversity preservation, DUC and CCIS are working together to raise public awareness about the effects of introducing new invasive species to our environment. Together, our organizations are encouraging Canadians to make small, simple behavioural changes that can help stop the spread and prevent damage to our ecosystems. Buying and burning firewood locally and using the Clean, Drain, Dry method are key to ensuring seeds or plants aren't transported from site to site. Cleaning boots, bikes and boats before leaving docks or trails, draining water from equipment and drying gear off after use all contribute to stopping the spread.
"With a goal of preserving biodiversity by stopping the spread of invasive species, our partnership with DUC is focused around our shared goals," says Rebecca Lord, Executive Director of CCIS. "As the impacts of climate change and its intersection with the spread of invasive species become more apparent, we are excited to work together to educate the public on the actions we all can take to stop the spread and protect our environment and communities."
CCIS recognizes the important role of Indigenous Peoples as environmental stewards and is working closely with Indigenous groups across the country on invasive species projects and the development of a national recommendation focused on bringing people together with practical solutions to prevent the spread of invasive species.
"Invasive species are a core threat to habitat across Canada," says Mark Gloutney, DUC's National Director of Science, Education and Business Planning and Vice Chair of the Canadian Council on Invasive Species. "Working together with the CCIS team, we will continue to find innovative solutions to control the spread of many invasive species in our wetlands, waterways, grasslands and forests and in communities across the country."
Working with others to influence large-scale change is at the heart of DUC's biggest accomplishments. Every partnership is based on a shared commitment to conservation and as DUC celebrates its 85th year, collaboration with other like-minded organizations like CCIS is more important than ever as we work together to keep habitat healthy for native plants, wildlife and our communities.