The Maritime ringlet butterfly is a curiously beautiful creature. The forewings show off a warm, tawny-orange colour that fades into a smokey brown as the wings extend from the thorax. At the top corner of each wing, a black circle with successive rings of yellow and white are distinctive markings of this rare species.
Maritime ringlets are considered an endangered species. Their habitats—salt marshes in northern New Brunswick and Quebec—are under threat as rising sea levels increase coastal erosion and limit the areas where these butterflies can survive.
But there is a plan in place to help stabilize, and eventually recover, the ringlet population. In New Brunswick, an artificial freshwater marsh will return to its natural saltwater state, which fights against coastal erosion, while providing new options for the ringlet to call home.
"
It makes sense with these marshes to restore them, to put them back to what they once were and let them act as a defence system.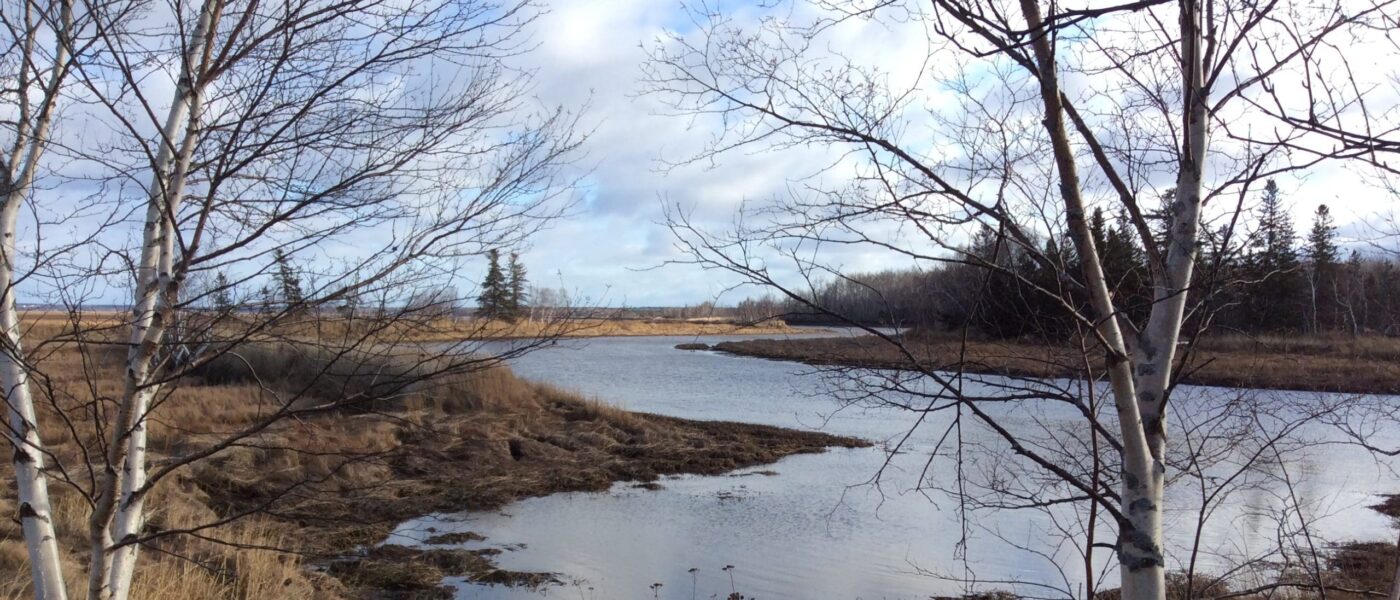 Salt Water Returns to the Marsh
New Brunswick's Rivière du Nord flows into the Caraquet Bay in the northeastern tip of the province. Part of the Acadian Peninsula, the area is teeming with coastal marshes. One such site was developed by DUC in 1992 with the primary focus of increasing waterfowl breeding habitat while maintaining the stocks of local fish inhabitants like Atlantic salmon and brook trout.
DUC built a 250-metre dike, converting the salt marsh into a freshwater site, complete with a fish ladder, which allows fish to access the habitat within the upper tributary. The freshwater marsh provided important breeding habitat for American black ducks and a host of other wetland species.
In recent years, with the climate changing and sea levels rising, DUC has looked to change its habitat management on the coast across the Atlantic Provinces. Some projects, like the site at Rivière du Nord, call for a new course of action: remove the anthropogenic structures, breach the dike and allow salt water to flow back into the marsh so the habitat functions more naturally. The site at Rivière du Nord is within the boundaries of the historical grounds at the Village Historique Acadien, who have played an integral part of the restoration.
"Salmon and trout, of course, will still be in the picture, and also smelt will use that system," says Frank Merrill, a conservation program specialist with DUC in New Brunswick. "And gaspereau (a collective term for alewife and blueback herring) is a big one. There's a significant nutrient load that gaspereau bring into these systems that help it function. American eels are also an extremely important species within this system. Through this restoration work, we hope to provide improved access to their habitat. They have been in steady decline over a number of years. Waterfowl will also continue to benefit as black ducks will make extensive use of this marsh during spring and fall migration periods."
With plans for the salt marsh restoration drawn up, Merrill expects work to start by late fall of 2020. Within a few months of the tidal exchange, salt grasses will begin to pop up. Over the next two to five years, the marsh will be on its way to fighting against the coastal erosion of New Brunswick's shores.
Sea-level rise is projected to hit the Maritimes in a major way, estimated to climb anywhere from 26 to 100 centimetres by 2100. Coastal salt marshes are a natural defence against storm surges, as their reedy grasses provide a stable base, buffering wave action on the coast. "It makes sense with these marshes to restore them, to put them back to what they once were and let them act as a defence system," Merrill says.
Never a Dull Moment on the Marsh
Philip Boucher rarely goes a day without visiting the Rivière du Nord marshes. "It's peaceful," Boucher says. "It's like having an Aspirin. If you get a headache, you take an Aspirin. If I get a headache, I go in the marsh."
Boucher has volunteered with DUC for more than 30 years, earning the nickname "Mr. Canard" or "Mr. Duck" from his neighbours. He's involved in cleaning and restoration efforts, setting up tours, and chairs the local watershed committee. But in all his time at the marsh, Boucher says he's still surprised by the activity that he sees when he walks along the shores.
"When you start stepping in the marsh, about every couple of hundred feet is different," Boucher says. "There's muskrat, there's beaver. And the more you come out, the more you see deer or moose."
But now, Boucher is excited to see more of the Maritime ringlet butterfly, which he remembers from his childhood. "They can go all winter living under the ice. I remember as kids, we used to go skating on the marshes, and that butterfly would survive under the ice, and then in spring, come back up. It's a nice little butterfly."
Maritime ringlets have made a habitat just 500 metres away from the marsh DUC intends to restore, on the banks of the Rivière du Nord. Once the salt marsh is restored, experts hope the butterflies will make their way over and repopulate. This is just one more asset in the fight to conserve wetlands and manage our coasts.
Rising to the challenge
Sea-level rise is a real and imminent threat to our nation's coasts. We wade into our country's coastal challenge.