The landscape south of Montmartre, Sask. is blessed with rich black soils—some of the most productive in the province for agriculture—and it shows. Fields of canola and wheat span as far as the eye can see, punctuated only by the planted trees and buildings of an occasional yard site. Within the half-mile by half-mile grid that divvies up much of the Prairies, the land here takes on the appearance of a chess board, linear and uniform. 
Venture a little further off the hard top and you'll eventually reach an exception to this rural rule. 
Two quarter sections of natural land, conspicuous through their contrast and connected to each other by a few quiet miles of dirt road, provide an unexpected break from the pattern.  
On satellite imagery of the area, the land appears as two deep green eyes on a beige and tan face. Up close, signs reveal that these rare gems of prairie biodiversity are the Adam Herold Project.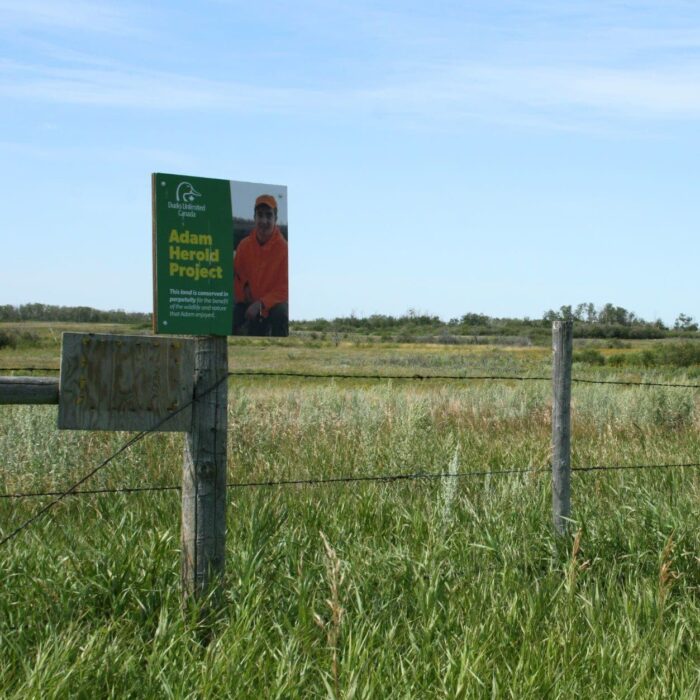 This is Adam's story
The project signs posted here go beyond naming a place on a map. Featuring an image of a young man who seems entirely in his element—outdoors, smiling, hunting with his family—these signs provide a glimpse into a story. Adam's story.  
On April 6, 2018, Adam Herold was the youngest player killed in the Humboldt Broncos bus accident, a tragic highway collision that took the lives of 16 and injured 13 others. He was six days away from celebrating his 17th birthday. 
Along with being a gifted athlete, Adam was a natural leader on and off the ice. One of those kids who easily mastered any activity he laid his hand to, in matters of teamwork, it was his kindness that stood out. Adam's former teachers describe how he could make all his fellow players feel included and important, regardless of ability. Even at a young age, Adam understood what it meant to lead by example and was determined to do so. 
If there was a place that Adam loved as much as a hockey arena or gym, it was outdoors, in nature. Not surprisingly, he quickly took to the hunting traditions of his family. 
"Even as a little guy, he came along with me all the time, long before he could hunt on his own," Adam's father, Russell Herold says. 
Once Adam was of age to fully participate, he and his dad enjoyed a succession of hunting seasons each year: waterfowl, deer, ring-necked pheasant. And then, when winter came, the family shifted to spending hours snowmobiling across the countryside near their farm.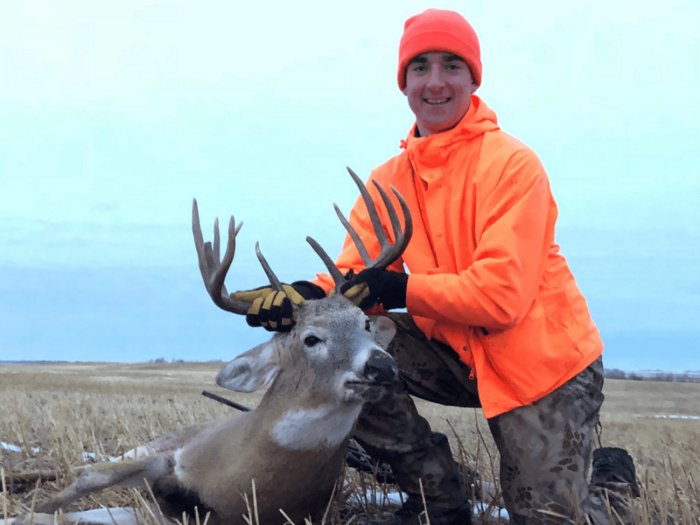 "
Adam would be glad that in some way he contributed to saving a bit of nature for others.
Saving a bit of nature for others
In the weeks and months following the accident, Russell and Adam's mom, Raelene, knew they wanted to do something lasting in memory of their son, and something that reflected the extraordinary person that he was.  
Given Adam's love of wildlife and nature, they decided that a project to protect local habitat would be a fitting tribute. The Herolds signed a DUC conservation easement on two pieces of land in Adam's memory; one a portion of native prairie on a quarter already held by the family, and an additional quarter that was purchased solely with its protection in mind. 
"Adam would be glad that in some way he contributed to saving a bit of nature for others," explains Russell. 
All told, the Adam Herold Project includes roughly 190 acres (77 hectares) of aspen bluffs, wetlands, and native and tame grassland.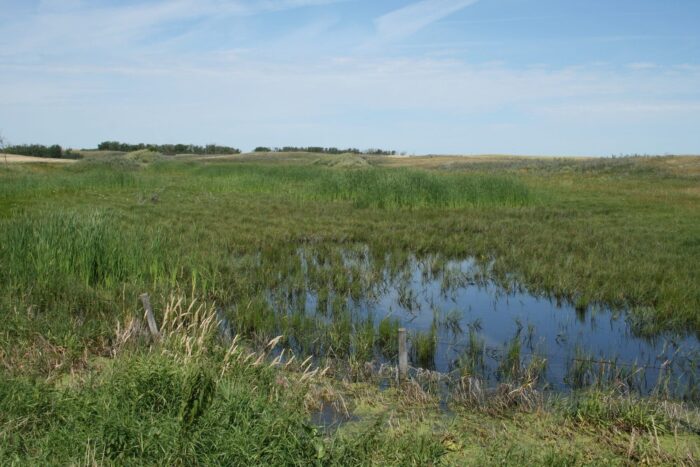 Protecting prairie wildlife communities
With Adam's land just down the road from their home farm, the Herolds can witness the diverse wildlife that benefits from its conservation.  
"We looked at land at a couple of different places where we hunted, but it's nice that these quarters are close to home," says Russell. "I like to come down and see what I see. One day, there was a mule deer buck standing out in the middle. We've seen moose, white-tailed deer, and sharp-tailed grouse, too." 
And that's only a fraction of the species found here.  
When late summer wildflowers are in full bloom, it seems as though a prism hangs over this land—and this land only—refracting the sunlight into its kaleidoscope of colour. Green in the willows and trembling aspen, yes. But also, goldenrod, brown-eyed Susan, and prairie coneflower; wild blue flax, meadow blazing star, and prairie rose, each species its own unique shade added to the mix. 
Flocks of grassland sparrows lift from their grassy hiding places and flit further along before vanishing in the cover once again. A badger hole on the hillside suggests that this cantankerous species at risk may make its home here, too.  
"There's not many pieces of native grass around anymore," says Russell. "With an easement on it, it's more help to make sure it stays like this." 
The family understands that they've protected two of the only sites for miles around where this community of species can be found. There's a weighty significance to what they've done, and their reason for doing it.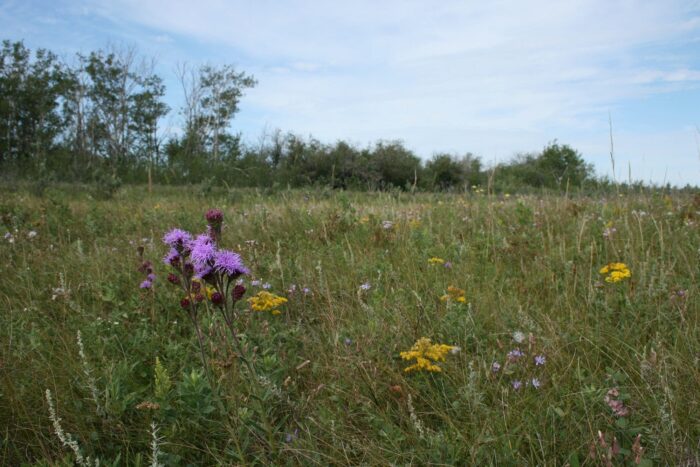 Once the habitat's gone, it's gone for good
While the Herolds themselves farm close to 4,000 acres (1,619 hectares) and understand as much as anyone the pressures that farmers face these days, they also see—as Adam did—the value of natural lands to the outdoor activities they enjoy.  
On the short drive along the dirt road connecting the two parcels, the ditches themselves a verdant ribbon of habitat, two separate broods of Hungarian partridge scurry along before begrudgingly taking flight into the adjacent field. A Swainson's hawk perches on its ground squirrel lunch in the tall grass.  
Russell points out how this roadside habitat connects the two easement parcels into a larger block. "We like how this makes a bit of a run for the wildlife."  
"We're hoping that our neighbours will leave whatever habitat's left intact," he continues, "This area used to have lots of bush, sloughs and wetlands. But the habitat here is disappearing, and once it's gone, it's gone for good."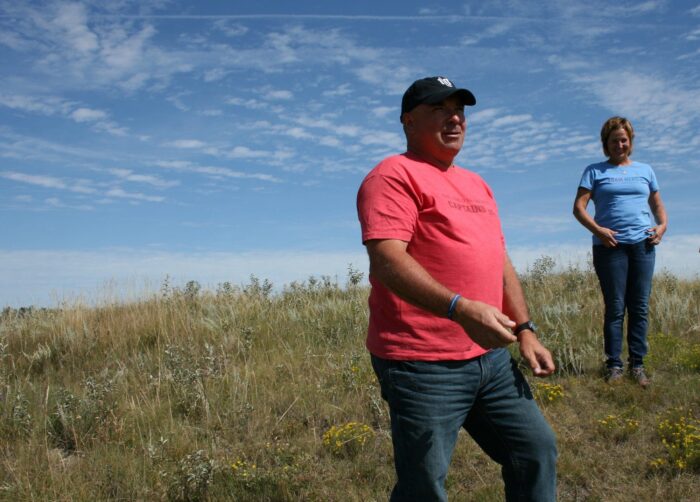 For the wildlife and nature that Adam enjoyed
Tragically, Adam won't have the chance to make the myriad contributions to the world that, by all rights, he should have. But through this habitat project, the Herold family have found a means to give back for Adam today, leaving a portion of the mark that he is certain to have otherwise left behind. 
One final line of text on the project signs reads: "This land is conserved in perpetuity for the wildlife and nature that Adam enjoyed." And through this, passersby to this corner of Saskatchewan will gain a glimpse into the life of a kind young man and a legacy from which we all benefit. 
"Even though Adam is gone, his story isn't over," Russell says. With something sounding a little like pride, but more bittersweet.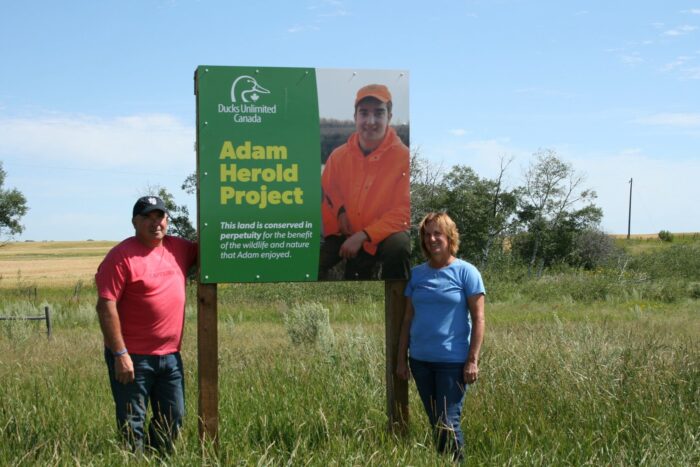 Leave a legacy of wildlife habitat
A conservation easement may be right for your family
Learn more