In 2019, Ducks Unlimited Canada (DUC) conservation programs engineer Parsa Aminian sifted through a stack of tubes full of rolled-up papers, found when cleaning out an old storage shed at DUC's office in The Pas, Man. Aminian pulled the tightly wound reams out of each tube, unfurled them, and assessed each document for its value to the organization.
One of them stood out: a 4′ X 8′ map of the Saskatchewan River Delta in northern Saskatchewan, with painstakingly hand-drawn outlines of marshes, meadows and tamarack bogs lightly washed in blue and green watercolour paint. Yellowed and tattered around its margins but in otherwise pristine condition, Aminian knew the map was old. With sea level elevations recorded in dates ranging from the 1910s to the 1940s, and squares of marshland inked off and inscribed with "Hudson's Bay Company," it's possible the map was used by the Company to identify muskrat trapping zones.
"The amount of effort made to gather this information…there must have been thousands of hours spent on foot, canoe and camping along transects before these early surveyors even put pen to paper," marvels Aminian.
How it ended up in DUC's possession is anyone's guess, but Aminian believes it played a role in DUC's early habitat conservation efforts in the Saskatchewan River Delta, known for its incredible value to breeding waterfowl. "They likely used the map, plus new survey data and tools, to feed into their decision-making," he says. "It would have taken them much less time because so much of the mapping work had already been done."
Using maps for the purposes of conservation is not new, but how we create and use them has certainly changed. For DUC and our partners, mapping has evolved from ink-and-watercolour sketches to high-tech options that in some cases are — quite literally — out of this world. Mapping is now used to help us choose project locations, target marketing strategies, study waterfowl movements and track landscape changes. Better still, since they're so highly visible, maps can help us communicate the value of conservation to more people.
"The technology was a tool our organization used for internal purposes, but now the possibilities to share the information more widely to the public and to our partners is the most compelling use for mapping now," says DUC GIS specialist Tatjana Radulovic. "At the end of the day, we are talking about wetlands and the environment."
How we integrate and use these vital tools is, well, all over the map. Here are just a few ways where you'll find them at work for conservation.
Equipping B.C. volunteers to be citizen scientists
Harnessing the power of their smartphones, DUC conservation specialists in B.C. have been using GPS technology for several years to identify and control Spartina, an invasive cordgrass that can overtake coastal mudflats, an important waterfowl habitat. They use an app to classify the size of the infestation, then attach a geographic location and record it in the app. Crews can then go back to destroy the offending plants.
That same technology is now in the hands of DUC volunteers like Craig Little, who can be part of our ground crew by conducting inspections of our habitat projects in B.C. The BC MarshKeepers app has a survey format that volunteer use to record the conditions of wetlands, access roads, fencing, signage and infrastructure like dikes and water controls.
Volunteers can also document beaver activity, wildlife sightings and invasive species. The data these citizen scientists collect is immediately available in the web application used by DUC staff to identify projects in need of attention.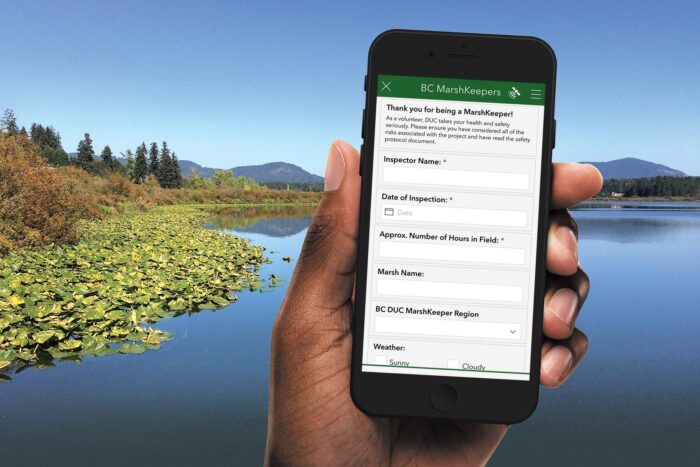 Braiding traditional knowledge and science
In 2017, local Dene technicians and Indigenous Guardians joined with remote sensing analysts from DUC to map a staggering number of boreal forest wetlands in the Northwest Territories. Mapping 77 million acres (31 million hectares) of boreal forest required extensive ground- and airborne-based fieldwork.
In July 2019, representatives from DUC's national boreal program met with the NWT Treaty 8 Tribal Corporation ("Akaitcho") and regional communities at the Akaitcho General Meeting in Łutsël K'é, N.W.T. to present the finished map product.
A critical source of ecological and cultural information, the map is a unique braiding of traditional knowledge with modern science. It enables the Akaitcho and all regional communities involved to make land-use decisions that will continue to promote their traditional ways of life while supporting habitat that's home to over 500 bird, fish and mammal species. It also supported the Łutsël K'é Dene First Nation in their successful leadership to establish the Thaidene Nëné Indigenous Protected Conservation Area in 2019.
Assessing and mapping biodiversity on the Prairies
Research shows that habitat loss and landscape changes can affect biodiversity — everything from ducks to dragonflies to entire ecosystems. But to what degree? How many species might disappear if half the native vegetation is removed? How many more wildlife species could a quarter-section of agricultural land support if a wetland is restored there?
Thanks to funding from RBC Tech for Nature, scientists at our Institute for Wetland and Waterfowl Research are building a biodiversity mapping tool for the Prairies to answer these questions, taking some of the guesswork out of the impact of habitat conservation and restoration. In the first year of the three-year project, the scientists mapped biodiversity using existing data and knowledge of where species occur. It's hoped that the tool can help landowners and agricultural producers better understand how land management activities that include retention or restoration of natural features can contribute to supporting biodiversity.
Using drones to help restore wetlands in Saskatchewan
It's been four years since DUC incorporated Unmanned Aerial Vehicle (UAV) technology into the province's wetland restoration program. And, according to Lyle Boychuk, DUC's manager of GIS/Inventory for the prairies, "it's been transformative."
Commonly known as drones, UAVs help DUC's conservation and GIS specialists in Saskatchewan collaborate effectively to identify and restore critical wetland habitats for threatened and endangered species, flood attenuation and carbon sequestration.
Trained DUC staff use two drones, outfitted with high resolution cameras, precision Global Positioning Systems (known as GPS), Lidar sensors and other tech that collect detailed, high-resolution images and video and produce incredibly accurate 3-D terrain models of a landscape.
"We can statistically model where all the depressions are on a property, determine the mini-watersheds of each depression and which wetlands may have been drained for cultivation," says Boychuk.
It's more efficient for the team, too. "In the time it takes to do a ground reconnaissance, we can fly a property, identify restorable wetlands, and design the restoration from a highly accurate data source," notes Boychuk, who adds that using UAVs has become a best practice. "It gives us credibility with our funders, providing a level of scrutiny and rigour that no other organization can provide."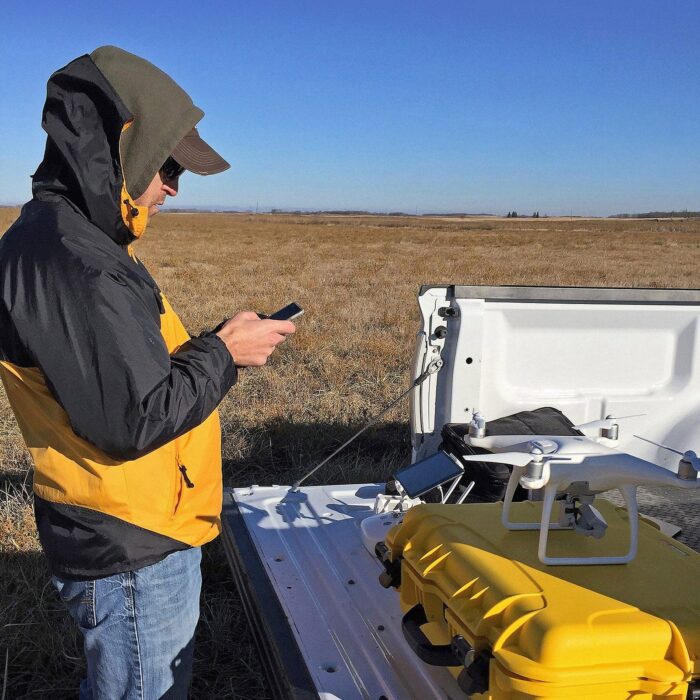 Getting people outdoors to celebrate a conservation milestone in Ontario
Mallory Carpenter, DUC's GIS specialist in Ontario, analyzes spatial data and then adds a touch of art to make accurate and beautiful maps for our conservation programs.
"I really love maps," says Carpenter. "I have a collection of old atlases I go to for inspiration sometimes, to look at the style of labelling, or the rivers, or how they used symbols. Maps are a tool for communication and they're important for conservation."
Earlier this year, DUC surpassed an incredible milestone of conserving one million acres in Ontario, protecting wetlands and next-door natural spaces like grasslands and forests.
Carpenter helped the Ontario team celebrate their achievement by working with communications specialist Julie Pollock to create an interactive map that encourages people to get outside to enjoy wetlands, even in winter. Launched for World Wetlands Day, February 2022, the map (ducks.ca/winterwetlands) features conservation projects carried out by DUC on public lands.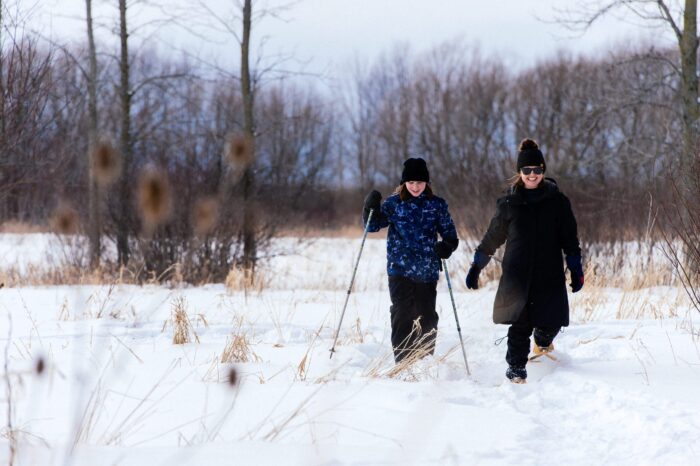 Detailing wetlands of southern Quebec
Twelve years ago, there were no detailed maps to identify the millions of hectares of wetlands in southern Quebec. Without proper documentation and classification, these habitats were at high risk of loss in this densely populated part of the province. Thanks to detailed mapping delivered by DUC with the support of the Quebec Ministry of the Environment and Fight Against Climate Change and more than 80 partners, 265,549 wetlands spanning 1.7 million acres (717,038 hectares) have been mapped. It is a monumental advancement for conservation in Quebec.
Using three-dimensional photo interpretation, the maps DUC has produced accurately document wetlands at a resolution of 0.75 acres (0.3 hectares). With 85 per cent of the targeted area now mapped, DUC expects to complete the project in the next few years.
This crucial work provides the baseline information for Quebec's Wetlands and Water Conservation Act.
"Governments, land-use planners, real estate developers, farmers, foresters and the public in general can now access valuable data to make informed decisions," says Sébastien Rioux, DUC's manager of provincial operations in Quebec. "Our mapping products are empowering them to make smart, sustainable choices that balance economic growth with environmental protection."
The mapping project recently received an "Excellence in Conservation Award" from Ducks Unlimited organizations across North America for being pioneering in scope and delivering an exceptional, positive impact on the landscape.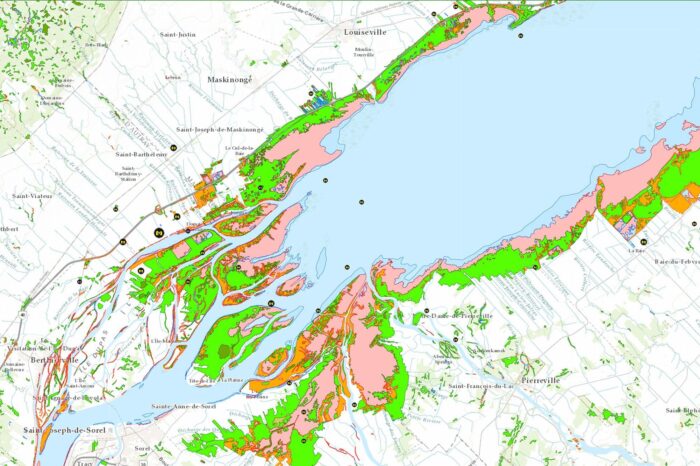 Filling information gaps on North America's sea ducks
Sea ducks are a unique group of waterfowl that inhabit arctic, subarctic, boreal, and coastal habitats. In North America, they include eiders, scoters, mergansers, goldeneyes, buffleheads, long-tailed ducks and harlequin ducks. The 15 species of waterfowl known as sea ducks constitute more than a third of the duck species breeding in North America, yet we know very little about them compared to other waterfowl groups.
To help fill information gaps for these poorly understood species, the Sea Duck Joint Venture partnership released the Sea Duck Key Habitat Sites Atlas in March 2022. Using a variety of methods and sources like aerial surveys, digital maps from Esri, Garmin, @OpenStreet Map contributors and the GIS User Community, this atlas identifies and provides information on 85 of the most important areas for sea ducks at a continental scale. This information will be useful for conservation planning, avoiding environmental impacts and evaluating environmental assessments.
"Now the next steps are to improve our understanding of these sites, how they may change in the future, and how we can protect them," says DUC research biologist Nic McLellan, who played a lead role in the creation of the atlas, in collaboration with project partners from the U.S. and Canada.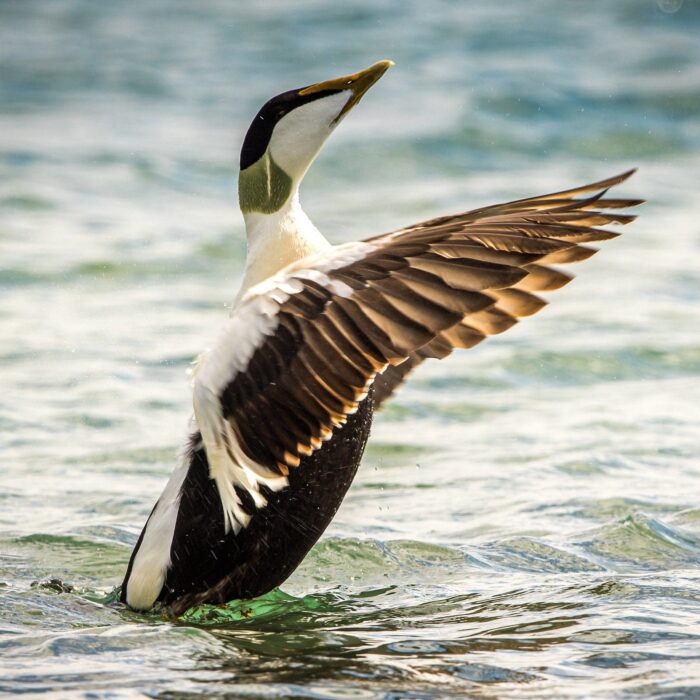 Taking stock of what we've got: A Canadian Wetland Inventory
Estimates put 25 per cent of the world's remaining marshes, bogs, swamps and other cattail-lined, carbon-rich water bodies inside Canada's borders. But ours is one of few developed nations that doesn't have a comprehensive national wetland inventory and monitoring system. It's a hefty obstacle to addressing the colliding crises of habitat degradation, climate change and biodiversity loss that impact the lives of all Canadians.
A vital tool in advancing sustainability efforts nationwide, a wetland inventory provides information about the distribution and type of wetlands. Ongoing monitoring systems measure loss rates, track protection and restoration efforts and analyze landscape changes to inform conservation activities.
Approximately 70 per cent of wetlands have been lost in southern areas of Canada — and up to 95 per cent in densely populated areas. But because a complete picture of the country's wetlands does not yet exist, figures are likely even higher. Canada may be losing wetlands faster than it's documenting them.
Since 1979, DUC has helped fill this information gap by using aerial photography and satellite imagery to map and inventory millions of acres of wetlands across Canada. In 2002, we started advocating for a national wetland inventory and monitoring system and, with the support of 150-plus conservation partners, has built a database — the Canadian Wetland Inventory — that is only partially completed.
It's time for national policy and decision-makers to make this a priority and to get the job done. Because without a proper inventory, we won't truly know what's happening to Canada's vanishing wetlands. To ensure a sustainable future for our wetlands, we must take stock of what we've got — before it's too late.
Learn more about the Canadian Wetland Inventory and our progress at ducks.ca/canadian-wetland-inventory
Conservator Magazine
Conservator magazine delivers beautiful photography and incredible stories from Canada's wetlands in a stunning print edition. Annual subscription with a donation of just $35.
Join Now