DUC was founded in 1938 when astute conservationists recognized the importance of wetland conservation to sustaining waterfowl populations and took action to make a difference in wetland conservation. Thirty-three years later, the international community came to the same realization and signed the first global treaty aimed at environmental conservation.
About the Ramsar Convention
The Ramsar Convention, short for the "Convention on Wetlands of International Importance Especially as Waterfowl Habitat (Ramsar)" was adopted in 1971 at an international conference in Ramsar, Iran. The mission of the Ramsar convention is the wise use of all wetlands through local and national actions and international co-operation, as a contribution towards achieving sustainable development throughout the world.
There are several international treaties, or conventions, focusing on the environment, but Ramsar is the only international convention that deals with one ecosystem or habitat type: wetlands. This is a testament to their paramount importance towards sustainable landscapes for humans, plants and wildlife.
Canada signed on to the Ramsar Convention in 1981 and has a long history of advancing the programs and convention through policy development, program assessment, peatland and carbon conservation, prairie wetland restoration, economic valuation, and mitigation issues, among other topics. To date, 172 countries, including Canada, have signed on to the convention.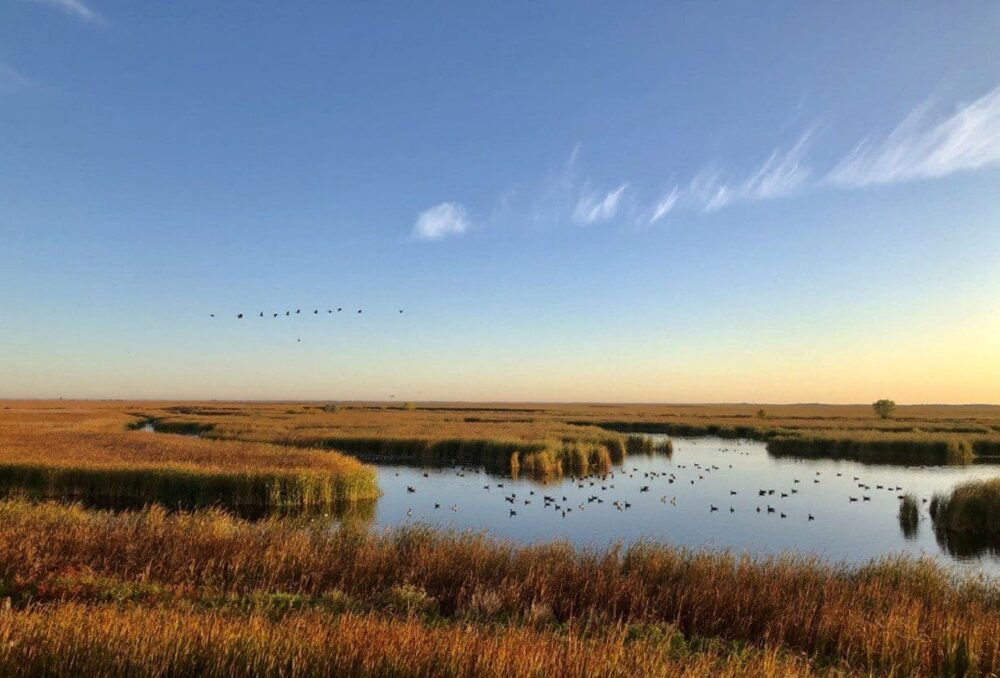 Ramsar Sites: Designating Wetlands of International Importance
The Ramsar Convention allows for important wetlands to be designated Ramsar sites, which affords them additional recognition. Globally, there are 2,453 Ramsar sites, as of August, 2022. Canada has 37 Ramsar sites that span more than 32 million acres (13 million hectares). Only Brazil, Bolivia and the Congo have more area of wetlands with Ramsar designation. Canada is also home to the second largest Ramsar site in the world, the Queen Maude Gulf that lies between the northern coast of the mainland and the southeastern corner of Victoria Island in Nunavut. Other important wetlands in Canada, such as the Saskatchewan River Delta – the largest inland delta in North America – are in the process of being nominated for Ramsar designation.
As Canada's leading wetland conservation organization, DUC has helped conserve 23 of Canada's 37 Ramsar sites. In fact, DUC's national office is located at Oak Hammock Marsh. Much of this site was restored by DUC and later designated a Ramsar site due to its international importance as a breeding and staging area for waterfowl and other migratory birds.
To become a Ramsar site, a wetland must be nominated by a contracting country, meet at least one of nine criteria, and undergo scientific review. These criteria can be found on the Ramsar website.
Countries signing on to the Ramsar convention are required to:
designate at least one Ramsar site and ensure their effective management;
work towards the wise use of all their wetlands through national land-use planning, appropriate policies and legislation, management actions, and public education; and,
cooperate internationally concerning transboundary wetlands, shared wetland systems, shared species, and development projects that may affect wetlands.
---
What does Canada's involvement in Ramsar mean?
Canada's involvement in the Ramsar Convention is confirmation that it recognizes the importance of wetlands for planetary balance and human survival, but also as important habitat for waterfowl. With 25 per cent of the world's freshwater found in Canada, it is the envy of the world, particularly where water security has never been so uncertain for so many.
Canada's involvement in Ramsar also enhances its implementation of several key pieces of federal legislation related to wetlands and waterfowl. These include the Migratory Birds Convention Act, Species at Risk Act, and Canada Wildlife Act. It is also an important continental tool that supports Canada's implementation of the North American Waterfowl Management Plan. This plan is a key document guiding how DUC and other conservation partners deliver wetland conservation in North America, which benefit far more than waterfowl.
COP: Nations gather to advance wetland conservation
To manage and advance the Ramsar convention, representatives of the contracting parties meet in a "Conference of the Contracting Parties," or COP, every three years. The COP is the policy-making body of the convention and serves to develop resolutions and recommendations, administer the work of the convention and improve the ways parties can deliver on objectives. Keep in mind that there are also COPs for other international conventions, such as the Convention on Biological Diversity, which will be holding its COP15 in 2022. So be sure to keep your COPs straight!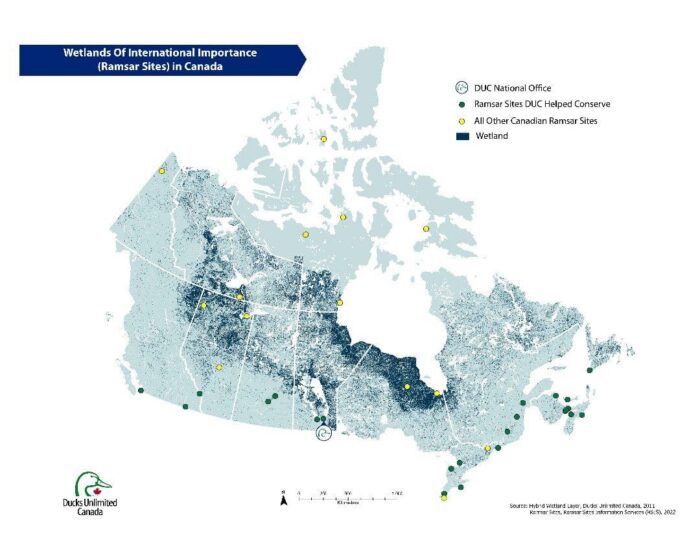 Canada's Opportunity to Influence Policy
On November 3-5, 2022, the in-person portion of the 14th meeting of Ramsar's COP (COP14) will be held in Geneva, Switzerland. Several resolutions are being tabled for discussion and vote at Ramsar's COP14, and DUC provided expert review to the Canadian delegation on two draft resolutions particularly relevant to wetland conservation in Canada:
Draft resolution on enhancing the conservation and management of small wetlands (Doc.18.18), which outlines the importance of small wetlands, encourages contracting parties to increase protection for them, and asks for more scientific support to develop guidance on assessment and management of small wetlands.
Draft resolution on protection, management and restoration of wetlands as [nature-based solutions] [ecosystem-based approaches] to address the climate crisis (Doc.18.20), which recognizes the importance of wetlands as nature-based solutions to the twin crises of climate change and biodiversity loss, and to food and water security. Overall, it urges contracting parties to increase the emphasis on wetlands as solutions to these challenges.
DUC fully supports the intention of these resolutions as small wetlands are fundamental to sustainable landscapes in Canada and has been working since 1938 to restore and conserve wetlands for humans, waterfowl and other wildlife. DUC is also actively doing research and implementing some wetland conservation programs specifically aimed towards those twin crises of climate change and biodiversity loss.