Standing at the water's edge, the flurry of activity at this prairie wetland makes it seem like any other. A solitary shorebird gingerly picks its way across a mud flat. Canada geese teach their days-old goslings to forage in fresh young shoots of grass. Northern shoveler drakes erupt into flight like the flash of a rainbow, a blend of bluey-grey, deep green, chestnut, and orange.
It's hard to believe that, until recently, the scene here was more agricultural than natural, that for over 100 years, coots had been replaced with crops, and herons with hay bales. It seems impossible to envision what this wetland once was. And could be again.
But that's the kind of powers of imagination Kevin Rozdeba had. For years, Rozdeba had his sights set on a habitat restoration that would one day result in this bustling scene of diversity, and would become the largest project of its kind in Saskatchewan.
Just add water (and decades of experience)
Rozdeba recently retired from a 41-year career as a DUC conservation programs specialist. As it turns out, when a career spans decades, time can create the conditions to make even the most ambitious professional dreams come true.
For years, Rozdeba had his eye on a wetland restoration that would reflood hundreds of acres of land in east-central Saskatchewan. But the scope of the project was massive; several landowners were involved and impacted, each one a moving part that needed to fall into place. Meanwhile, shifts in DUC's conservation approaches were surreptitiously laying the groundwork for change.
By the 1980s, DUC was beginning to move away from the major earthworks of its early engineered wetlands, and toward the restoration of often smaller, but abundant, pothole wetlands that had already been drained.
Adaptation to wet-dry cycles makes wetlands resilient
Prairie pothole wetlands are well-adapted to fluctuating water conditions and go through natural draw-down phases. This can happen seasonally—ephemeral wetlands, for example, hold water in early spring and dry out during the hot days of summer. Or it can happen over the course of years—periods of prolonged drought can draw down even large semi-permanent wetlands.
Adaptation to these wet-dry cycles makes wetlands resilient and helps them return to business-as-usual quickly once they begin holding water again. Thanks to residual wetland soils and an existing seed bank of aquatic plants, with the return of water, wetland plants and animals are not far behind.
Like returning the plug to a bathtub drain, habitat managers restore each wetland with the help of a "ditch plug"; recontouring part of the drainage ditch back to the original ground level to allow the basin to resume holding water.
"DUC's wetland restoration projects are the coolest," Rozdeba says. "When you get decent runoff the following spring, right away you see wildlife species that weren't there the year before."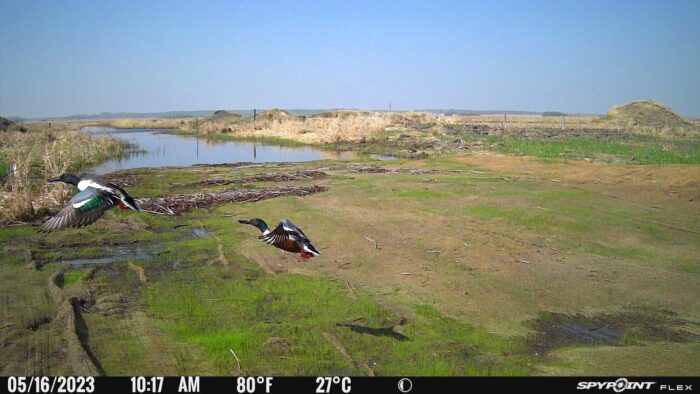 Novel approaches ramped up conservation in Prairie Canada
By the late 1990s, a new generation of conservation instruments was emerging and, without him fully recognizing it, gradually moving Rozdeba's dream closer to reality.
Newly enacted legislation in Saskatchewan made it possible for DUC to use conservation easements (CEs) to partner with landowners and protect habitat on privately-owned lands. By 2014, DUC was developing another new program option, the Revolving Lands Conservation Program (RLCP). Made possible by the easement program, the RLCP saw DUC purchase land, restore its wetland and upland areas, and—rather than hold onto it—resell it with a conservation easement on the title, protecting the restored habitats in perpetuity. The RLCP helped strengthen relationships with agriculture while allowing DUC to redirect sale proceeds back into conservation programs.
Around this time, the Government of Saskatchewan was trialing a new approach to offset the increasing environmental impacts of industrial development in the province. DUC became the delivery partner for Saskatchewan's Wetland Mitigation Guideline, helping industry meet its compliance requirements and offset unavoidable impacts to wetlands. Delivered through a series of fee-for-service contracts, DUC received financial compensation to restore wetland basins off-site of the impacted areas and, over the next decade, restored more than 1,100 basins totaling 1,500 wetland acres (607 hectares).
Through these new conservation instruments, DUC gained both additional means to fund wetland restorations and the means to ensure the restored habitats were protected. And two key pieces of Rozdeba's wetland puzzle fell into place.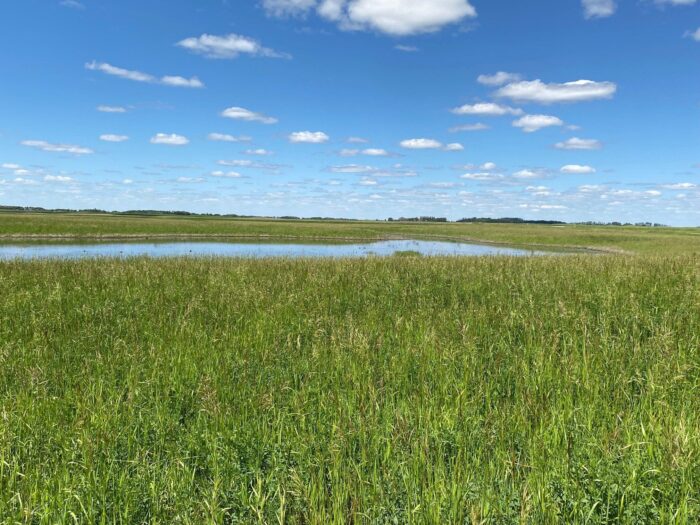 Clarence Hannotte's love of the land
When Clarence Hannotte passed away in 2020, it was time for his family to part with the land that had featured prominently in his life—including roughly 180 acres (73 hectares) of previously drained wetland habitat that Rozdeba hoped to restore.
A Yorkton-area farmer, Hannotte always had a soft spot for three quarter-sections of his farmland; his family once said that if you couldn't find him at home or at the coffee shop, he was sure to be out on his three quarters, reconnecting with his love of the land.
DUC purchased the Hannotte land in May 2021. But for Rozdeba, that was only the beginning.
"It was a full year of door knocking and orchestration to line up all the neighbouring landowners," Rozdeba says.
DUC decided to revolve the three Hannotte quarters through the RLCP with one major difference: 165 acres (67 hectares) of productive farmland would be maintained in annual cultivation rather than converted to perennial forage as is customary. But it would require just the right buyer, an individual who would appreciate the habitat value of the land as much as its production value. Area producer and former president of the Saskatchewan Wildlife Federation, Heath Dreger, was the perfect fit.
For Dreger the opportunity to acquire additional cultivated acres while being part of a conservation project led to the decision to purchase the three Hannotte quarters.
"The land we purchased from DUC is only a mile from our family's original 1901 homestead," the fourth-generation farmer says. "Conservation has always been part of my life and is part of my heritage. As a hunter and farmer, I appreciate what the land can provide, not only through the crops we grow but through its wildlife resources, too."
And Dreger is even going one better, planning to seed some of the marginal cultivated acres back to grass. "This will help reduce operational costs on our farm and provide a further benefit to wildlife," he says. "We need to conserve habitat to ensure a proper balance between agriculture and conservation so that legacy is available for future generations."
All told, Rozdeba signed six separate agreements with five landowners: three conservation easements, one long-term lease, the revolving lands program purchase and its eventual sale.
Rozdeba's dedication and perseverance, along with the conservation mindset of this handful of local landowners, resulted in the protection of 80 acres (32 hectares) of existing wetlands and 380 acres (154 hectares) of associated upland habitat. And of course, the restoration and conservation of a 260-acre (105-hectare) wetland basin that had been drained over 100 years prior.
A "big reveal" in spring brought back water and wildlife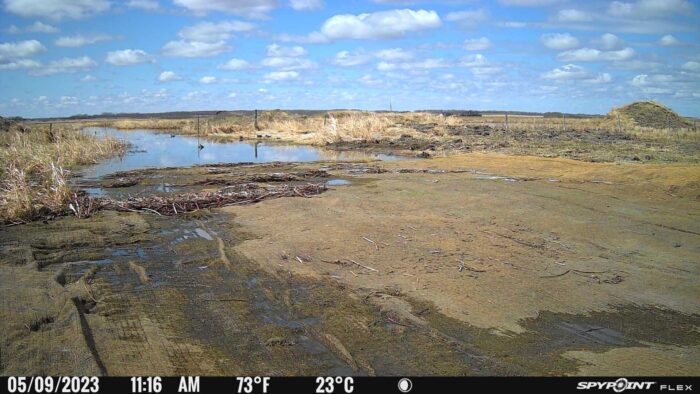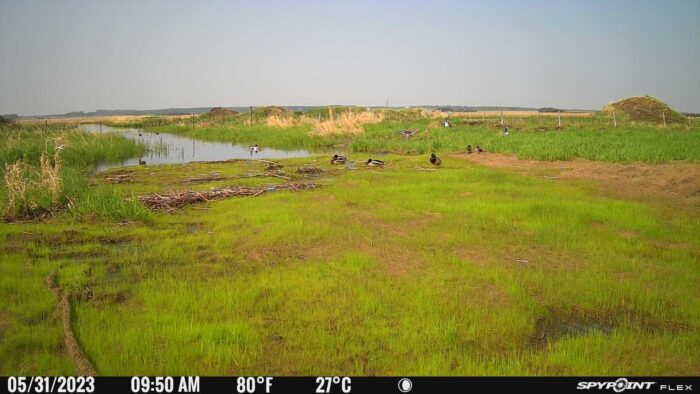 In the fall of 2022, it was finally time to construct the ditch plug and restore the wetland Rozdeba always hoped to see full again. And this past spring began the "big reveal" that he envisioned; the return of water, and with it, wetland biodiversity. So far, it appears that nature is making a delightfully swift comeback.
Yorkton office staff set up game cameras on the project to capture the succession of changes in wetland plants and animals over time. Within months of spring thaw, images revealed a dramatic shift from brown earth to verdant green vegetation where shorebirds, waterfowl and other bird species congregate around the restored basin like a Serengeti watering hole.
This confirms Rozdeba's own observation about how quickly renewal in a restored wetland can take place—great news for wetlands and for biodiversity.
Despite being years in the making, the Hannotte restoration has been a win for many on many fronts. For wetland wildlife, a new home has been created in a heavily impacted landscape. For area landowners and other nearby residents—including and most directly the Dreger farm—numerous and far-reaching ag-environmental benefits are being enjoyed. For the family of Clarence Hannotte, the legacy of this man who loved the land will live on in the project that bears his name.
As for Kevin Rozdeba, Saskatchewan staff will celebrate his long service with DUC in the customary fashion, with a project dedication to mark his contributions to conservation. And having the Hannotte project dedicated to the extraordinary impact of Rozdeba's four-decade career—well, we can't think of anything cooler than that.
An opportunity for farmers to directly support conservation.
Revolving Land Conservation Program
Learn more