Karla Guyn's 30-plus-year career in conservation has taken her to all kinds of wild places across North America. But it all began in the forest. 
"I can still remember what it felt like to walk under the shade of Canada's boreal canopy, soaking in the quiet solitude." 
Guyn, DUC's chief executive officer, recalls the impact her first "real" job had on her. As a newly minted biologist, she landed a gig with Alberta Forestry where she was tasked with measuring trees and recording the health of the forest. Now, she's heading up an international, industry-leading non-profit dedicated to advancing sustainability in North America's forests.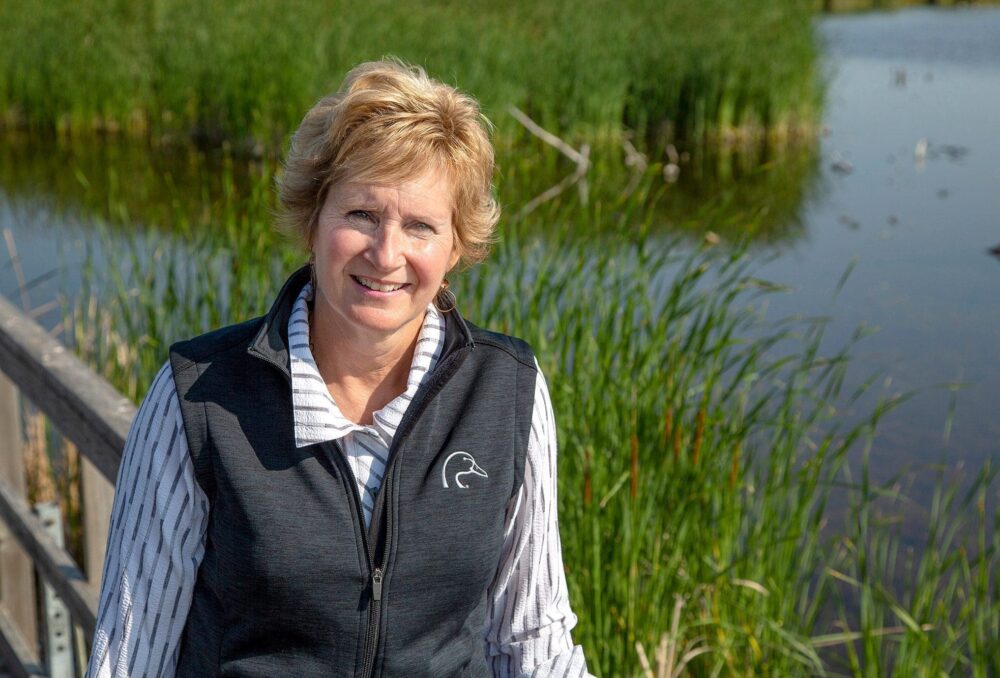 Partnerships critical to boreal conservation
In April, Guyn was appointed board chair of the Sustainable Forestry Initiative (SFI). A partnership-driven organization, SFI works with the forest sector, conservation groups, academics, landowners, local communities, Indigenous Peoples and governments to help solve today's sustainability challenges. And there are many. From addressing climate change to conserving wildlife species, to educating future generations and fostering sustainable economic development, SFI and its partners share tools, knowledge and experiences to make better choices for people and the planet.  
"The SFI Board of Directors is diverse in experience and perspectives. Karla's leadership enhances our ability to deliver on our mission at this critical time," says Kathy Abusow, SFI's president and CEO.  
"I've always enjoyed working with Karla.  Her passion for forests, conservation and building the next generation of future forest and conservation leaders shines brightly." 
A sustainable economy in nature
Guyn has served on SFI's board since 2017 and says there's never been a more important time in history for all sectors and citizens to come together. She believes nature-based solutions will lead the country, and the world, into a new sustainable economy. 
"We must remain unrelenting in our pursuit of prosperity as defined by nature capital assets like biodiversity, landscape resilience and renewable natural resources like forests. And we must strive to show others the value of the wild places and the working landscapes that sustain us," says Guyn. 
"
The SFI Board of Directors is diverse in experience and perspectives. Karla's leadership enhances our ability to deliver on our mission at this critical time
DUC has a long history with SFI, working collaboratively to advance sustainability and wetland conservation efforts in the boreal forest. Our boreal conservation team has played an instrumental role in several SFI initiatives, including the creation of a field guide that offers best management practices to mitigate the impacts of forest roads on wetlands, and developing a protocol to measure carbon stores in boreal wetlands. DUC also provided valuable input to SFI's new standards that include measures to protect water quality, biodiversity, wildlife habitat and species at risk.  
Guyn will serve as SFI board chair for one year. 
"I'm honoured to assume this role and to learn more about the diverse community of people who are finding common ground among the life-sustaining forests that we all love." 
Learn more
Interested in the boreal? Find the latest news and activity from our boreal conservation team.
Visit the boreal.ducks.ca