This spring, hot temperatures and tinder-dry conditions have resulted in rampant wildfires, causing devastating property damage and smoky conditions across Canada. While wildfire is an integral part of the boreal ecosystem—in part, driving vegetation and soil dynamics—healthy peatlands can help mitigate some of the impacts.
Peatlands are wetland ecosystems that are found throughout Canada's boreal region. They are characterized by deep, decaying vegetation deposits, or peat, built up below the ground surface. These deposits can be thousands of years old and are particularly good at holding water. For this reason, patches of peatland can remain unburned or burn at low severity and are often described as "fire refugia." 
The benefits of fire refugia
Historically, peatlands have been considered a fire refugia due to their saturated soils, and a new study published this month supports this claim. The study by the Northern Forest Centre and University of Alberta underscored the importance of undisturbed peatlands in keeping surrounding forests wetter, which prevents patches from severe burning during wildfires.  
According to the study, these residual patches of unburned vegetation are important as they provide water to surrounding upland forests, enabling forest vegetation to re-establish in the surrounding burnt areas.  
Boreal peatlands can play a crucial role in buffering wildfires. Here's how:
Moisture retention:

Peatlands are typically saturated or waterlogged, creating a high water table. This moisture-rich environment helps keep the vegetation and peat itself wet, making it less susceptible to ignition. The presence of water within the peat acts as a natural firebreak, slowing down the spread of fires.

 

Peat as a fuel source:

While peat is flammable, healthy, wet peatlands burn at a much slower rate compared to dry vegetation. The high moisture content in peat restricts its combustion, reducing the intensity and speed of a wildfire that encounters peatland areas. The slow-burning nature of wet peat can create a barrier for wildfires, limiting their advance.

 

Vegetation composition:

Boreal peatlands are typically characterized by vegetation types such as S

phagnum

(peat) mosses, sedges, and other moisture-loving plants. These species have adapted to wet conditions and often contain high water content. This water content acts as a natural fire retardant, making it difficult for fires to spread rapidly through these peatland types.

 

Lack of fuel continuity:

Boreal peatlands often have a diverse mosaic of vegetation types, with patches of open water, moss, and different plant communities. This diversity breaks up the continuity of vegetation, making it more challenging for fires to spread across large areas. The presence of water bodies, shrubs, and less flammable vegetation in peatlands can act as barriers to fire spread, although some treed peatlands can carry crown fires (spreading from treetop to treetop) when dense or in drought conditions.

 

Isolation of fires

: Peatlands are often surrounded by lakes, rivers, or other wetland complexes, creating natural boundaries that can restrict the spread of fires. These hydrological features can impede the progress of wildfires by creating physical barriers, preventing fires from crossing over into the peatland areas.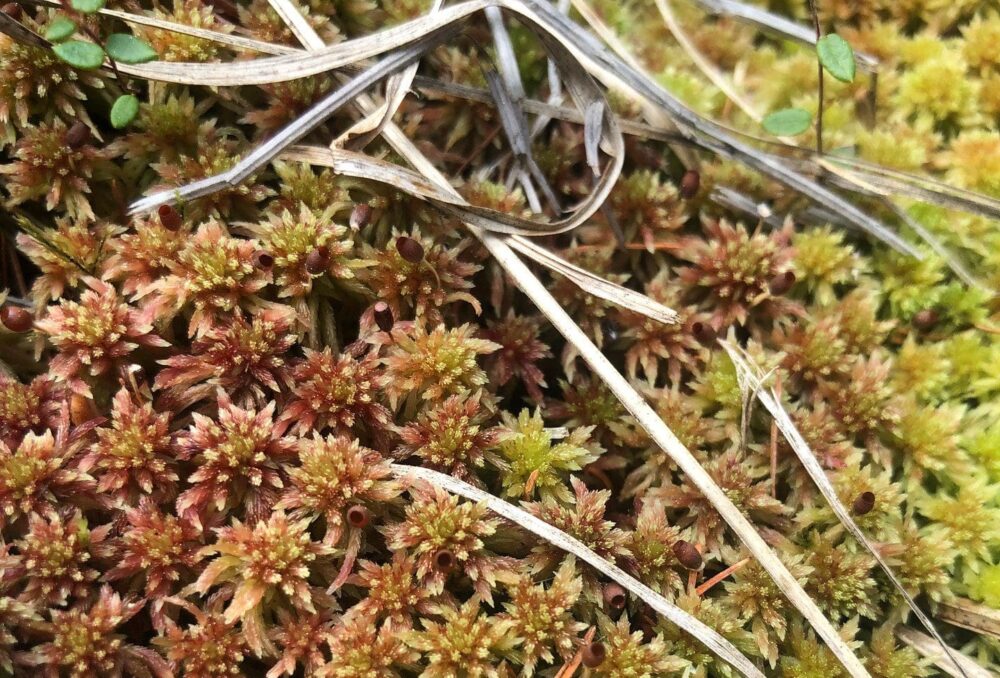 The role of
Sphagnum
 (peat) mosses in wildfires
Species such as Sphagnum mosses are typically regarded as fire-resistant due to their high moisture content. However, over the past few decades, research has shown that this may not always be the case. 
In some boreal areas, peatlands are drying out due to human activities (e.g., drainage), climate change, or aging due to changes in natural disturbance regimes (e.g., fire suppression). When peatlands become drier, their vegetation community can shift to support increased tree growth and decreased Sphagnum cover. Increased tree growth, in turn, increases the fuel for wildfires and reduces soil moisture due to the interception of rainfall by the trees and increased evapotranspiration (water loss through evaporation from the soil and the plant surface). These changes can result in peatlands propagating wildfires rather than acting as barriers to fire.  
Wildfires, peatlands and carbon
Severe wildfires can have detrimental effects to other ecosystem services provided by peatlands. Another recent study found wildfire reduced carbon uptake in pristine peatlands by 35 per cent and further enhanced emissions from degraded peatlands by 10 per cent. The study also demonstrates the potential for active management and restoration of peatlands, not only to help maintain their function as fire refugia, but also to help buffer the impacts of wildfire to carbon storage. 
Finding solutions to reduce boreal fire risks
While there are numerous knowledge gaps around boreal megafires, researchers are looking for solutions. Models have shown that restoring peatlands, including thinning trees, re-wetting the ecosystem, and creating conditions to support Sphagnum moss, will mitigate and decrease the boreal fire risk. This Twitter thread explores these peatland management ideas and how Sphagnum versus. feathermoss-dominated peatlands influence combustion during wildfire. 
That said, there are numerous challenges to implementing this type of restoration at a large scale such as access and cost. A combination of conserving undisturbed peatlands and actively managing and restoring peatlands' natural function could provide a more balanced approach.   
It's important to note that while boreal peatlands can provide some degree of wildfire buffering, they are not entirely fireproof. Under severe and extreme fire weather conditions, such as prolonged drought or extreme winds, wildfires can still burn through peatlands. Additionally, human activities, such as drainage for agriculture or peat extraction, can alter the hydrology of peatlands, increasing their vulnerability to wildfires. Preserving and managing the natural functioning of peatlands is crucial to maximize their capacity to buffer wildfires. 
Boreal peatlands are worth protecting
Boreal peatlands are vital areas to conserve and leave undisturbed. Not only do peatlands act as buffers to the effects of wildfires, but they provide many other benefits including biodiversity and carbon storage. 
Canada's boreal forest
Learn more about DUC's conservation efforts in Canada's vast boreal forest region.
Learn more