DUC is celebrating an ongoing partnership among women researchers in honour of the International Day of Women and Girls in Science 2023.
---
Years of collaboration are producing results with cutting-edge climate data that helps DUC researchers predict changes on the most important landscapes for waterfowl in Canada.
DUC researchers Lauren Bortolotti, PhD and Vanessa Harriman, PhD are working with Yanping Li, PhD an atmospheric scientist and associate professor at the University of Saskatchewan, to help keep wetlands firmly in the climate-change conversation.
With her team, Li uses high-performance computing power to model interactions between land surfaces and the climate. She's helped DUC put wetlands into that picture. Bortolotti first worked with Li on a study that used cutting-edge climate data to predict the future for waterfowl in prairie Canada.
The Prairie Pothole Region contains millions of wetlands that make it North America's most important breeding ground for ducks, geese and swans. Li's climate model projected the future distribution  of wetlands, information that Bortolotti and Harriman are using to calculate the expected outcomes—good or bad—for waterfowl populations.
The two researchers also worked with Li to investigate the cooling capabilities of Prairie wetlands and their benefits for climate mitigation. The study showed that prairie wetlands (southern Alberta, Saskatchewan, Manitoba and areas of the United States) have the potential to reduce surrounding heat on summer days and reduce hot days during heat waves.
Adapting techniques for distinct landscapes
What's next? The trio have now turned their attention to their next project: the wetlands of the Western Boreal Forest. The region spans roughly from Manitoba to Alaska and is the second most productive landscape for the continent's waterfowl populations. Their vision is to apply some of the techniques and knowledge gained in the Prairie-focused study to boreal wetlands, wildlife and community values.
Their climate research team is expanding to include wetland ecologist Kristyn Mayner and other members of DUC's national boreal team. DUC's Boreal program includes wetland inventories to support land management planning and landscape-scale conservation initiatives, as well as mission-critical work to support partnerships with industry and communities.
"Boreal wetlands are expected to be sensitive to climate change," says Harriman, an avian ecologist who devotes half her time to boreal science projects. "But we do not have a clear understanding of those effects and that makes planning for the future difficult. These changes will touch all those depending on these vital ecosystems for habitat, water supply and water quality. That includes waterfowl and other wildlife, the forests, and the communities."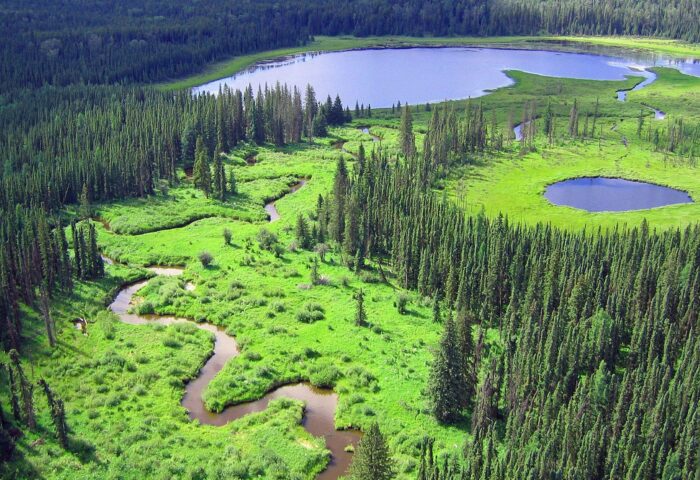 "Can we really do that?": Taking on big questions about climate change
Bortolotti and Harriman know the journey to research results is long, and it starts with a question. They want to know where waterfowl will nest in the future. But the challenges of climate research are big enough that they've also asked themselves: Can we really do that?
A primary challenge is the huge scale of landscapes like Canada's prairies or boreal forests versus the relatively small individual wetlands that the birds need to raise their young. So, to reach meaningful results, the scope of the study is vast while the model scale is unusually fine in order to capture the small land features. Because of the fine scale, the results can inform conservation focus and may be of interest to local communities too.
In the five years of this collaboration, they've resolved a litany of complications—like the problems of scale—and are now working through factoring permafrost thaw, a major consideration for modelling climate projections in the Western Boreal Forest compared to the Prairie Pothole Region.
The current challenge is to coalesce the collaborators and funding required for the new boreal-focused project. Key conservation partners such as the science committee for the Prairie Habitat Joint Venture have shown interest in future results to support all-bird conservation planning.
Bortolotti and Harriman are forging ahead, confident in their knowledge that the work is essential and research takes time to come together.
---
Birds and the Western Boreal Forest
When spring comes, the boreal forest lights up with millions of migrating birds including ducks, geese and swans. They come north for the habitat, which provides the food, shelter and water they need to thrive and raise their young.
We know that good waterfowl habitat is defined by the amount and types of available wetlands. When change comes to those habitats, it affects the lifecycles of ducks and many more wildlife species—from snails in the water to birds up in the trees.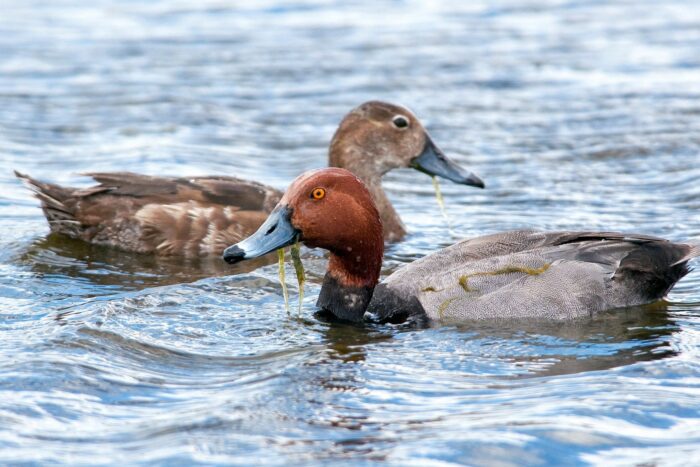 Interested in a STEM career that supports conservation?
Watch our Careers section for new opportunities with DUC
Bookmark this link!