Ducks don't stay on their Canadian breeding grounds forever. Considering the distance they cover to get to their warmer wintering locales, it's a good thing they're efficient fliers.
But these are not flights of fancy. Blue-winged teal from Alberta and Manitoba can migrate more than 6,000 kilometres to Venezuela or Peru. Researchers have tracked a northern pintail that completed a 3,000-kilometre migration, non-stop. And king eiders can travel up to 10,000 kilometres per year roundtrip between the Arctic and the coasts of either Alaska or Atlantic Canada.
If you've ever wondered about the physical attributes that help propel ducks sky-high and to survive these gruelling trips, we've prepared this primer. Think of it as your personal duck flight deck. So, let's take off, eh?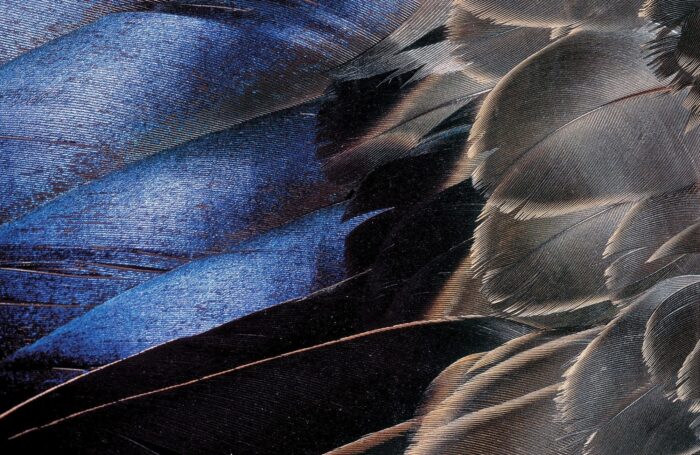 On the wing
Ducks have small wings, so soaring like a hawk isn't an option. They must flap their wings fast — about 10 times per second — to keep their relatively large bodies airborne. Duck wings are long and pointed, like those of a peregrine falcon, the fastest bird on Earth. With this wing shape and rapid wingbeat, most ducks can fly at 80 kilometres per hour!
The tradeoff with fast flight is that ducks are less nimble compared to birds like swallows that need to make quick and precise turns while hunting for insects over grasslands and wetlands. Dabbling ducks have slightly wider wings best suited to dodging wetland obstacles like trees and cattails. Diving ducks' longer wings are better for flying over open water, where maneuverability isn't as crucial.
Flight feathers are shaped asymmetrically and overlap so the wing is both curved and tapered. The strong flight muscles that power their wingbeats help ducks, but this basic wing shape makes flight possible.
Did you know?
Waterfowl have as many as 12,000 separate skin muscles used for feather control. Ducks and geese lift or compress their plumage in various ways to help regulate body heat, dive underwater, and express emotions, such as aggression or amorousness.
When feathers go flying
Ducks have ten long and stiff primary feathers. These are the wing feathers found furthest from the body. They're attached by ligaments to what would be the "hand" bone—if ducks had hands. These are so essential to flight, domestic birds with "clipped wings" have had their primary feathers cut off to prevent them from flying. Primary feathers provide the thrust on the wing's downbeat. They're darker at the ends due to a high concentration of melanin — the same compound that gives human skin its colour—which makes the tips of these essential feathers resistant to wear.
Secondary feathers are shorter flight feathers that are anchored to the "forearm" bone, spread out next to the primaries. They make up the speculum, a flash of colour featured by many duck wings, which is iridescent green, blue, purple or white, depending on the species. On the wing's upbeat, the primary feathers spread out to allow air passage, while the secondary feathers force air up from the wings, providing lift.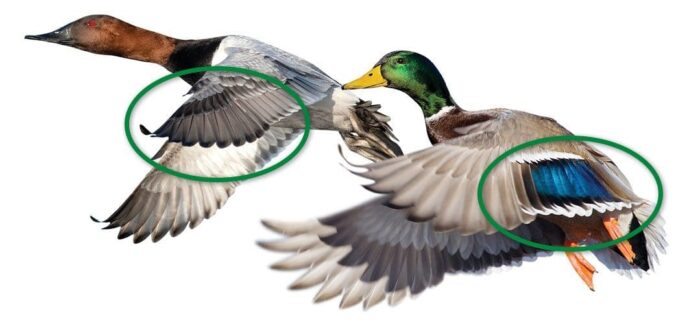 Wing coverts keep the bases of primary and secondary feathers covered on both sides of the wing. They contour the wing, creating a smooth surface for optimal airflow. On blue-winged teal, the upper wing covers also form their unmistakable cobalt-blue wing patch.
Tail feathers act as a rudder, helping to stabilize and control flight.
Because ducks have big bodies and small wings, they struggle to fly at slow speeds. The winglet — or alula in Latin — is a group of three to five feathers that attach where you'd expect your thumb to be. The alula creates a break in the wing surface to help slow flight and assist with landing.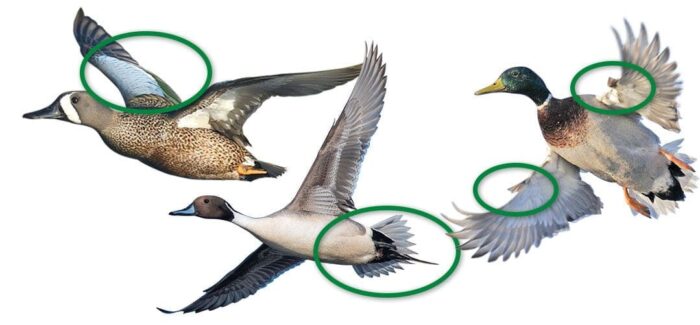 Habitat matters, too!
Ducks naturally have what it takes to get airborne, but they need support from their ground crew, too (that's you). Ongoing investments in habitat conservation and scientific research are needed to address challenges like loss of habitat and food supply in waterfowl breeding and wintering ranges.
Learn how you can help