July 1996, two weeks of persistent rain culminated in a downpour that overwhelmed rivers and reservoirs in the Saguenay region of Quebec, resulting in the first natural disaster in Canada's history to have damages exceeding $1 billion. Unfortunately, floods of this magnitude have become more common and continue to result in devastating losses of life and property.
According to a 2020 Insurance Institute of Canada report, the cost of severe weather-related insurance claims is expected to more than double over the course of this decade, hitting $5 billion annually. While the direct financial burden of this will be felt by insurance providers and governments in the form of financial aid, Canadians are likely to be impacted through increased premiums and taxation.
Natural disaster resilience needs to be a focus for all communities across Canada. This is why 15 proactive property and casualty insurance companies have partnered with Ducks Unlimited Canada (DUC) in a landmark initiative called Nature Force to mitigate flood risks to urban communities. To begin, Nature Force will deliver natural infrastructure projects in B.C.'s Fraser River Delta and in southern Ontario and Quebec.
Nature-based solutions like natural infrastructure (often referred to as green infrastructure) involve actively restoring and managing natural areas for positive outcomes including climate resilience, biodiversity and water quality.
"Healthy and interconnected wetland systems are phenomenally good at absorbing significant water flows and reducing flooding, while providing critical habitat to hundreds of species of wildlife, sequestering carbon, and filtering contaminants from our watersheds," says Mark Gloutney, national director of science for DUC.
Members of the Canadian insurance industry — including Nature Force program partners Aviva Canada, CNA Canada, Definity, Gallagher, Gore Mutual, HUB International, Intact, Navacord, Northbridge, SGI, Travelers Canada, Trisura, Wawanesa, Westland and Zurich Canada — have been proactively investing in predictive modelling tools, research, and policy advocacy around climate resiliency and flood attenuation for some time.
"What sets the Nature Force initiative apart is that we're coming together as the leaders of the Canadian insurance industry and funding community-based natural infrastructure projects in urban adjacent areas and upstream watersheds," says Tina Osen, president of HUB International Canada.
"We are pleased to be able to participate in this initiative with such an impressive collective of forward-thinking insurance organizations," says DUC CEO Larry Kaumeyer. "Together I am confident we'll be able to influence landscape-level change while showcasing the value of wetland conservation as a critical part of the solution for climate change adaptation."
Nature Force arrives on the scene as the Canadian government signals that they will be taking more aggressive steps towards modernizing the approach to disaster management, such as prioritizing and developing comprehensive flood mapping on a national basis.
The Nature Force project planning process began this April in conjunction with public and private sector partners and local stakeholders. Indices and modelling tools developed by academic partners and DUC's Institute for Wetland and Waterfowl Research will be used to prioritize projects based on considerations like flood risk and impacted population size.
"These tools are much needed, but the greatest economic gains will come from the development of comprehensive wetland conservation and loss offsetting policies. Together, they will reduce financial risk by keeping water in our natural wetland basins, where it belongs, and restoring capacity from those habitats that have been lost or degraded," says Kaumeyer.
At a time where we face the dual crises of climate change and biodiversity loss, nature-based solutions have proven to be a powerful tool to defend against both. DUC has a conservation portfolio exceeding 11,000 projects and has conserved or restored over 6.6 million acres nationally. This tremendous breadth of work on the ground combined with our highly effective blend of research and applied science means DUC, with the support of its insurance partners, is well-positioned as a Nature Force to be reckoned with.
More information on the insurance industry partnership can be found at thenatureforce.com
Natural infrastructure makes economic sense
A 2021 global study by the International Institute for Sustainable Development, "How Can Investment in Nature Close the Infrastructure Gap?", found that nature-based infrastructure projects can represent a 51 per cent decrease in investment and 28 per cent gain in added value over traditional "grey" or built infrastructure.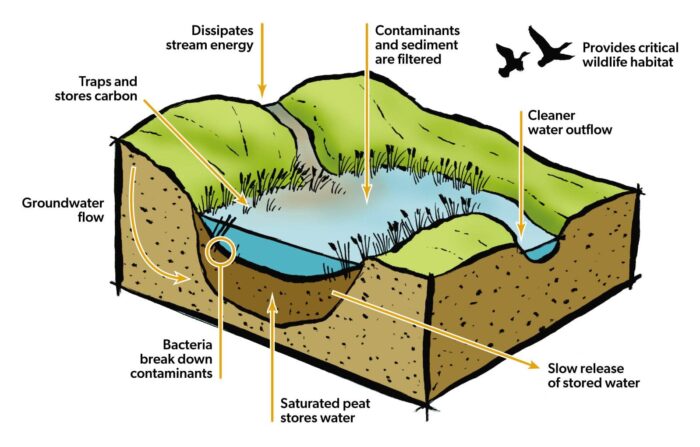 Conservator Magazine
Conservator magazine delivers beautiful photography and incredible stories from Canada's wetlands in a stunning print edition. Annual subscription with a donation of just $35.
Join Now