Last summer, Don Crawford contacted Ducks Unlimited Canada (DUC), seeking copies of a 2007 Conservator article about a conservation success story on wood ducks. Crawford and his older brother Ken raise horned Hereford cattle on their family farm near Argyle, Man. For years they have been quietly maintaining a small wetland on their land "just for the ducks," but which also shelters the various wildlife that frequent the surrounding shrubs, trees and haylands.
After a few phone conversations, it was clear they had a soft spot for wood ducks. Over time, they've been giving these cavity nesters a webbed foot up by mounting nest boxes on oak trees near the wetland. The information from the article had helped them share their passion with others for these beautiful and striking birds, informally called "woodies."
I venture out to the Crawford brothers' pristine, picturesque yard just on the edge of town, where the two bachelors live in a brick two-storey home built in 1881 and where they've lived most of their lives. Next thing I know, I'm sitting awkwardly between the amiable septuagenarians in the cab of their red diesel Dodge truck, covered liberally with bug spray and wearing an extra-large pair of men's black rubber boots, bumping down a gravel road to the quarter section.
Once there, we walk through stands of oaks and grassy pastures, dodging cow patties before entering a clearing. Scrambling up a slight rise, batting at clouds of mosquitos, we stand to take in the view of their prized wetland. In the hush of early evening, a few ducks skitter into the thicker vegetation, leaving rippling trails in the water.
From this vantage point, Don points out various features. "It's always been a slough. We started to manage it as water for the cattle, then for ducks," he says, noting that drought conditions in 2021 allowed them to get into the marsh with equipment to create a small island that became a sanctuary for waterfowl once the water returned.
Above us, a rustic nest box is a reminder about the reason they started the wetland project in the first place: their beloved wood ducks.
Nest box builders like the Crawfords pick up their hammers for many reasons but they all have one thing in common: a personal connection to wildlife and a desire to give back. Here's a few of their stories:
---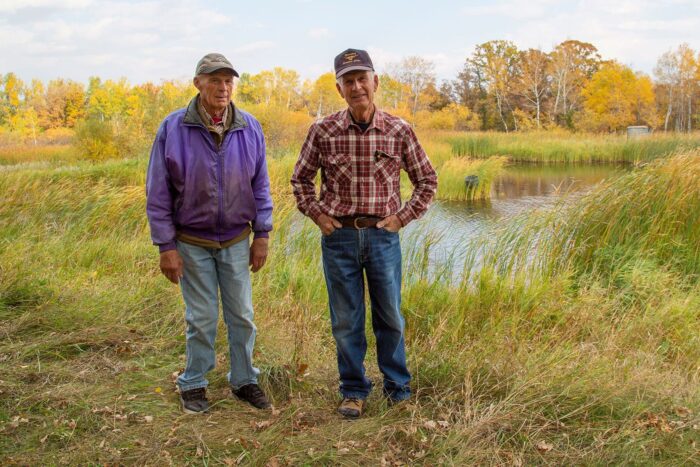 Property Brothers
Don and Ken Crawford – Argyle, Manitoba
Don and Ken Crawford spend long days tending to their cattle and the places they roam, as well as maintaining equipment and outbuildings. Yet they still take time to enjoy the furred and featured creatures frequenting their property in all seasons, some right outside their window. Ken, a photographer, has an impressive portfolio of images of deer, eagles, porcupines and other wildlife. They've spotted black bears, lynx, fishers, coyotes and other predators, plus threatened bird species like the bobolink.
They've installed a trail cam at the wetland to watch the many birds that nest and take refuge there. "You can learn a lot from nature just by watching it," says Ken.
Taking their cues from waterfowl behaviour, and through trial-and-error, the Crawfords have created the ideal oasis for wood ducks. With donations made by neighbours, plus those they have created themselves out of wood scraps and hollowed-out logs, nest boxes dot the oak trees all over.
Why oaks? "Acorns are their favourite food, it's like chocolate to them," says Don.
Like many other landowners who make room for wildlife, the Crawfords are humble about their efforts. Don says, simply: "When you get older, you're more mellow and care more about nature. Know what I mean?"
---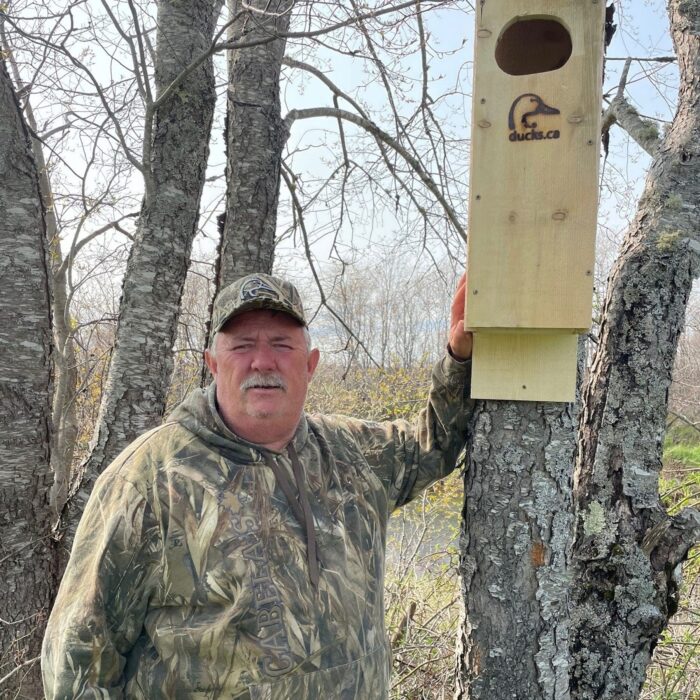 Building for future generations
Glenn Collacutt – Elmsdale, Nova Scotia
Glenn Collacutt found a home with "Ducks"; now he makes homes for them.
A longtime DUC volunteer and chair of the Elmsdale committee, Collacutt's introduction to DUC was made by his father, who took him to a fundraising dinner in Dartmouth. And it was his father who introduced him to building, installing and maintaining nest boxes at nearby wetlands. Along with fishing and hunting, the activity "was just something my dad and I did," says Collacutt. "I call it giving back."
Collacutt's two sons have been following his path, and he hopes his young grandchildren will, too. The signs are already there: "I see it in how my son is looking at his baby daughter — he can't wait to take her fishing."
While he waits for the next generation to fledge, Collacutt has been busy as a proverbial beaver. But he's got lots of help. "Last year, I set a goal of 200 boxes. With the help of family and friends and a kind donation of wood from the Elmdale Lumber Company, we made and installed them all."
Growing up, Collacutt rarely saw a wood duck. Today, they're more abundant in the area thanks to the efforts of people like him. He's become a nest box ambassador, encouraging local landowners to have them installed on their properties. "When I explain that there's no more natural nesting cavities left, and there's only a little maintenance needed, I've never been turned down."
At 65, Collacutt says he takes pleasure in watching ducks and geese, muskrats, beavers and otter. "It means more to me now than it ever did." He continues to be thrilled by his nest box finds. Once, while fishing, he found one he'd put up 10 years ago, with a bufflehead in it. Another time, "an owl came out and scared the c**p out of me," he laughs.
---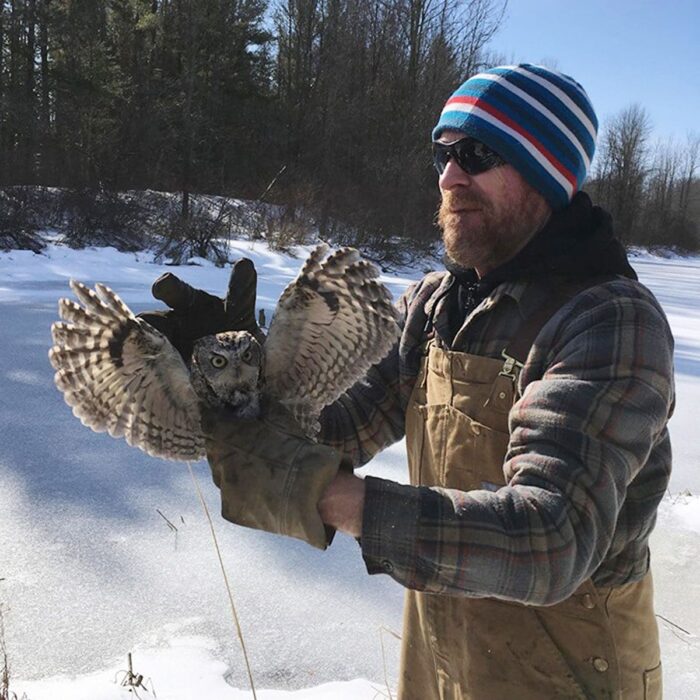 Owl in the family
Steele family – Lucknow, Ontario
By Owen Steele, DUC's (recently) retired head of conservation in Ontario
The wood duck is my favourite duck because of the role Ontario played in its recovery. Without passionate conservationists like my mom, who protect wood duck habitat and diligently maintain a nest-box program, we wouldn't be able to marvel at the splendour the wood ducks bring to our wetlands every spring.
At our family farm in Lucknow in the 1970s, I learned the links between agriculture, the environment and wildlife. I developed a desire to explore and protect these special places. In 1994, my parents began placing nest boxes on their farm near the wetland, which DUC had restored.
My mother, Patricia, worked with my father, Bill, to assign a number to each box and set up a hand-written system to keep track of their successes and losses every year — and it's been nearly three decades now. As the years passed, my daughter Ellen and her cousins began to help with the annual work of caring for the nine nest boxes.
One sunny winter day a few years ago, three generations of Steeles (and a Labrador retriever) were making the rounds when we found three screech owls napping in the boxes. Owls are one of many non-waterfowl species that are cavity dependent and benefit from our boxes.
Ellen was able to hold an owl in her gloved hands as she gently lifted it out of the box and let it fly away so we could do our work. One of the owls flew straight into the next nest box. We left that box for another time.
This year, my mother and I checked the nest boxes on Family Day weekend and encountered another screech owl using one of the boxes. It flew off when we approached, and we had a good look at the feathers from cardinals, woodpeckers, blue jays and goldfinches that were inside the box. That owl had a pretty varied diet.
There's always excitement associated with a day spent monitoring and maintaining nest boxes.
---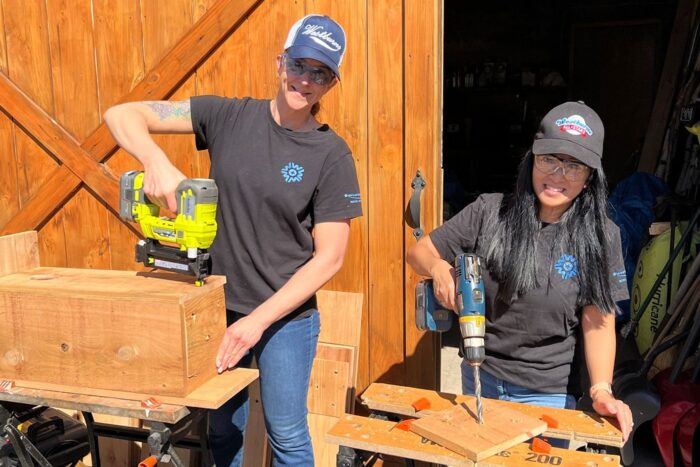 Wired to help the ducks
Westburne Electric – Essa, Ontario
By Justin Fronczak, DUC marketing specialist
This past April, my former colleague and good friend, Andrew Thurlow, reached out and asked how he and other employees at Westburne, an electrical distribution company, could support DUC as part of a company-wide Earth Day contest for their staff. Together, we decided on a nest box build and wetland tour day. We went to a local mill to purchase cedar planks, cut and drilled the boards into ready-to-build nest box kits (using DUC plans, see sidebar). The Westburne staff group arrived at Andrew's farm and after a quick breakfast and introduction from me, they got to work building the nest boxes. Everyone completed at least one box, building a total of 10 for DUC to use to support local habitat conservation initiatives and fundraising events.
After lunch, I toured the group at a Minesing wetland area supported by DUC and where our own staff volunteer time to refresh the nest boxes found there. It was a great chance to see nest boxes in action and plenty of wildlife.
Afterwards, participant Krupa Rajdev told me: "I had a wonderful time being outdoors together with my peers, all set on a mission to help our essential wildlife. It was heartwarming being able to help the duck mothers take care of their ducklings in the wetlands. As a mother myself I can't imagine the hardships they go through having to nurture their babies through the harsh elements of our everchanging Canadian climate."
A win-win-win day in my books!
---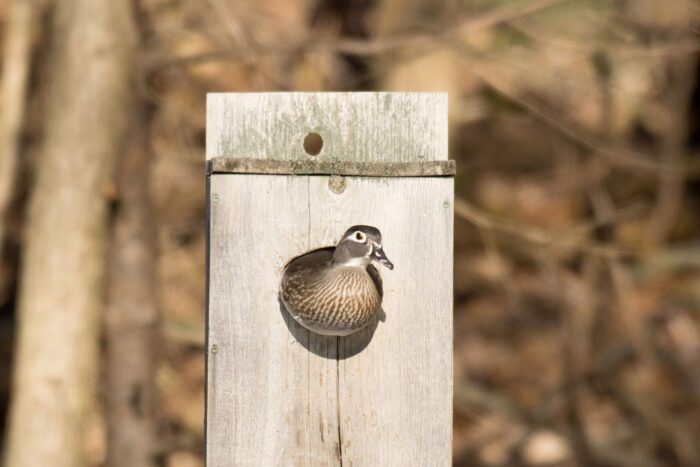 Raising the roof – tips and tricks to get started
Location, location, location!
Get ready for installation day by scouting out a secluded spot in a permanent wetland (i.e., not a temporary spring pond) or beside moving water with trees in the vicinity for coverage. As in real estate, location is a central consideration for successful nesting!
One box for each three acres is a general rule for multiple nest boxes. That will give duck families the space they need for nest success. The boxes can be mounted on trees or steel poles with a predator guard.
The nest box should be near or over water, shielded from disturbance but also accessible for housekeeping in winter. Ducklings leap from the nest soon after they hatch and immediately need healthy habitat (i.e., water, shelter, food) to ensure their best chances of survival.
Create a warm environment with a deep layer of wood shavings in the box. Without this, the box will be inhospitable because cavity-nesting ducks don't carry nesting materials. They arrange the materials that are already in the cavity. Wood shavings are available at farm and pet supply stores but be sure to avoid sawdust because it can harm newly hatched birds.
It may take a season or two for ducks to discover and use the nest box. Once they do, they're likely to return in future years. If the box is empty for longer, try a new location —ideally, where there are already signs of waterfowl in the area.
Tips for good housekeeping
Research has shown that well mounted and clean nest boxes are more attractive to ducks. Replace the wood shavings every year and make a visual inspection of the box, pole and predator guard. Annual maintenance also provides a window into the recent past. There might be signs of nest success, abandoned eggs, or the leavings of a predator like an owl.
Screech owls can move into nest boxes. and so can great-crested flycatchers, American kestrels or tree swallows. Don't worry if you startle wildlife when opening a nest box in winter. They will come back when you leave.
Bird flu awareness
Avian influenza (bird flu) is a naturally occurring virus that can pass between birds. Nest boxes are not considered a high risk for transmitting the virus but if sick or dead birds are discovered, contact the Canadian Wildlife Health Cooperative at 1-800-567-2033 or one of the provincial organizations listed on our Avian Influenza information page: ducks.ca/avian-flu