The farm was called Elsie's Place
Elsie's place was a 200-acre (80-hectare) plot of pasture, hillocks and prairie potholes near Bashaw, Alta. And a slough ran through it.
For Linda Arnold, Elsie's daughter, the slough was a place of wonder. At night, loons would call out like distant ghosts. Mallards would flash green on the water, migrating swans would drop by and mud hens would dabble and shake their heads. Now and then a moose with a calf would wander through; beavers and muskrats patrolled the silted waters. Arnold, captivated by Twain's stories of Tom Sawyer, tried to raft there once, the vessel she made from an old door getting stuck in the mud on its maiden voyage.
But Elsie's Place was also a source of dark memories for Arnold. Her parents, both German-speaking Polish immigrants, bought the property in 1945. It was a hardscrabble life, the land grudgingly giving itself over to the mixed farming her parents scratched out while trying to support Arnold and her younger sister.
Challenges of farm life
It was her father's shocking and sudden death by suicide when Arnold was 11 years old that forever changed how she felt about the land. Her mother Elsie never spoke of the death, never explained. And her father's passing meant Elsie, with her two daughters and no English, was on her own. She would care for the cattle, pigs and chickens, and plow the land.
"I remember my mother pulling the binder with our Massey-Harris 44 tractor. I was hanging on to the seat with one hand, using the other and my feet to manipulate the pedals to work the piece of machinery my mother was pulling across the field," recalls Arnold.
In 1960 Arnold left the farm to study nursing in Edmonton. A couple of years later she met her husband, Stanley, a handsome army boy, on a blind date. At the army's behest, they moved to a base in Manitoba. In 1966, they returned to Edmonton, visiting Elsie's Place on weekends with their two children in tow, then taking care of Elsie in her later years.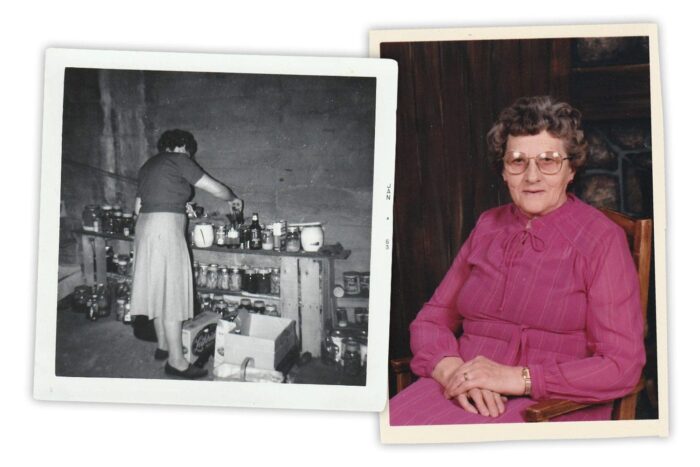 Taking care of the land
In 2008 Elsie died and was buried on the farm she loved, even though it didn't always love her back. "That place was the most important thing in her life. It was her refuge," says Arnold. The farm, along with all of its memories, was in Arnold's hands.
Arnold decided not to pass the land, and its burden, to her offspring. But months, then years, went by as she fruitlessly tried to connect with provincial and federal government agencies and conservation groups. Finally, she called Chris Clarkson, a planned giving manager at Ducks Unlimited Canada, who expressed interest in protecting the land and its slough for waterfowl.
"My mother always said, 'take care of the land, and it will take care of you,'" says Arnold. "I thought Ducks Unlimited would do that."
"When I signed on the dotted line and the deal was done," Arnold recalls, "I felt that a great weight had been lifted off my shoulders. I knew when it was done it was the right thing to do," she says.
Now 80, Arnold will still be able to visit the farm whenever she wishes. And she does want to go there out of respect for the lifelong struggle her mother had with the land. She will come back and, she hopes, be able to listen to the call of frogs and the gabble of ducks on the cared-for slough. Maybe, if she's fortunate, at night she'll hear the call of a distant loon and be at peace.
Land donations: giving solutions that bring peace of mind
In his role as a DUC planned giving professional, Chris Clarkson has seen firsthand many examples of the complex relationships people can have with the land. Whether it's a beautiful relationship or a difficult one (or some combination of both), the land has the power to shape lives like no other. So, when navigating decisions about land and estate planning, Clarkson can help families find options that work for their situation.
"In Linda Arnold's case, we could be a conduit to a solution that could both ease her burden of the land and maintain her connection to the good in it," says Clarkson. "As a habitat conservation organization, DUC is able to hold donated land for the long term; this was important to her."
Clarkson notes that gifts of land or real estate can help donors enjoy substantial tax savings and estate planning benefits. And in some cases, sale proceeds from gifted real estate can be used by DUC towards conserving and protecting natural areas.
Clarkson recommends consulting a lawyer and financial and tax advisors about whether creating your legacy through a gift of land would best suit your personal needs and financial circumstances. He and Janice O'Dette, DUC's planned giving manager in Eastern Canada, are also available to discuss ways you can bring out the good in your land, now and into the future.
Leave your land in good hands.
Interested in making a donation of land? Contact our planned giving professionals.
Learn more