It's official – Ducks Unlimited Canada (DUC) now has three new Youth Wetland Experts! Meet Sotiris, David and Ophelia from Fort Richmond Collegiate in Winnipeg, Man., who won DUC's national Wetland Centres of Excellence case study competition. 
In the case study competition, students are given two weeks to find a solution for either grassland loss in the Prairies or sea-level rise in Atlantic Canada. The top teams from each school move to a national review before a panel of DUC scientists, including research biologist Vanessa Harriman and national sustainability lead Kristine Tapley. 
"Sea-level rise is a serious problem," says Ophelia. "I moved here from Hong Kong, where I lived along the coast. I've seen firsthand the impact of sea-level rise and the damage it can do."
Overcoming challenges
It wasn't an easy road to victory. When Sotiris, David and Ophelia first read the case study, they were nervous about how much work it would be. They talked to friends who had competed in the past, and their conversations were not very encouraging. 
"Our friends tried to warn us," says David, laughing. "They said it would be a lot of work and the judges ask hard questions." 
"We were definitely nervous about competing," adds Sotiris. "Not just because of the work, but also because none of us knew what a salt marsh or what a dike even was." 
They decided to compete in the end because it would be a great learning experience. They wanted to research a real-world problem and were excited to present in front of DUC scientists.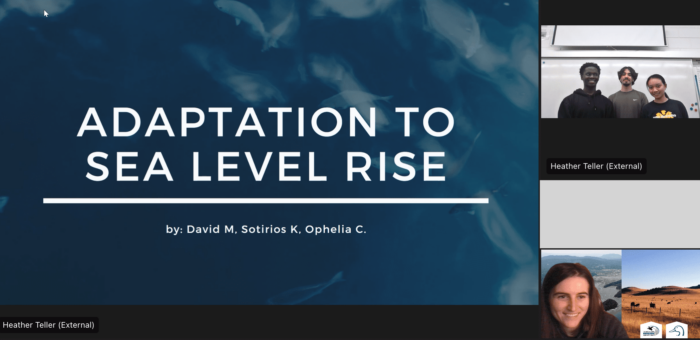 Winning solution to sea-level rise
After intense research, the group decided on their final solution. They would maintain and improve dikes in three key areas—Grand Pré dikelands and Cornwallis River dikes in Nova Scotia and Tantramar Marshes in New Brunswick—and restore salt marshes everywhere else. That would mean restoring 60 per cent of salt marshes that had been previously lost. 
"We looked at the economic side, and dike maintenance was just so expensive," says David. "It's expensive to restore salt marshes too, but they can become self-sustainable and won't have that same maintenance cost." 
"There's other benefits too," says Sotiris. "When you restore salt marshes, you can bring biodiversity back, bring plants and ocean life back." 
The judges were impressed that the students took many factors into consideration. They considered economics and the environment, as well as long-term impacts and how to involve communities in decision-making. All while citing their sources. 
"They did such a great job and should be proud of themselves," says DUC judge Vanessa Harriman. "I was particularly happy to see community engagement and buy-in as part of their solution."
Fort Richmond Collegiate pride
When they heard of their win, the trio was shocked, excited and relieved. There were so many people—teachers and students—that listened to their presentation and helped them along the way. It felt like it wasn't just a win for the group, but for the whole school. 
"The three of us won, but really it's a win for FRC [Fort Richmond Collegiate]," says David. "We had friends that came to watch us practise during lunch. They gave us feedback." 
"The teachers, too," says Ophelia. "They stayed late, let us practise, and helped us improve." 
It was encouraging, they said, to know they had friends and teachers cheering them on. It made them work harder and fight through the nerves, because they had people supporting them. 
"Everyone who listened and helped us, they gave up their time. They didn't have to do that," says Sotiris. "That's why we're so proud to win. We won for them."
DUC congratulates Sotiris, David and Ophelia for their innovative and well-thought-out solution to sea-level rise. Restoring salt marshes is a great nature-based solution to climate change, and our engineers and biologists in B.C. and Atlantic Canada work hard to conserve them.
Learn more about sea-level rise
Did you know DUC's conservation work helps fight sea–level rise?
Learn More