The relentless spread of a Eurasian reed persists across North America, in spite of the millions that are spent every year trying to stop it. For decades, the introduced perennial has been moving from the Atlantic coast across the landscape, outstripping all attempts at physical or chemical management beyond small, localized victories.
Invasive phragmites is the introduced form of a common type of reed found in aquatic ecosystems around the world. The reed, called phragmites australis, reproduces by roots, stem fragments and seeds that swiftly colonize wetlands, beaches and waterways.
How does phragmites spread to new sites?
Wind and waterways
Transportation corridors
Agricultural drainage ditches
Equipment moving from site to site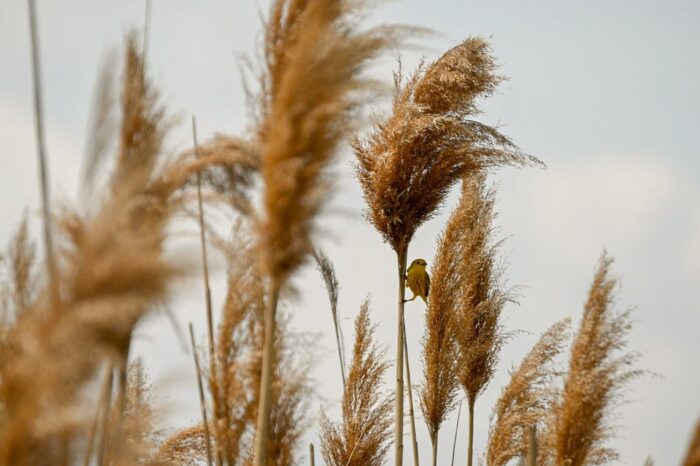 Phragmites thrives where it finds water but, unlike the native reed, the invasive form develops into woody thickets that crowd out local plant and animal life. The dense stands block views, fill in access points for swimming and boating, and disrupt water flow in shallow channels and ditches. Waterfronts, beaches and connecting waterways are degraded, diminishing both enjoyment and land values.
Many of DUC's conservation projects in Ontario—from Ottawa to Oshawa to Elmvale to Woodstock to Lake St. Clair—include the added expense and disturbance of removing invasive phragmites from the immediate area. The problem has become overwhelming in some regions. For example, the Government of Ontario received federal emergency approval to use an herbicide at critical habitats on the northern Lake Erie shoreline that were being undermined by "exponential growth" of invasive phragmites.
Current control options for managing phragmites are intrusive, ranging from hand-cutting to machine removal to specially permitted herbicides. The good news is that rehabilitated wetlands rebound swiftly and native plants, birds and animals return to the habitat once again.
"
The problem of invasive phragmites is deeply concerning but we know from past experience that solutions appear when people unite to resolve complex environmental problems—especially the ones that affect all of us.
Collaborative innovation to solve environmental problems
Some removal projects yield local success but the plant's local expansion and overall range have grown, year after year. Faced with this reality, DUC has joined with other conservation leaders to collaborate on ways to protect Ontario's aquatic environments. We're seeking strategic and effective management so we can reduce the ecological damage caused by this relentless survivor.
DUC is deeply concerned with the spread of invasive plants in Ontario. Our experience ranges from recent work spot-checking European water chestnut in the lower Great Lakes to past teamwork in the 1990s on the province-wide mitigation of purple loosestrife.
Similar to the phragmites problem, purple loosestrife is an introduced species that was aggressively taking over wetland habitats in the late twentieth century despite extensive reduction efforts. After years of study, scientists planned the strategic release of a small beetle, a natural predator of purple loosestrife, which slowly turned the tide on what had seemed to be an unstoppable wave. It took collective innovation to find a nature-based solution that worked across the landscape with minimal habitat disturbance.
Today, loosestrife populations in Ontario are well in check without the need for heavy-handed or costly management. That success is a beacon of hope that collaborative innovation can solve the worst environmental problems with nature-based solutions.
---
Your donation is an investment in the future.
Be part of the race against invasive species and save wetlands.
DONATION OPTIONS