The former Cosford Farm provides a haven for waterfowl and other wildlife north of Belleville in Hastings County. The rolling landscape is more than 300 acres (120 hectares) of mixed habitats that have seen many changes since the dips and mounds were formed by ancient glaciers.
For many years, the land was farmed and many of the wetlands were altered or drained. In the past decade, since DUC purchased the land, some of the habitat has been restored and the work continues.
In 2021, DUC continued restorations of formerly drained wetlands on the property, with the support of the Government of Ontario, to preserve and enhance the habitats that attract nesting waterfowl and other wildlife while supporting cleaner water in the Trent River watershed.
Today, the stunning panorama includes healthy wetlands of varying sizes, from permanent ponds to seasonal niches that dry out in spring but provide important habitat for wildlife early in their breeding season.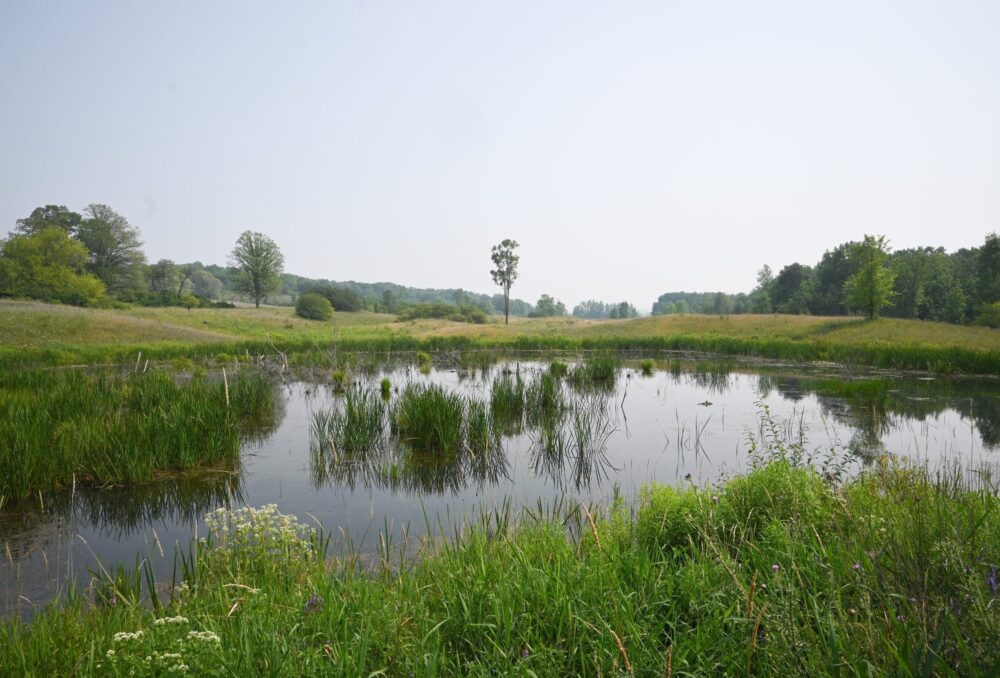 Investing in the human spirit with nature
The Cosford Farm project is one of 22 DUC conservation land holdings within the Great Lakes watershed, accounting for nearly 7,000 acres (2,833 hectares) of protected habitat.
"Investing in conservation is for birds and other wildlife, but it's also for the human spirit," said Tim Binch, DUC's national manager of volunteer fundraising. "When you're at the edge of a wetland and a barred owl is flying back and forth, you're one with nature—something that's hard to describe unless you've actually experienced it."
The foundation of Binch's career is his love of the outdoors and the related values and traditions that enrich his life with family and friends. Binch leads a team supporting the DUC volunteers who raise funds for nature by hosting tournaments and banquets, getting outside for sponsored rides or runs, and holding raffles, workshops and calendar sales. And that's not the whole fundraising story!
Funds raised by volunteers provide DUC with a powerful base and case for support that attracts matching funds from our conservation partners across the country and beyond. Thanks to these matching contributions, it only takes a $50 donation to conserve an area of wetlands equal to an average home—habitat that stores five tonnes of carbon, 41,000 litres of water and filters out pollutants from surface water in every season.
---
What's good for the ducks is good for us all
Large-scale wetland restoration can reverse the downward trend of habitat loss and even turn it around to a net gain on the landscape. We want everyone to experience the hush of a wetland morning, the thrill of an encounter with a deer, and a sky filled with noisy waterfowl. That's why our focus is at ground level—protecting existing habitat and enhancing natural landscapes.
Wetlands are hardworking ecosystems that deliver cleaner water, capture carbon and nutrients, and preserve and increase habitats for endangered species, all while providing natural climate buffers for Ontario communities—right where we live, work and play.
***
Restorations by DUC at the Cosford Farm property have been funded by the Government of Ontario through the Wetlands Conservation Partner Program and ongoing commitments to the Eastern Habitat Joint Venture, a continental partnership that has helped deliver thousands of wetland restoration projects across the province.