"
If you really want to understand the importance of water, build a wetland.
When William Shotyk was in eighth grade, he asked his parents to buy a little farm with a stream. The Shotyks were immigrants from Ukraine and Scotland who were working hard to make their way in a new country. But they found a way to buy 70 acres (28 hectares) in Springwater Township.  Shotyk's father found the Elmvale farm for sale in the early 1970s in the back of a Toronto newspaper. The farm property has 2,600 feet (800 metres) of waterfront on the Wye River and another remarkable feature beside the farmhouse. A rustic tap delivers pure, cold groundwater from an artesian flow that Shotyk's academic research has shown to be the cleanest known water on the planet.
Habitat restoration on the Shotyk farm has included extensive tree buffers of 51 species on the property boundary and along the river, as well as grassland and wetland restoration beside an existing slough which bisects a working hay field. DUC helped him restore wetland habitat at the farm in 2016.
Project: Shotyk Farm
Region: South Georgian Bay
Conservation Agreement: 25 years
Funding: North American Wetlands Conservation Act funding partnerships / Lake Simcoe Georgian Bay Community Stewardship Program (no longer active) / Landowner
Habitat by DUC
Lower-quality production farmland was converted to draw more wildlife to the farm including grassland and a one-acre (.4-hectare) wetland beside an existing slough which bisects a working hay field.
Wildlife benefit
The habitat restoration creates a pond with adjacent upland space beneficial for breeding waterfowl in a medium-high density waterfowl region, while supporting a variety of other wildlife. Ten species at risk have been recorded on the Shotyk farm including barn swallows, bobolinks, short-eared owls and rare plants.
Water benefit
The wetland supports clean water in the Wye River watershed and complements the riverine habitat where the Wye River runs through the farm property.
---
Q&A with William Shotyk
What motivated you to restore habitat on your property?
"I tell people if you really want to understand the importance of water, build a wetland because it's a magnet for wildlife. It wasn't long before we had leopard frogs, pickerel frogs, green frogs and bull frogs. There's four species of frogs that arrived, not to mention the toads, and then a myriad of birds out there. Lots of tracks from white tailed deer, lots of tracks from coyotes. And one day, I finally saw my favourite, a painted turtle."
What have you done that has enhanced the original wetland project?
"Ducks Unlimited has been helpful for many, many reasons. I mean, of course, the original design and helping on the construction and helping to finance that construction, but also information about native plant species. Once I had a list of plants that should be in that area, I was able to find sources of marsh marigold, blue flag iris, swamp rose and water lilies, all native plants that I've added to the wetland. I have done a tiny amount of planting but Mother Nature has done a much better job than me. Mother Nature has added all kinds of sedges and rushes and cattails and all kinds of submerged aquatic plants."
What is your favourite thing about it now?
"Environmental psychology shows that these are good for our brain and our health, to sit at that wetland and watch nature. We've now put a little park bench out there to sit and watch. To hear the bobolinks in the fields all around, chattering the whole time—they come here and nest in the hay fields—and to watch the tree swallows that are nesting back there. Oh, and also the kingfisher, which is one of my favourite birds. Really the most graceful one, I must say, is the tree swallow. Watching them swoop down to scoop up water from the surface of the pond is just glorious. It's just absolutely glorious."
What are your plans for the habitat?
"The more that we get to know our land, the more our land teaches us about what the land needs. It is a farm but it has to be a place for nature. That wetland was one of the best ideas we've ever had. But when we go back to that wetland, if there's birds there—and birds, you know, except for robins, maybe, they like their privacy—so if we go back there, they will fly off. Rather than them leaving the property, I would much rather there was a second wetland that they could go to and that would be a little bit more secluded. There'd be less people there and just again, more space for nature."
Learn more about Dr. Shotyk's scientific research and groundwater in Springwater Township (CBC The National).
Visit the Elmvale Foundation website to learn about Dr. Shotyk's water community in Springwater Township.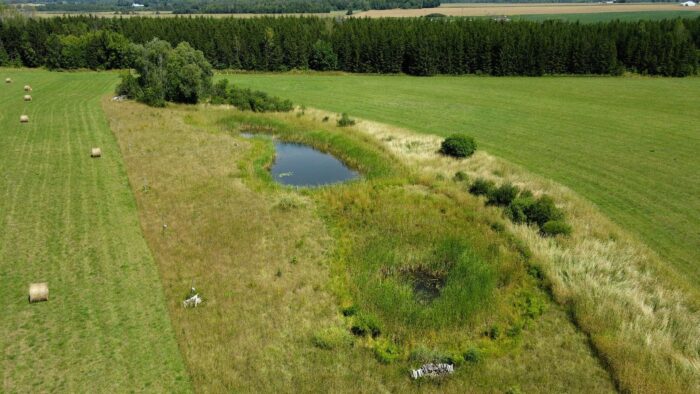 Tell us why you worked with DUC?
"Because I study wetlands professionally, scientifically, I know about Ducks Unlimited Canada. We all know about the work that Ducks Unlimited is doing. It's one of the leading conservation agencies in North America because they're protecting wetlands and they're also constructing wetlands. So, reaching out to Ducks Unlimited, that was very, very easy. Very professional organization, very well trained people.
And their heart is always in the same place. They care for nature and it's about much more than ducks. Ducks are a symbol. Those wetlands, they're like magnets for all kinds of wildlife. And there are environmental benefits far beyond that. You're creating a water reservoir on your property, especially important in an era of changing climate. You're helping to restore the groundwater table, helping to filter water, all these sorts of other benefits. And the people at Ducks Unlimited know exactly how to design that wetland, exactly how to build that wetland, to maximize its value as an ecosystem."