They're tiny – but don't let their small stature fool you. Often as small as a poppyseed, ticks can pack quite a punch.
Emerging in early spring, just as temperatures rise above freezing, ticks are more than a nuisance; they can pose serious health risks to both people and pets. Black-legged ticks can pass on Lyme disease which if untreated, can spread to the joints, the heart and the nervous system with devastating and sometimes lifelong consequences.
While the return of warmer weather is welcomed by those eager to soak up the sun and get outdoors, the spread of ticks across Ontario is causing increased concern. Milder winters have led to them advancing into areas beyond their traditional range. Ticks can be found across the province, making it everyone's business to take protection and prevention seriously.
While Ontario Public Health reports there are 43 species of ticks in the province, blacklegged ticks (known also as deer ticks) and American dog ticks are the most common species associated with humans in Ontario. They are members of the arachnid family (spiders, scorpions), not insects.
Since the bulk of DUC's work is done out in the field, we've armed our staff with the tools to keep them safe. In recent years, DUC has enacted tick protocol as part of its Health and Safety mandate. Our team know the risks and are diligent in following the guidelines set out to keep them safe.
We asked Jenn Lavigne and Mikayla Stinson, DUC conservation program specialists, to discuss the challenge ticks bring, how to protect yourself and what to do if you discover them on your body. Welcome to DUC's Tick Talk.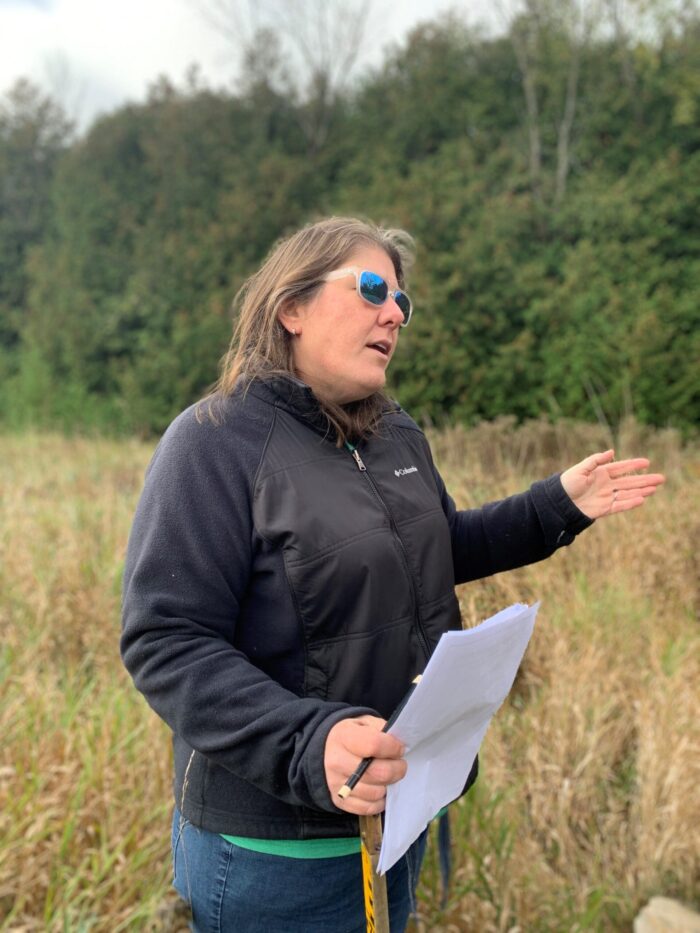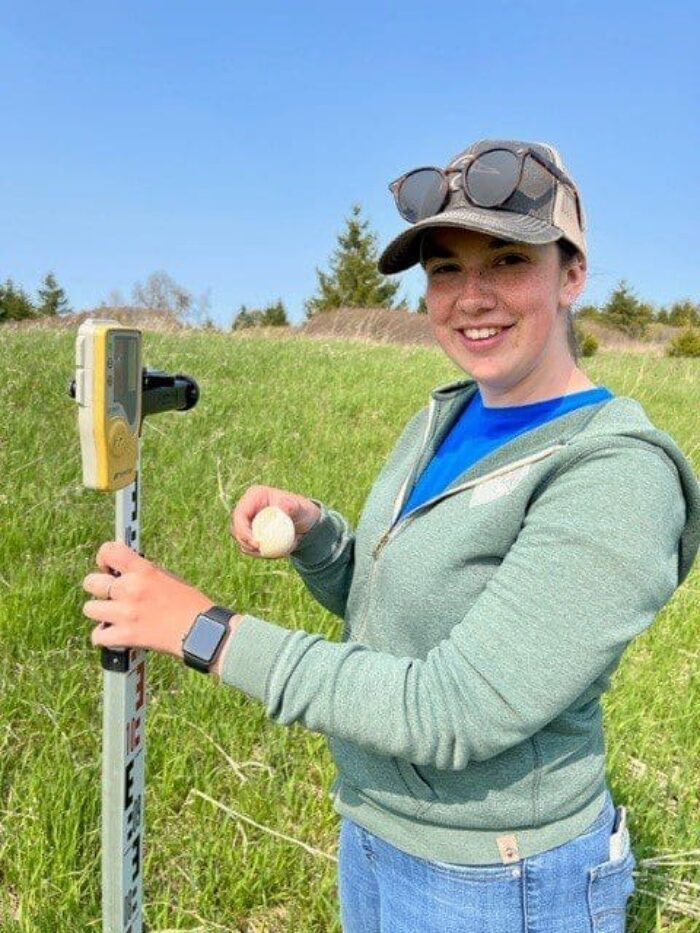 "Tick Talk": Q & A session with Jenn Lavigne (JL) and Mikayla Stinson (MS):
Q:   As biologists, you already have the advantage of knowing about ticks. What are they and why are they a growing concern?
JL:  Ticks are biting pests and can transmit pathogens to humans, pets, livestock and wildlife. They do not 'jump', but instead lie in wait in tall grasses or wood piles and latch on when they meet their hosts, then climb on the body till they find a suitable place to feed (the armpits, groin, hair, ears, neck). They inject a blood thinner which makes it easier for them to feed and can settle in for days. If they're infected with Lyme Disease, you have a short timespan before you become infected as well – as little as 16 hours. So, checking your body for ticks and removing them immediately is critically important.
Q:  What have you noticed about the spread of ticks in Ontario?
JL:  There have and will always be ticks occurring naturally across Ontario, but in the last 16 years, I've noticed a real change. Their range has grown substantially.
MS:  That's right, Jenn. Climate change is much of the reason why the range of ticks has grown. Warmer winters mean they can survive in leaf litter and be active in temperatures as low as four degrees. So, yes, you can find ticks emerging as early as March.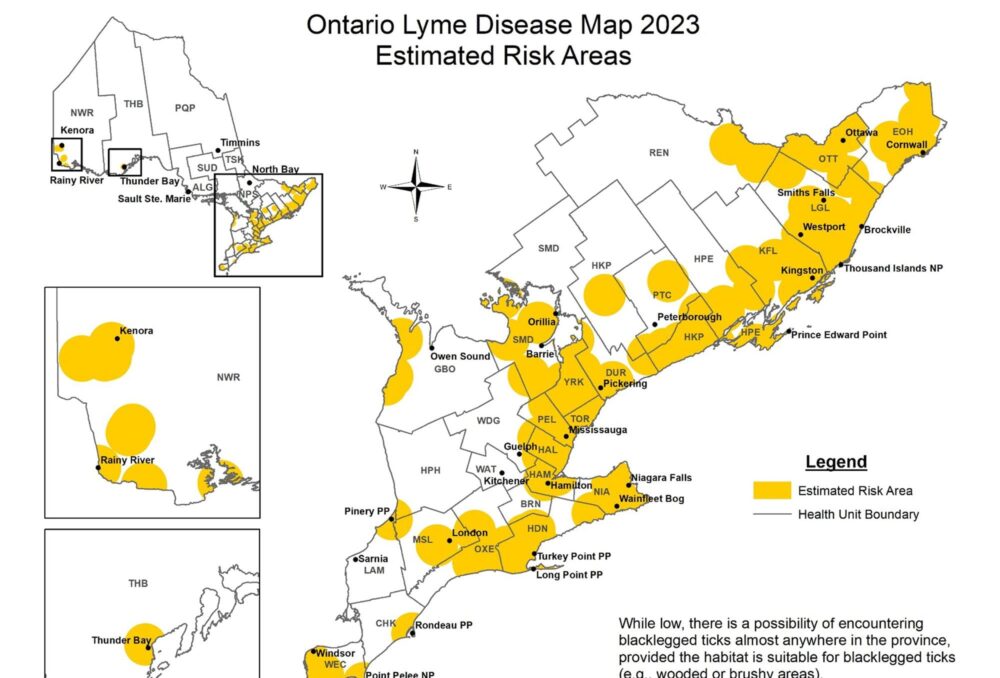 Q:  What ticks have you encountered in the field?
JL:  There are three main ones we've seen. The wood tick, dog tick and black-legged tick which can carry Lyme Disease.
Q:  What precautions do you take in the field to prevent ticks from getting onto your body?
MS:  Since 2015, DUC has enacted health and safety policies and protocols to keep field staff aware and as protected as possible. Before we go out, we tuck pantlegs into our socks, spray our pants, socks, boots, and long-sleeved shirts with bug repellent specifically formulated to repel ticks. When we return home, we quickly remove all the clothing we wore that day, then check our bodies for ticks. It's just part of our daily routine to stay safe.
Ticks are easier to find on bright clothing.
Q:  What do you do if you find a tick on your body?
MS:  The first thing is, don't panic. Use a fine-nose set of tweezers, grab the tick firmly – making sure you've got the entire body of the tick, and pull it straight out. DO not twist them. Crush with a knife or something with an edge to break the exoskeleton. Afterwards, wipe the spot with rubbing alcohol to clean the site. It's also a good idea to purchase a tick kit and keep it on hand. Make it part of your medical toolkit.
Q:  So, you think you might have been bitten by a tick carrying Lyme Disease, what symptoms should you look for?
JL:  There are several symptoms to watch for, including, fever, chills, headache, fatigue, muscle and joint aches, and swollen lymph nodes. A bulls-eye rash can also appear within days of being bitten. Time is critically important and people experiencing symptoms should seek medical treatment. Ontario pharmacists can now prescribe antibiotic treatments as well.
Q:  DUC works with landowners and the public. Do you feel it's important to pass on tick prevention information to them?
MS:  I would say that while a lot of people know about the dangers of ticks, few know what to do to protect themselves or what to do after they've discovered one. I feel it's important for me to share the knowledge I have to keep them safe.
JL:  Agreed, Mikayla. For me, I try to communicate to our landowners that ticks may be present on their properties and how they can protect themselves. it must become second nature for them just as it has for DUC staff. The risk is real, and we all have to take the dangers of ticks seriously for ourselves, for our families and even our pets.
For more information on ticks in Ontario, visit: