The alarm bells are ringing. The Fraser River estuary's survival, and what it means to the diverse ecosystem it supports, is facing catastrophic collapse.
The Fraser River estuary is the main artery that feeds biodiversity to the coast of B.C. Fraser salmon is an industry that generates as much as $300 million in revenue annually, according to Fisheries and Oceans Canada. It is also the lifeblood for a dwindling population of the Southern resident killer whale. Millions of waterfowl pass through on their migration journey and stop to winter and feed, as the estuary provides benthic invertebrate burrowing in the mudflats and salt marshes. Butterflies, bees, and bats all depend on the estuary for their survival.
But as each year passes, urban and industrial expansion is rapidly chipping away at the estuary's viability and the species it supports. Pollution, widespread dredging and diking, urban sprawl, climate change, and numerous large-scale current and future industrial developments are just some of the threats to the Fraser River estuary's survival.
Priority Threat Management
There is, however, a plan to halt its demise and restore the Fraser River estuary. For it to work, it's going to take a ton of cooperation, trust in the process, and some political courage to make it happen—also, $381 million.
A group of 23 prominent conservation specialists from across B.C. published 'Conservation in heavily urbanized biodiverse regions requires urgent management action and attention to governance,' in the Conservation and Science Practice journal. While the paper lays out the estuary's dire state, it offers hope in the form of priority actions to recover and conserve species and setting up a co-governance structure to oversee the implementation of these actions.
The paper applied a Priority Threat Management (PTM) analysis, "a decision support framework used to assess the cost‐effectiveness and complementarity of alternative management strategies for recovering biodiversity within a region," according to the authors.
"
We need elected officials to take this up as a matter of urgency."
102 species at risk
Tara Martin, Conservation Decisions Lab, Department of Forest and Conservation Sciences, at the University of British Columbia, is the senior author and says setting up a co-governance body to support the actions identified from the PTM analysis needs to be a priority.
"Unless we have the governance piece in place with the right actors – including First Nations – working with the province, working with the feds, collaborating with the NGOs, then we're not going to see the priority actions implemented successfully, with the right funding and right support," says Martin. "We need elected officials to take this up as a matter of urgency."
At the current rate, 102 species are at risk of extinction in the Fraser River estuary. So the cost of doing nothing or continuing "business as usual" isn't a viable option.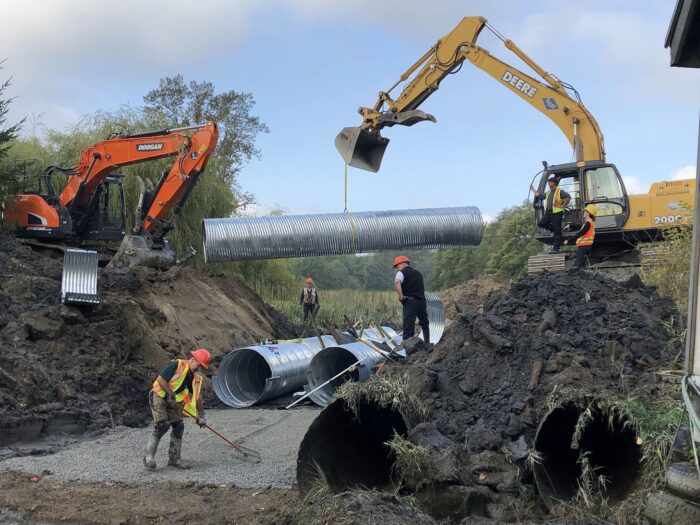 Saving the most at the least cost
She says some concerns need immediate attention. Pollution control, significant upgrades to wastewater treatment plants, dealing with the public land management and the erosion of Agricultural Land Reserve, expansive greenhouses, mega mansions, and the prominence of monocultures of blueberries are all threats.
"None of those things are good for biodiversity. Losing this mixed cropping system, which has served a lot of our wildlife very well, and converting it into these large scale industrial mono-crops and hard surfaces can't continue."
Martin stresses that by relying on scientific and expert-derived information, a PTM model will prioritize management strategies to conserve the most species for the least cost to the public.
She says the province and federal governments should prioritize policies that protect environmental values.
"We've only had policies in place to protect business as usual."
The risk of business as usual
She points that under a business as usual scenario, two-thirds of species within the Fraser River estuary are predicted to have less than a 50 per cent chance of survival in the region over the next 25 years. She says a proper management strategy is essential and needs action.
Martin doesn't balk at the price tag of $381 million over the next two-and-a-half decades. She says the population will get behind the plan once they see what's at stake.
"It's an annual investment is $15 million a year, divided by the population of Greater Vancouver and the surrounding area. That's about one beer per person, per year. So if we all just raised our glass to the Fraser, we could do this. It's not that much money. It's more about vision and what we care about."
Eric Balke, a DUC conservation program specialist, was also a co-author on the paper. Much like Martin, he sees the need to implement the plan, not as a wish but as a must-have.
"This is an opportunity for us to step back and take a look at the big picture and big picture actions to effect meaningful change on the ground," says Balke. "The risk of doing nothing is unacceptable, and I believe the public does too. We need to make them aware of what's at stake."
He says without a single comprehensive management plan to bring together First Nations, municipal, provincial, and federal governments, biodiversity in Fraser River estuary will suffer, and species will vanish.