In a world where the job market is constantly changing, where landing is a job is often a stepping stone to the next big move, Paul Usher is one of the last of a rare breed.
Born and raised in Toronto, Usher made his way west after graduating from Centennial College of Applied Arts and Technology. With his Civil Technologist Diploma in hand, he was recruited by the Alberta Government Department of Highways and was based in Edmonton, Lac la Biche, St. Paul, and Sundre.
He then took that step, made a career move and joined DUC in June 1980. For the past 40 years, Usher, a senior engineering technologist, has firmly kept his boots on the ground, calling Ducks Unlimited Canada home. Now, as he sets to retire, he says his choice to remain with DUC is rooted in the deep bonds he's formed with people he's worked with and the commitment to conservation.
Leaving his mark on the land
"No doubt about it: at the core, it's been the many types of relationships and full experiences with the people, having a common value, and sharing a relationship with the land and conservation values," says Usher.  "These are the types of relationships found only within a team-based approach, complete with its respect for individuality, creative challenges, intriguing opportunities, innovations and the resulting legacies."
Usher's career spanned four decades and two provinces. He spent the first 17 years in Alberta before he transferred to B.C.
The sheer scope of the land he's help shape, transform, and conserve in Western Canada is astounding. By his estimates, he's impacted between 200,000 and 300,000 acres. From the southern reaches of B.C. to the northern fields of Alberta and everything in between, Usher has left his mark on the land and DUC.
"I feel extremely fortunate, honoured, and humbled by these experiences, the education and the interactions I've found within these journeys. They feel endless, and it was done in nature's outdoor classroom."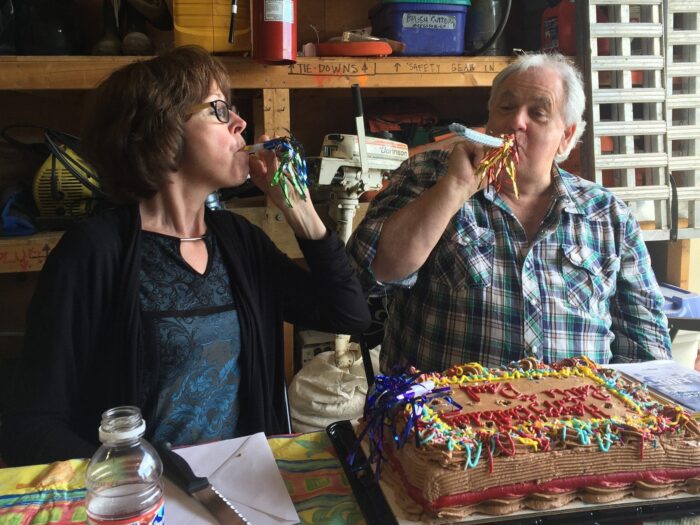 Memories of projects Past
Looking back, here are just a few of the projects that Usher says left a mark on him:
Pasture Lake – My first project, located southeast of Brooks, Alta. This was a project designed, created within a dry coulee (valley) on the short-grass prairie. To build it, then watch it fill with spring meltwater and, within three years, create a habitat area from nothing into a prairie wetland filled with life—bulrushes, waterfowl, and antelopes grazing—was incredible.
Frank Lake – Located in High River, Alta., this project was a dry lake bottom and the first for me in developing a restoration plan to restore the large lake, abundant with local history. We drove around the lake bottom, driving over fence lines buried by blowing topsoil from nearby fields. This emphasized the devastation of what drought conditions would have been like for the early settlers and how they must have been affected.
Delkatla ­­– Located in Haida Gwaii (formerly known as the Queen Charlotte Islands) in B.C., this project stands out for its natural and tidal influences, the beauty of the old-growth trees, its local historical importance, and its tranquil setting and spiritual presence.
Golata Canyon Ranch – Located in Goodlow, B.C., this is the first time I built a project involving the use of heavy machines equipped with GPS survey controls. This allows for the digital building of the infrastructure dam and control works without any formal survey stakes in the field or on the ground.
Swan Lake – Located near Holland Landing, Ont., there is a project dedication for 30 years of service, where there is a rock cairn with my name on it.
The ties that bind at DUC
Though the work allowed Usher to explore Alberta and B.C., he says it's the bonds between DUC and landowners, volunteers, valued contractors and his coworkers that keep the many memories flooding back as he prepares to wind down his career.
"As the years went by, my relationships grew. It created an air of being part of such incredible teamwork. That's what helped to sustain my drive to do more on a daily basis."
Whether it was able to drink coffee at the kitchen table with a second-generation landowner who's sharing their family's generational homesteading history, or experiencing the spiritual aspects and importance of a First Nations burial grounds found next to a Medicine Wheel, Usher says he is grateful for the opportunities his work has afforded him.
There was also the social aspect of the job that kept him grounded, he says. The bonds formed after the clock may have technically stopped but had always been ticking and clicking in the background.
He laughs as he recalls being a part of a DUC eight-team hockey tournament where he could shoot pucks against the company's CEO at the time, D. Stewart Morrison. He also recalls the infamous team Alberta Slash and Dash and being part of a defence corps behind a forward line that weighed in at an excess of 800 pounds. A formidable sight, no doubt.
"We were a very intimidating appearance to the opposing side—we won that game," he recalls.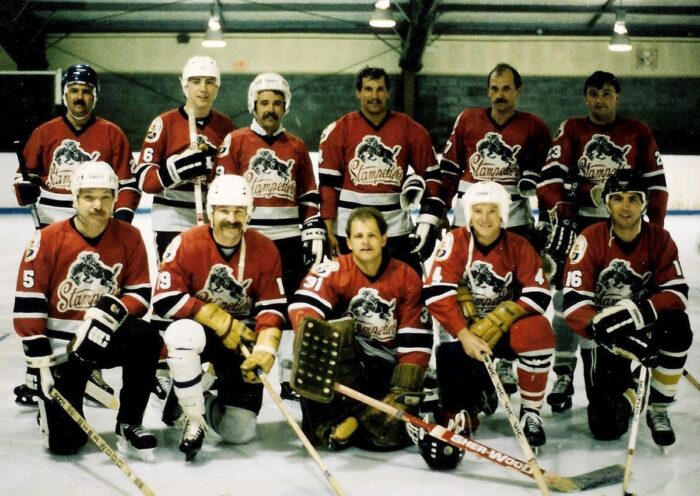 After 40 years of roaming Alberta and B.C., Usher is putting down his pencil, sketch pads, work boots, and shovel.  He is leaving with a legacy that not only helped shape the landscape in a career dedicated to conservation but with a sense of knowing he helped make the people of DUC a better place to call home.
"Although it's hard to let it go, I feel very grateful for what I've enjoyed and now feels it's time for someone else to share in the wealth and create their memories."