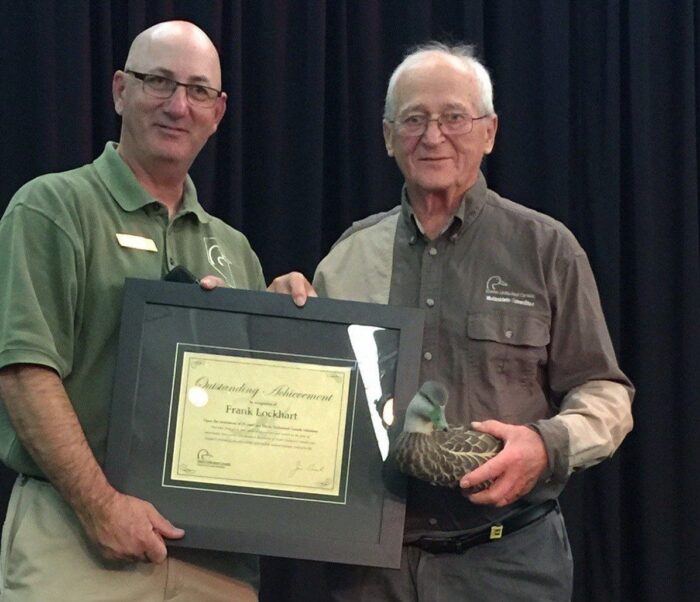 When it comes to dedicated volunteers, Frank Lockhart stands out in a crowd.
"I chose to volunteer with DUC because I wanted to help raise funds for DUC conservation projects," Lockhart says. "Protecting our waterfowl habitat is of great global importance."
For 40 years, Lockhart has served on the DUC committee in Wetaskiwin, Alberta. For almost all those years – 39 of them – he held a top leadership position as chair and co-chair. In the past, he also helped mentor youth about the importance of wetland conservation through DUC's education programs. In recognition of his many years of dedicated support, and his unwavering passion for conserving wetlands, Lockhart has been selected as DUC's Volunteer of the Year in Alberta.
"I feel it is important to protect our wetlands so that present and future generations can enjoy seeing waterfowl and other birds in their natural habitat," Lockhart says. "Growing up on a farm gave me many opportunities to appreciate nature and wildlife. I want future generations to enjoy those valuable experiences as well."
Along with his dedication to DUC, Lockhart has also spent many years actively volunteering in his local community, including coaching sports and sharing his time with both the Kiwanis Club and Canadian Legion. He has greatly enjoyed fastball, curling, hunting, fishing, skiing, backpacking and travelling with family and friends. He also has his pilot's license.
Lockhart and his wife, Janice, have been married for 57 years and are active members of their local Grace Lutheran Church.
After 40 years of dedicated service to DUC, Lockhart continues to assist the Wetaskiwin committee.
"Working with DUC gave me the opportunity to meet many wonderful volunteers. Attending volunteer appreciation events, field days, conventions and trap shoots were very special," Lockhart says.
DUC conservation efforts in Alberta would not be where they are today without the ongoing contribution from our dedicated volunteers. There's no question that Frank Lockhart's incredible 40-year commitment to DUC will leave a lasting impact on wetlands, waterfowl and future generations.