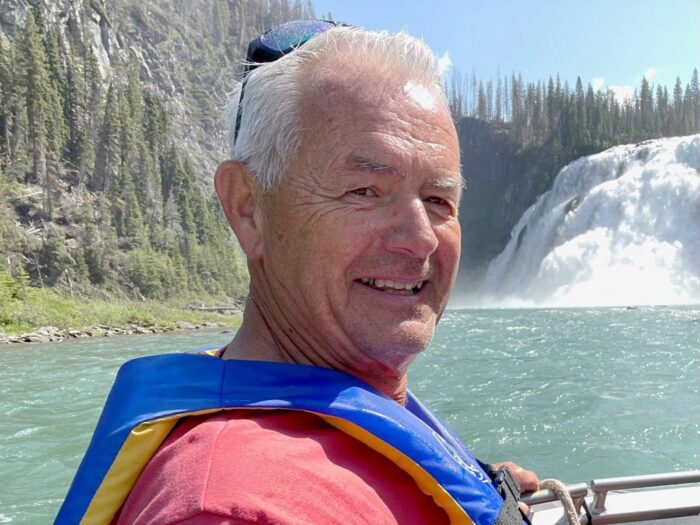 If you've ever attended Ducks Unlimited Canada's (DUC) fundraising banquet in Dawson Creek, B.C., you'll be struck by one thing as soon as you walk in the door. A pyramid raffle piled high with prizes from the community stands as a testament to the importance that people here place on supporting conservation. But even more impressive than the collection of wares is the man who's been building it—from the floor up—for 27 years.
James Soutar is a community builder in more ways than one. He was first introduced to DUC in 1992 through a small banquet in Dease Lake in northern B.C., not far from the Yukon border. Soutar began volunteering with the Dawson Creek committee when he and his wife moved to the community in 1996. Erecting the famous pyramid raffle year after year has become his way of bringing people together in the name of wetlands and wildlife.
While Soutar spends hours physically setting up the pyramid for the best visual, which he says "fills up one entire end of the hall," it's the relationships he's made and the important support and awareness he's generated for conservation that represent his true impact and his ongoing legacy. His fellow volunteers agree.
"James has been a leader in our chapter for many years and continually brings new ideas and provides inspiration to other committee members," says Dawson Creek volunteer Wanda Maundrell. "He always promotes DUC values and ideas on wetland enhancement throughout our community."
In recognition of Soutar's outstanding volunteer service, leadership and passion for conservation, he was named DUC's Volunteer of the Year in B.C. Soutar also earned the honour of DUC's National Volunteer of the Year, selected from a pool of outstanding nominees hailing from across the country.
Despite the well-earned recognition, Soutar is quick to re-direct the spotlight to others.
"The community's generosity and support amaze me," he says, noting that Dawson Creek's population is fewer than 20,000 people. "The banquet is an incredibly sought-after event, and we've always sold out over the last 10 to 15 years."
Over and above the sell-out crowds and record-setting revenue (the committee raises between $80,000 to $100,000 gross each year), the greatest accomplishment for Soutar continues to be what he and his fellow volunteers do for the cause—and the fun they have together.
"We have had a lot of DUC-raised money flow right back into this region that supports the conservation of important habitat." He also says that he finds a great deal of satisfaction from the solidarity enjoyed with his fellow leading volunteers, in particular early mentors like Don Bourassa and the late Wayne Janowski. "That's also a big driver for me, accomplishing good things as a large and dedicated committee."
There are more than 480 DUC volunteers in B.C. and 3,950 across Canada. DUC is proud to recognize each of them—including outstanding leaders like James Soutar—as volunteer champions and conservationists who serve with generosity, passion and dedication.