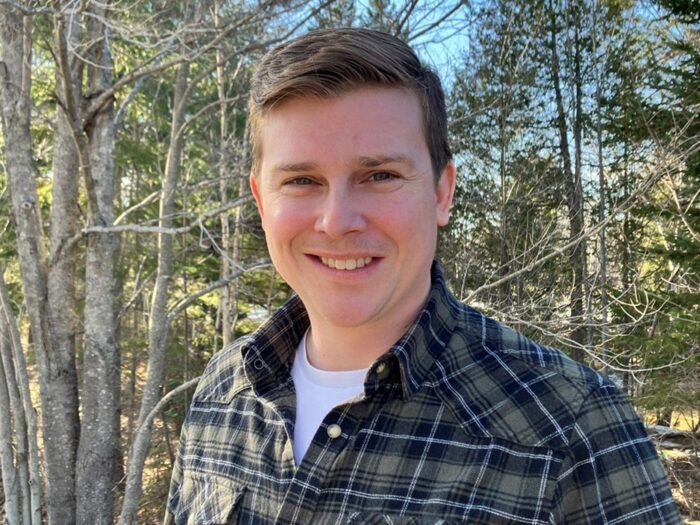 For Sean Eidt, being a Ducks Unlimited Canada (DUC) volunteer runs in the family. While growing up in Fredericton, N.B., he watched his father and grandfather participate in their local DUC fundraising events, was a DUC Greenwing youth member, and attended a DUC dinner in high school. Now, he's focused on passing along the lessons of conservation to his young son as he continues the tradition of giving back to wetlands and wildlife.
Eidt joined DUC after his wife suggested that volunteering might be a good avenue to re-engage with their community of Fredericton after spending six years living abroad in South Korea. "She was interested in volunteering, and I suggested we might as well go with Ducks," Eidt says, with pride.
Since then, Eidt has assisted with all kinds of DUC activities. He's been a staple at local fundraising dinners and has helped organize new events, including a craft beer tasting along the banks of the St. John River at the Ducks Unlimited Conservation Centre in Fredericton. Most impressive was his drive to kick off the first-ever Ride for Conservation in Atlantic Canada. This cycling event, which followed a successful model established in Western Canada, served to galvanize the community post-COVID by encouraging people to be active outdoors while supporting important conservation efforts.
Today he is planning for the next ride, scheduled for September 2023. "Our goal is to plan something accessible regardless of skill level," explains Eidt. "We're fortunate that where the Ducks office is in Fredericton is right on the river and connected to 120 kilometres of trail. This year we plan to have three rides, a beginner route for youth, a short course, and then longer ride," he says. "It's a fun, all-ages thing, and we try to find local partners who are in tune with conservation and the outdoor life," he adds, noting that the first race was a huge success thanks in part to support from the local bike shop and sponsorship from the local craft brewery.
Now chair of his local volunteer committee, Eidt shows no signs of slowing down, and is always sharing his passion with prospective volunteers. "I tell them that our work makes a difference right here, it's a not-for profit in the heart of our city. In the Fredericton area, there are hundreds of acres of reclaimed and protected wetlands, nesting box activities, fundraising, there's something for everyone," he says, adding that he often calls on his peers as well as his brother and parents to get involved. "Not only are these projects in our neighbourhoods, but they have a measurable and quantifiable effect in our community."
In recognition of Eidt's outstanding volunteer service, leadership and passion for conservation, he was named DUC's Volunteer of the Year in New Brunswick.
"Sean has become the glue that holds the Fredericton committee together, all of this while juggling the responsibilities and demands of being a new father," says Jamie Young, DUC's manager of volunteer and corporate fundraising in Atlantic Canada.
For Eidt, ensuring that the natural areas he's enjoyed throughout his life remain for his son is a motivating factor. He says that volunteering with DUC elicits some of his favourite childhood memories, which include spending time at the lake where his grandfather built a cottage and where he gained a love for the outdoors while canoeing, hiking, hunting, fishing and orienteering.
"Part of why I want to volunteer is to preserve that for my family and son."
There are more than 200 DUC volunteers in New Brunswick and 3,950 across Canada. DUC is proud to recognize each of them—including outstanding leaders like Sean Eidt—as volunteer champions and conservationists who serve with generosity, passion and dedication.