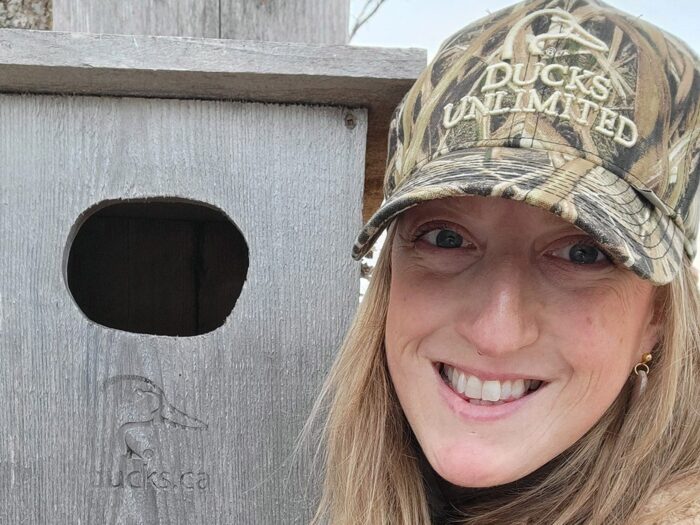 Angèle Scott's reason for volunteering with DUC and supporting conservation is simple. "It's in my blood," she says.
Scott loves nature and spending as much time as she can (often with her dog, Sully) hiking, kayaking, canoeing, paddleboarding, fishing and camping. These activities are an important part of how she maintains a connection with the outdoors, which was forged when she was young.
"I come from a family who, for generations, has made their living on the land and has a deep respect and connection to nature. I want to make sure the things I enjoy now are not only protected so I can enjoy them for years to come, but also for future generations," says Scott, who works full time at her local hospital as a pharmacy technician.
Scott was first inspired to get involved with DUC about five years ago by her sister-in-law, Katie Scott, who works as an education specialist for the organization and who wanted to revive their local volunteer chapter that had closed in the 1990s. The pair joined forces and became co-chairs—a role they hold today.
Scott supports Nova Scotia's Shelburne County chapter through social media promotion, events and fundraising. She also serves as an adviser to DUC's Atlantic Volunteer Council. More recently, she's spread her wings to support some of DUC's national fundraising auctions that reach other conservation-minded people from across the country.
Last year, Scott encouraged the Shelburne County chapter to collaborate on a new event with the goal of re-engaging attendees as a precursor to their annual dinner and auction. Banding together, they hosted a successful evening of comedy with Jimmy Flynn that raised funds for DUC. Just as importantly, this event engaged the community in a new way and has led to the revamping of the chapter's annual dinner and auction for 2023.
In recognition of Scott's outstanding volunteer service, leadership and passion for conservation, she was named DUC's Volunteer of the Year in Nova Scotia. It's an honour she's earned for an impressive three years in a row.
"There are special people in DUC's volunteer community who consistently go above and beyond to advance the cause and who motivate others with their positive energy and enthusiasm. Angèle is one of these people and is truly deserving to receive this award again this year," says Jamie Young, DUC's manager of volunteer and corporate fundraising in Atlantic Canada.
Scott highly recommends that others volunteer for DUC based on whatever time, talents and skills they have to offer. "I like that it can be as little or as big of a time commitment as you want it to be because there are so many opportunities to volunteer and get involved. It's a great organization whose efforts benefit everyone. It's also a great way to get to know people in your community who you normally wouldn't connect with," she says.
There are more than 155 DUC volunteers in Nova Scotia and 3,950 across Canada. DUC is proud to recognize each of them—including outstanding leaders like Angèle Scott—as volunteer champions and conservationists who serve with generosity, passion and dedication.