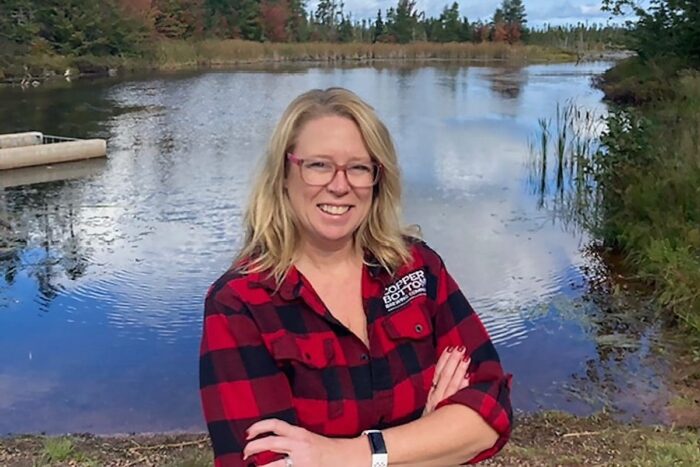 Just outside her home in Cardigan, Prince Edward Island, Terri Taylor has an inspiring reminder of the importance of conservation and the role she plays in it as a Ducks Unlimited Canada (DUC) volunteer.
"I love watching the geese and ducks, we have 400-plus of them across the road," says Taylor. "In the fall they're breathtaking to watch. When we sit on our deck and watch them in the evenings, sometimes we can't even hear each other talk."
A volunteer with the Montague chapter of DUC in P.E.I., Taylor credits her husband for introducing her to the organization. "He's been in Ducks for almost 20 years. When we started dating in 2014, that following year he got me involved in the [local fundraising] dinner and through the years I saw the value in it," she says.
Since that introduction, Taylor has become a trusted and valued member of her local chapter. She has assumed the role of treasurer, putting her skills as an account manager to use and instituting tidy bookkeeping practices. She sources donations for their events, promotes them on social media, and even supports other events in P.E.I. and in Nova Scotia, including those in Truro.
In recognition of Taylor's outstanding volunteer service, leadership and passion for conservation, she was named DUC's Volunteer of the Year in P.E.I.
"For all the things Terri does, quietly behind the scenes, she is truly deserving of this recognition," says Jamie Young, manager of volunteer and corporate fundraising in Atlantic Canada.
For Taylor, gaining a greater understanding about conservation through her involvement with DUC has been particularly rewarding. "The knowledge that I've gained about wildlife is a big thing, to learn what Ducks Unlimited Canada is about and how they've been part of the conservation effort," she says.
In addition to supporting her growing interest in conservation, Taylor says that volunteering with DUC is also a great social opportunity. "Our committee is a very fun committee, and we do lots of stuff together, planning and dinners. They're fantastic people, easy to work with, and we share lots of laughs and throw around different ideas, new ways to make the dinner more intriguing for our regulars. We sell out every year," she notes, with pride.
While they are extremely successful, the committee is always looking for new opportunities to raise even more awareness and dollars for DUC. For example, they moved their event to a new venue at the local plowing match grounds after the pandemic, where they had a live auction, a silent auction, and carnival-like games for the kids.  They also tried out a sizzler barbeque that attracted 200 people.
Today, as Taylor marvels at the spectacle of ducks and geese outside her window, she can take pride in knowing that her efforts as a DUC volunteer are supporting these birds throughout their migratory journey. And while her impact may begin in her backyard, it stretches far beyond.
There are approximately 50 DUC volunteers in P.E.I. and 3,950 across Canada. DUC is proud to recognize each of them—including outstanding leaders like Terri Taylor—as volunteer champions and conservationists who serve with generosity, passion and dedication.